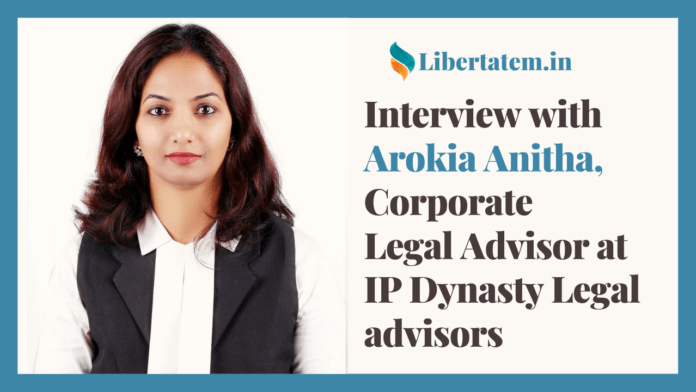 Arokia Anitha graduated from Dr Ambedkar Law University in 2005. She is a legal professional highly experienced in Intellectual Property Law, Company law and Labour law. She started her career as a Junior Advocate at Delhi High Court in 2005. She was also part of renowned law firms such as Kochhar & Co. and Surana & Surana International Attorneys. She engaged with multinational corporate law firms and independently handled esteemed clients of all levels from different industries. In the year 2013, Anitha started her own Legal service Aid "IP Dynasty Legal advisors". She is a Corporate Legal Advisor at IP Dynasty Legal advisors.
Below is the transcript of the interview with Ms. Arokia Anitha.
Apuroopa: Why did you decide to pursue law? Were you always passionate about taking up law as your career? Also, how was attending a law school in India more than a decade ago?
Arokia Anitha: According to me, 'Law' is really fascinating and studying law along with cases is highly interesting. A career in 'Law' is very challenging, rewarding and fulfilling. 'Law' is not just about rules and regulations it's all about rights, justice, understanding human behaviour and society.
Pursuing Law in India and naming yourself as an 'Advocate' was really a dream for me and I started focusing on the subjects which are very challenging and interesting to deal with humans. Actually being a 'Lawyer' gives you the opportunity to use the law to make someone's life better and I love protecting people in a court of law. This thought actually made me pursue law and take it up as a career and now I am involved in protecting the people's innovations and creations by way of practising in Intellectual Property Law.
Yes, I attended my Law School in India (Dr Ambedhkar Law College, Chennai) in the year 2000 i.e. exactly 20 years back and 'Law' as a career was very challenging especially for a woman. Attending Law School in India was, in fact, a very immense experience, as you learn a lot of practical lessons then theoretical classes. In fact, the Law Schools in India fine-tunes each and every student to build their own career at their initial stage and make them understand the core importance of each law which they pursue.
Apuroopa: Could you share anything about your college life? What were your areas of interest during your college time and what kind of activities did you take part in as a student?
Arokia Anitha: I stepped into my college exactly 20 years back and life in college was completely different and unique when compared to today's scenario. We were not that much exposed to technical aspects as you find it today. As a student, our college life was a very real and happening place. We didn't have that much exposure to Google search or any online references, all our queries regarding the subjects would be personally clarified by our Professors or by way of group discussions. Hence we developed more of practical skills than theoretical knowledge.
My area of interest was Intellectual Property Law, and that was the time where the subject of IP Law was introduced in India and I hope we were the first batch to opt for it. I had many opportunities to participate in moot courts, competitions, and practical assignments. Even I have experienced in visiting jails and interviewing the accused / criminals and analysed the cases. I was a regular blood donor and was also into social service activities /NCC.         
Apuroopa: You did a general course on Intellectual Property Law from the World Intellectual Property Organization (WIPO). How did the course help you in your career?
Arokia Anitha: Before pursuing this general course, I was very much active and involved in the assignments related to WIPO. I used to file many PCT and NPE Applications directly with WIPO and was very much familiar with the International IP subjects. Pursuing this general course in WIPO was just an additional skill and you will have better knowledge /understanding about the Madrid Protocol, PCT and NPE Law and their rules/regulations.
Apuroopa: You started your career as a junior advocate at Delhi High Court and now you are a corporate legal advisor at IP Dynasty Legal advisors. Could you share your journey and experience from being a junior advocate to a legal advisor? What milestone do you consider the most important to achieve this status and position where you are right now?
Arokia Anitha: I started my law career in Chennai High Court and later moved to Delhi. I was into Litigation Practice in Delhi High Court as a Junior Lawyer for nearly a year.  Then in the year 2006, I got an opportunity to work with the Law Firm (Surana & Surana International Attorneys) in Chennai. The Law firm provided me with an excellent career where I kick-started my IP Practice and was predominately excelled in areas of Intellectual Property Law.
Later in the year 2009, I was engaged by another Multinational Law Firm (Kochhar & Co), where I started handling all kinds of clients from national to international level and had a wonderful experience working with them. I started heading the IP department which has brought me so much of experience and skills and it made me move to the next level/phase of my career.
In the year 2013, I started my own IP Practice (IP Dynasty Legal Advisors) where I handle the clients from all sectors. I made it very clear that the practice should focus on all levels of people apart from corporate to protect their innovations. I have students, individuals, SME, Start-Ups and Corporate as my clients and I also advise International Clients who intend to protect their innovations in India.
'Hard Work' and 'Focus' are the more important aspects to achieve your goal in this career. And make sure you develop your inner skills and update yourself habitually.
Apuroopa: You have diverse experience as a legal advisor. What is the nature of work as a Legal advisor? After so much experience, how would you describe a typical workday of legal advisors? What kind of skills should be developed and what kind of profile should be maintained to become a legal advisor?
Arokia Anitha: As a Legal Advisor, I provide legal opinion and undertake all kinds of legal drafting assignments. Predominantly I handle IP matters from filing, prosecuting, oppositions proceedings, registrations, pre/ post-litigation matters, etc. Another very important skill for becoming a successful advocate, you should develop the capacity to handle the matters and make your clients contented. In my practice, my first priority will also be 'my client's requirement', and then I focus on the 'quality of the service'. I make sure at the end of the day my clients are pleased with my legal service and the issues been sorted out without any delay or uncertainty.
Apuroopa: You worked as an advocate at Delhi High Court and also worked as an associate at corporate law firms. What kind differences did you see in the role and responsibility you take up as an advocate and as an associate at corporate law firms?
Arokia Anitha: Being an Advocate in the High Court alone is completely a different task when compared to the nature of the job in a Law Firm. As a practising lawyer, I was involved in visiting Court on a daily basis, follow up the matters, attend Hearing, preparing arguments, research work, analysing case laws, etc. Whereas my nature of work in law firms as an IP Lawyer was completely different.  As I was in the Intellectual Property Department, I was involved in visiting IP offices / IPAB / Courts regularly, filing and prosecuting IP Applications, attend the hearing, drafting agreements, follow up, national and international client discussions /conferences, attending more seminars, etc. In law firms, you happen to get more exposure and learn more about business along with the law.
Apuroopa: Recently, COVID-19 pandemic has become a jolt for everyone. What kind of issues and challenges did you face at work during this pandemic? How did you overcome them?
Arokia Anitha: Before COVID -19 pandemic, I was in the regular practice of advising my clients online and we rarely meet our clients in person. Hence the same continued even after the pandemic. The only issue we faced during the pandemic was filing the online applications in the IP office and the Litigation matters were kept on hold. Then later the IP offices started resuming the online application services and hearing happened via video conference. As far as IP assignments were concerned, everything was digital even before the pandemic, hence being in this particular IP field, COVID-19 pandemic didn't affect much to a great extent. In fact, we were getting more queries and assignments during this pandemic, for protecting new inventions related to innovative sanitation products, masks, ventilators, etc.
Apuroopa: Lastly, what would be your word of advice to law students and law graduates who are looking forward to building their career in corporate law firms?
Arokia Anitha: In my experience, I would say the law profession is an excellent choice, students/graduates should make use of it in an appropriate manner. 'Focus' and 'Hard Work' is the key to become a successful lawyer.  Updating yourself with the new rules and regulations regularly is a very important aspect of your career. Make sure at the end of the day, 'client satisfaction' and their 'feedback' matters a lot. Whether you Practise in Court or Law Firm, make sure you are engaged and skilled both in litigation and non-litigation matters, so that you can equip yourself and have a magnificent career.  All the best.
---
Recommend an Interview
Recommend an Interview here by filling up the recommendation form.