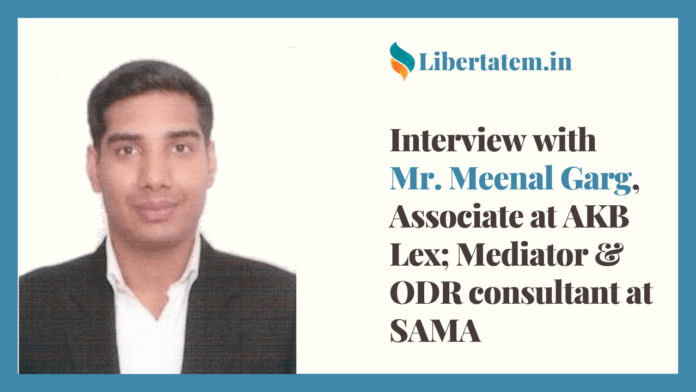 Meenal Garg graduated with B.Com LLB (Hons.) from UILS, Panjab University, Chandigarh in 2019. He is a young member of London Court of International Arbitration (LGIA), Mumbai Centre for International Arbitration (MCIA), Singapore International Arbitration. At present he is working as an Associate at AKB Lex and also as a Mediator and ODR consultant at SAMA.
Libertatem Magazine got an opportunity to interact with Mr. Meenal Garg recently and below is the excerpts from the conversation.
Apuroopa: What factors influenced you to choose law? Were you always passionate about pursuing law? Is there anyone who inspired or motivated you to pursue law?
Meenal Garg: When I was in my 10th standard I was inevitably put to choose a career path like any other 14 year old kid. Though I didn't have any preference in my mind, I was clear that I would like to work in a corporate environment. The sheer professionalism and the complexity of a corporate job had always intrigued me. However, I didn't want to opt for MBA or Engineering as these options looked too mundane to me. It was at this juncture that I was introduced to law as a profession by my father. As a cautious person I talked to a lot of people including teachers, lawyers, neighbors and some law firm associates about the advantages and disadvantages of pursuing law. After talking to them I was convinced that law would be the perfect field for me as it could help me fulfil my dream of doing a corporate job and at the same time not do a mundane job for 30 years.
Apuroopa: How was your college life at UILS, Panjab University, Chandigarh. How important was your college in shaping your legal career? Also, in your opinion, how important are grades in law school for a better career?
Meenal Garg: Since my law school was a non NLU and traditional law school, life at UILS brought its own benefits and challenges. For starters, there was a lack of guidance in form of mentorship and alumni support. Moreover, the curriculum was also not tailored to suit the needs of a budding corporate lawyer. On the other hand, UILS offered a flexible and stress free environment. We had an open door policy with our teachers who were always ready to accommodate our every need from short attendance to condoning project deadlines and guide us for every moot. However, the best part of UILS was that the college's environment was never static. Every day brought a new challenge and a new opportunity. In other words, UILS showed me a glimpse of the life of a legal professional. As far as grades go, despite being one of the batch toppers (in college and in school), I never believed that good grades are a sine qua non for a successful legal career. I know a lot of people from my college and from other law schools who in spite of being average students are doing pretty well in life.
Apuroopa: What are the reasons behind choosing arbitration? Do you think arbitration is going to have a good scope in future? Why do you think people still prefer litigation over arbitration?
Meenal Garg: Arbitration being a consent based dispute resolution mechanism appeals to the libertarian in me. Apart from that arbitration is being used today in almost every form of commercial contract; as such this feature of arbitration aligns with my goal of working with corporate entities. As far as the future of arbitration is concerned, the present legal landscape speaks for itself. Many national and international firms now have specialised arbitration teams and there has been a spurt in new arbitration boutique firms. Due to its flexible procedural nature, arbitration has been one of the few forums which have been able to function effectively in these troubling times of COVID-19. With virtual courts quickly becoming the new normal, arbitration is set to become the most preferred choice, at least as far as commercial litigation is concerned. However, it is also true that arbitration has become a costly and a time consuming affair. This has discouraged the common public to resort to arbitration instead of litigation. Thus, it is imperative that concepts like third party funding are introduced and institutional arbitration is promoted to make India as a global arbitration hub.
Apuroopa: You are a young member of many International Arbitration centers such as Singapore International Arbitration center, London Court of International Arbitration etc. Could you share your experience being a young member of so many International Arbitration centers and in your opinion, what skills should be developed to become the same?
Meenal Garg: At the outset, I must mention here that it is very easy to become a member of such organisations. A person can simply fill an online form and become a member of any of these organisations free of cost. The real journey starts after becoming a member. These organisations should be viewed as a platform that provides its members with opportunities to hone their arbitration skills. In my experience, these organisations have greatly helped me by providing me with writing opportunities, mentorship opportunities, networking opportunities (both online and offline). Thus, any person who is interested in pursuing a career in arbitration should preferably opt to become a member of such organisations.
Apuroopa: You have won many national and international essay writing competitions and also have made 15 publications in various renowned journals. Do you think publishing research papers, participating in moot courts, are extremely important for one to pursue bright legal career even if the student is not interested in doing so? Also, can they be compensated with good internships and extra-curricular activities?
Meenal Garg: In today's competitive world, research papers and moots have become an integral part of a law student's CV. In fact, in my opinion, writing research papers is one of the simplest means of bridging the gap between a non-NLU and NLU student. Many organisations now pay due weightage to such extra-curricular activities while deciding upon an internship or even a job offer. I have often seen, good mooters getting on the spot internship offers in their moots by the evaluator/judge who is often a law firm partner or a senior lawyer. Similarly, writing competitions sometimes offer an opportunity to intern with good lawyers/law firms to winners. A good research paper can also peak someone's interest and get the author an internship. Thus, I wouldn't say that it is a compulsion to indulge in such activities but given the scenario and benefits of these activities, I would strongly recommend that every law student should partake in such activities.
Apuroopa: In India, ODR is still in its infancy stage but it is just a matter of time before ODR is adopted at a large scale in India. What is your take on this? Also, do you that think the importance of ODR has increased due to this COVID-19 pandemic?
Meenal Garg:  ODR especially online negotiation and mediation has registered a stupendous demand due to COVID-19. In my opinion, even the virtual courts are but one form of online dispute resolution. Many lawyers have strongly opined that ODR and virtual courts are here to stay even after COVID-19. Of course, these systems suffer from a number of problems but a person can only learn with experience. Thus, with little tweaks and amendments, it is highly probable that ODR becomes the new normal in the not so distant future.
Apuroopa: Could you share your experience as a mediator and ODR consultant at SAMA? What kind of issues and challenges do you face and how do you handle them?
Meenal Garg: Change is never easy to accept but is inevitable. In a country, where people are hesitant to opt a well established arbitration mechanism over litigation, ODR is a viewed with sceptical and suspicious eyes. Litigants are confused about the procedure and manner of enforcement. In the beginning, even lawyers like me tend to shy away from such mechanisms. In this sense, COVID-19 has proved to be a blessing a disguise as such scared litigants are now embracing ODR out of necessity. In such scenario, I believe it to be my solemn duty to educate such litigants about the simplicity and benefits of ODR.  Moreover, it also becomes necessary to keep the parties calm and help them guide into the process of mediation through online means to effectively resolve a dispute.
Apuroopa: You are working as an associate at AKB Lex. What kind of role and responsibility do you undertake? How would you describe your workday like?
Meenal Garg: AKB Lex is primarily a boutique arbitration and commercial litigation law firm. As such we majorly handle, all forms of arbitration proceedings at every stage and commercial suits arising from partnership deeds, insurance policies, infrastructure contracts etc. Apart from this we also handle other forms of civil litigation and domain name disputes. As an associate, I am involved at every step of the process from handling client meetings, drafting, researching, conducting due diligence, vetting, appearing in various forums and assisting in arguments. Since arbitrations can be conducted at any time or day, I would sometimes find myself assisting in a matter at 7 PM on a Saturday evening and then arguing another matter at 11 AM on a Sunday morning. Apart from this we also have knowledge building sessions where we talk about latest judgments, social and political scenario etc.
Apuroopa: Lastly, what would be your word of advice to the law students who are looking forward to become an arbitrator?
Meenal Garg: My first and foremost advice would be not to give up irrespective of the career path you are choosing. Speaking from experience, there are often moments when you feel disappointed and let down. It is only these circumstances that one must learn to pick himself up. On a more practical note, one must streamline his or her goals as early as possible and then make a structured plan taking into account internships, writing research papers and other extracurricular activities. One must carefully assess the impact of every activity on his or her career and only then choose whether such activity should be undertaken or not. Last but not the least, the process of learning should never stop. Given the dynamic and vast expanse of field of law, one could succeed only if one inculcates more and more skills and knowledge.
---