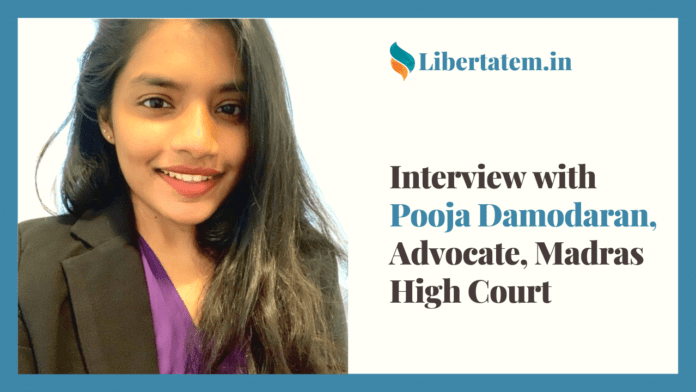 Pooja Damodaran graduated with B.Com, B.L (Hons) from Dr. Ambedkar Law University School of Excellence in Law in 2019 and pursued her LLM (International Commercial Arbitration) at Stockholm University. She was chosen for one of the most prestigious programs with only 25 students picked from 33 countries. At present she is an advocate at the High Court of Madras and also a Junior Associate at Rajagopal & Raghunathan Advocates.
Libertatem Magazine interacted with Miss Pooja recently and we discussed a few things relating to her years in law school and the difference in approach in Indian Legal Education System vis-a-vis the Foreign Education System. She also talks about how she cleared the LLM Examination and got admission in Stockholm University. Lastly she shared a step by step guide on how one can get an admission in a foreign university for pursuing LLM. Below are the excerpt from the Interview.
Apuroopa: Why did you choose law? Do you have any role model or mentor? What inspired you to be in this profession or what keeps you motivated?
Pooja: My biggest role model and mentor was my father. He is not a lawyer or into the law profession but his leadership, charisma and administrative authority motivated me to pursue law. I was always determined to become a lawyer since a young age. I was actively participating in various oratorical competitions which further confirmed my interest to pursue law.
As a first generation lawyer, I faced various hurdles. I had no mentor before I pursed my bachelor studies. However hard the journey was for me, it helped me to learn from scratch and gain confidence. As a law student, I took part in various moot court competitions both nationally and internationally which motivated my interest to learn various law subjects in depth. Furthermore, I would say as an advocate now what really motivates me is the satisfaction of being of help to the society.
Apuroopa: You did your graduation in Dr. Ambedkar Law University School of Excellence in Law and your master Stockholm University. What were the differences you saw in your legal studies in India and Foreign? In your opinion, which one was good?
Pooja: I graduated with B.com, B.L (Hons) from Dr. Tamil Nadu Ambedkar Law University, School of Excellence in Law, Chennai in 2019.  My experience with Dr. Tamil Nadu Ambedkar Law University, School of Excellence in Law aka SOEL was fundamental to my legal education. I pursued my bachelors from SOEL because it was the leading law university in Chennai, Tamil Nadu. My bachelor degree was for a duration of 5 years and my academic curriculum were divided into 10 semesters with 42 different law subjects. I would say in short, SOEL was the lay stone for my legal knowledge and the highlight was the exposure it gave me. I was an active mootie and had access to several internships with leading law firms in Chennai and judicial clerkship with judges of Madras High Court.
However, I think the most evident difference between the two schools I attended was the quality of education, the practical exposure and available resources. I studied in a common law background, all about Indian laws for my bachelors and I personally struggled a lot to collect resources as the online data base and books available at the university was limited. This invariably affected our preparations for moot court competitions in comparison to students from other national and foreign universities who had access to various sources.
The other striking difference was common law and civil law method of teaching and the academic structure. I initially found it a bit difficult to integrate with civil law system of reading, writing and grading. Further, I feel Stockholm University's ICAL course is well-known not only for its' reputed program but also the arbitration resource available. We have a separate arbitration library in Stockholm University. These features really help students not just to understand the subject in depth but also provides a platform to make the most of their studies.
Furthermore, I believe the way of research between law school in India and abroad are different. Most law schools in India really believe in the traditional method of examination to test the knowledge, whereas law schools abroad focus on methodology and assignments, i.e. testing students to write on novel/innovative subjects using the resources available. These assignments help student's writing, drafting and researching abilities to improve.
Apuroopa: Now a days many law students prefer corporate jobs over a career in litigation. As an advocate, what is your take on this? Is it better to work in corporate sector for a few years before starting litigation?
Pooja: I think there is no straight-forward answer to this question. This is a personal choice. Both litigation and corporate jobs has their pits and peaks. I personally started my career with litigation. I believe as a law student and lawyer, the most practical aspect is to have access to the courts and judicial practice. Litigation certainly helps a lawyer to build legal personality as it exposes one to various disciplines of legal issues.
Apuroopa: What motivated you to choose arbitration as your area of practice? Do you think arbitration has a lot of scope than compared to the litigation in India? Now a days when there is commercial dispute in company, arbitration has always been the preferred alternative over litigation wherein the parties to the arbitration mutually control the terms thereby avoiding their national legislation or rules of procedure. Do you think this approach has been mostly successful, is arbitration the best way to solve commercial disputes?
Pooja: Arbitration is the current alternative to litigation in India. Most companies and business prefer arbitration to resolve disputes. This system of dispute resolution is flexible and the principle of party autonomy (parties will) is valued. The parties are free to choose their arbitrators, align procedures and have control over their proceedings. However, an arbitration is effective only if the award is made enforceable. This could possibly be the one set-back compared to a traditional litigation practice. The judgements rendered by the courts are automatically binding on the parties. In arbitration, it's on the parties to enforce the award. The parties similar to litigation are also given the opportunity to set aside or challenge the award in the arbitral seat in arbitration.
Therefore, arbitration is the latest solution to complex multi-party and multi-contract disputes. It is preferred because of its flexible, time and cost efficient features.
Apuroopa: The COVID-19 pandemic has proved to be jolt for everyone. In your opinion, how do you think the pandemic has affected the International Arbitration? According to you, how the various arbitration fora should be dealing with this global pandemic and the state of uncertainty that is created due to this pandemic?
Pooja: The traumatic pandemic has affected all business and invariably resulted various disputes, however due to the non-functioning of courts and tribunals many arbitration are now conducted online. There are existing mechanism such as online dispute resolution (ODR) which provides an online platform to the parties to resolve the dispute. All proceedings are conducted online. However, this is not a permanent solution in the field of arbitration.  Most arbitration encounters physical examination of evidence, parties presence and overall in presence arbitration for viable results. Technical difficulties, time zones and evidential matters are some crucial hurdles faced during COVID 19. Thus, international arbitration specifically is facing a crunch time during the covid-19 crisis. The parties are wide spread across the world facing different restrictions due to the pandemic which makes it all the more difficult to schedule all proceedings online. The only solution to this on-going crisis is to patiently wait and postpone arbitration proceedings to near future. Moreover, in case of emergency parties could also opt for expediated procedure. Internet is a boon during these times but, does not help in achieving an complete result in arbitration.
Apuroopa: You have done other additional certificate course on Intellectual Property Rights, how far the course helped you in your career? Also, you were a student member of Chartered Institute of Arbitrator. Could you share your experience being a student member of Chartered Institute of Arbitrators?
Pooja: I believe any additional qualification helps build your career. The IP course helped me understand various intricacies with regard to trademark, patent and copyright which are also subjects that cross over in arbitration matters. Further,  I would say that being a student member of Chartered Institute of Arbitrators has exposed me to various sources and arbitration professionals. I highly recommend anyone practicing or invested in arbitration to sign up for CiArb.
Apuroopa: In India, there is a mentality among people that students should pursue LLM only if they are interested or want to get into the teaching field. Do you think this approach is correct? Do you think that pursuing LLM from foreign universities is a better choice as compared to Indian universities? Do you think more importance is given to the LLM graduates from foreign universities as compared to the LLM graduates from Indian universities?
Pooja: I absolutely believe that there is no stigma in pursing an LLM only to gain academic experience. My reasons to pursue a masters was of two folds. Firstly, having extensively participated in moot court competitions (14 National Moot Court and 1 International Moot Court competition) and interning for about 5 years in various disciplines of law. I earned to learn more before I stepped into litigation practice. Secondly, I decided to a specialized masters because of my strong interest in dispute resolution and arbitration. I want to establish an exclusive career for myself in arbitration. When I realized an LLM would be my first step towards this goal, I checked for Global Arbitration Review (GAR) LLM ranking and the International Commercial Arbitration Law programme founded by Patricia Shaughnessy was ranked #2 globally for arbitration courses. Available at: http://m2-contentieux-arbitrage-marc.u-paris2.fr/Files/GAR_LLM_survey_2012.pdf
Hence, a choice of pursuing an LLM should not be restricted to academic purpose. A learning of subjects in depth always helps lawyer irrespective of the field they choose to pursue. Finally, I believe there are certain courses offered by Indian universities which are recognised by the international standards. Therefore, I believe that law firms and universities while recruiting only look into the quality and check if education received is honourable (i.e. ranking of law school in the specialised course) rather than discriminating between a foreign and native LLM.
Apuroopa: Lastly, what advice would you have for law students who are looking forward to take up International Commercial Arbitration as a career option and according to you, what kind of skills should be developed? Also, what are the career options for a person who wants to pursue Commercial Arbitration for higher studies?
Pooja: LLM overview: I believe an LLM or any education aboard would expose you to various perspectives. The biggest hurdle for me was to switch from a common law to civil law background. It is important to weigh your investment and prepare yourself for what's to come. I chose Stockholm and Sweden (SCC) because it is a popular seat for arbitration cases. Also, the ICAL program is world renowned and would be a perfect fit to kick-start my arbitration career. When you choose education aboard, be mindful that you always have several hurdles to face, could be visa issues, native languages, academic differences, cultural barriers and even also sudden unprecedented pandemics (like COVID 19). It is important to realise irrespective of your challenges, you will benefit from your experience.
Here's some absolute essentials you must bear in mind while applying for LLM:
English Requirements– (IELTS, TOFEL, PTE) which ever test is required by your university. Pro tip: Do as many as practice tests before the exam!
Statement of Purpose– Pro tip: the best paper is always rewritten. Do not expect your first draft to be the one to get you into a dream university. Keep your writing short and really focus on the purpose. Why you feel this course will benefit you? Why should you be the selected candidate over others? What do you intend to do after this course? Also, highly recommend to get someone to proof read your documents. Trial and error is a method which works like magic.
Letter of recommendation- Pro tip: Real content is always better than superficial letters. Ask for recommendation letters from teaching staff/colleague/seniors who know you very well. The secret of a good recommendation letter is how well the mentor knows you and your abilities. Remember the admission committee would have seen many standard templates. So, in order for you to stand out, make sure your referee adds your skill sets, your abilities and what drove your interest to the program you are applying for.
Time management- Pro tip: apply for universities before well before the deadlines. The later you submit, the lesser chance your application stands. Collect necessary documents – marksheets, provisional certificates, passport scans, other credentials a week before you apply.
Career options: There are various career options after an LLM in International Commercial Arbitration. One could either study further and pursue a JD, PHD or doctoral studies or apply to firms as a counsel which have dispute teams. Top legal 500 law firms in the world recruit lawyers with LLM degrees and many ICAL alumni's are currently working as dispute resolution counsels with top-tier law firms, International Council for Commercial Arbitration (ICCA), Stockholm Chamber of Commerce (SCC), London Court of International Arbitration (LCIA), etc. More information available on: http://www.icalaa.org/.
How to stand-out: The one way to stand out with an LLM application amongst others is to be honest, novel and unique. It's highly recommendable to invest time in your statement of purpose and letter of recommendation. Every admission committee is looking for candidates who prove their interest in the LLM through competitions or work experience. I ensured that my application stood out by adding emphasis on extra-curriculum activities (mainly moot court competitions), my published articles and my overall internship experiences.
Parting words: Pursue an LLM considering the above-mentioned circumstances, there's absolutely nothing to lose, but only to again. Wishing everyone with their applications in this tough time, best of luck!
---