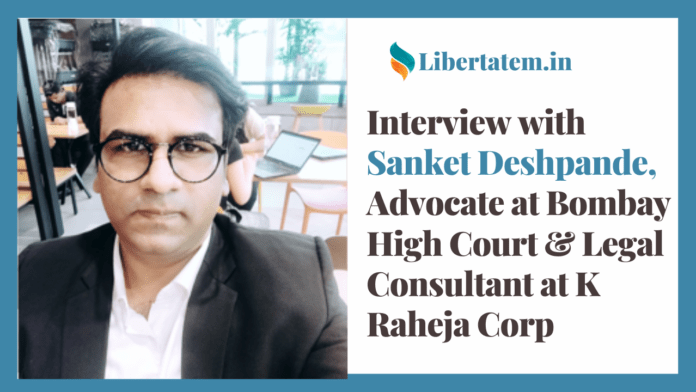 Mr. Sanket Deshpande graduated from Government Law College (GLC), Mumbai in 2010. He did his Post Graduation Diploma in Cyber Law and Cyber Forensics from GLC. He is a practising counsel at High Court of Bombay and City Civil & Session Court, Mumbai with more than 7 years experience. He is specialized in Civil, Criminal, Education, Labour, Slums and Municipal Law Matters. He dealt with many Civil Trials, Criminal Trials, Anticipatory Bails and Writ Petitions at Bombay High Court. Currently, he is also a Legal Consultant at K Raheja Corp.
Below is the transcript of the conversation we had with Mr. Deshpande.
Apuroopa: What factors influenced you to choose law?
Sanket Deshpande: Three factors actually, Firstly, right from my school days I was inclined towards Public Service. I used to take part in different social activities pertaining to Teach for India, Blood Donation Camps etc. So I decided I will opt for Law and Legal Field as a Career in life since it is more connected towards my goal of Public Service. Secondly, I was always in awe of the Advocates arguing in courts with Black Coats, Bands and Gowns and the position and respect which they earned deeply inspired me to opt for Law as a Career. Thirdly, my father also wanted me to be a Lawyer considering my 6 ft. intimidating personality, so he too was another motivation, and hence right after my HSC, I got myself enrolled to a law course in prestigious Government Law College, Mumbai.
Apuroopa: Did anyone inspire you to choose law?
Sanket Deshpande: Yes. Many personalities.  I am an avid reader since my childhood days. I read a book by the great father of our nation Mahatma Gandhi's My Experiments with Truth. His taking up of the cause of the Indian's in South Africa after being thrown out of the train at Pietermaritzburg in 1893 for being a so-called Black Indian and his fight for India's freedom struggle later, inspired me.
Another book which I must mention here is Cornelia Sorabji's autobiography by Suparna Gooptu. Cornelia Sorabji was the first Indian Lady lawyer who was allowed to practice the profession of law in Calcutta High Court. The odds which she faced and her quest to fight for the cause of Indian women during the British Regime is definitely an inspiration for all the lawyers.
Nelson Mandela's Long Walk to Freedom is one more inspiration. His fight against the apartheid.
Then there are the legends like Nani Palkhiwala, Soli Sorabjee, Fali Nariman, Anil Diwan, Adik Shirodkar, Ram Jethmalani have always been inspirational and we as young lawyers do look up to them.
Apuroopa: Could you share your pre-college experience?
Sanket Deshpande: Actually nothing exciting here. I did my schooling from Don Bosco High School, Dombivli located in Thane District of Maharashtra. A convent school. I was always an average child.  I never topped. But I was always ahead in Extra-Curricular activities like Sports, Scouts, Social Service etc. Received many certificates of excellence in the same.  After my SSC exams, I joined Mulund College of Commerce, Mulund, Mumbai. Since I wanted to pursue Law only I decided to opt for Commerce side. And after my HSC I joined GLC, Mumbai.
Apuroopa: You did your graduation and post-graduation from Government Law College (GLC), Mumbai. How was your life at GLC and how did the college help you in shaping your career.
Sanket Deshpande: I got a merit-based admission to Government Law College, Mumbai. My GLC life was one full of excitement and enthusiasm. I still remember my first day in GLC when we were introduced about the College by the then College Principal Ms P. R. Rao ma'am. After that as and when the schooling started we were enjoying our everyday dose of knowledge. I will not miss here the lectures by Senior Solicitor Mr. H .D. Pithawala Sir. He was one of the best legal luminary and teacher on Companies Act, Contract Act, Sale of Goods Act and Partnership Act. His class was always a full house. The way he used to teach was simply great. Even today as a lawyer I remember each and every lecture of his and I make use of his teachings in my professional life as well.
From 3rd year of law, we actually started learning the legal subjects, first two years being only about the humanities. I was also a part of several committees like Legal Aid, Rotract Club, Lions Club, Leo Club, Model United Nations etc. I used to actively take part in the day to day activities of these committees. We really enjoyed all our days back then. Activities like mega blood donation camps, legal aid for the underprivileged, poor and women. Helping the accused who were falsely implicated. I still remember briefing a Senior Counsel of Bombay High Court in my college days for a Habeas Corpus Petition which he fought for us completely free of charge (sorry I don't intend to name him here). Then there was a case of rape of a mentally challenged 15 yr old daughter of a very poor auto driver in Mumbai. I worked on that case through the Legal Aid and we worked closely with the Maharashtra Women's Commission. There are many such cases which helped me groom myself for a career in Law through GLC, Mumbai. One thing is that GLC Mumbai had many Senior Advocates of Bombay High Court and Supreme Court giving guest lectures. We were lucky to learn from them. GLC Mumbai has the oldest law library in India. You can sit and read all the old law books from the 18th Century. I did a lot of moot courts as well.
Apuroopa: Also, why did you choose Cyber Law and Cyber Forensics as your area of specialization?
Sanket Deshpande: 2010 was the year when Mobile and Smartphone market had started booming in India. It was also the year when Orkut and Facebook had started developing as popular connection mechanisms amongst people. Today we call it Social Media. My motivation to do Cyber Law and Cyber Forensics purely came after reading a Case in the newspaper pertaining to a girl in her 20's whose fake account was created on a Social Media site by her estranged lover out of revenge for rejecting his love proposal. In that case, I learned that the girl was shown as a prostitute and her phone number with morphed photos was put online by her estranged lover. This led to her harassment since many anti-social elements started troubling her. Ultimately she committed suicide. There was a write up published in the News Paper by an expert in the field about the importance of Cyber Crime and Information Technology Act, 2000. So I enrolled myself for the course on Cyber Law and Cyber Forensics.
Apuroopa: What kind of internships did you take up in your student years? Could you share your overall experience of your internships? Also, how did the internships help you to reach the position in which you are now?
Sanket Deshpande: Internships are very important during our College years. I did not do any Law Firm internships. But I interned under three Senior Advocates of Bombay High Court since I wanted to be a Litigation Lawyer. I used to roam around in Bombay High Court with them. I used to carry a writing pad with me and whenever there was a reference to any point of law I used to note it down and do a research on it. This helped me understand the legal terms right during my college years. After court hours I used to go to the office and read briefs to understand cases. This helped me a lot right from the beginning. So much so that when I graduated I was not a newcomer but kind of an experienced fellow who had all knowledge about the different legal aspects very beforehand.
This helped me by way of getting more and more matters to handle from my Senior Mr S. G. Deshmukh, Senior Advocate since he was very comfortable with me and was confident about me. Eventually what I am today is only because of that since I could work on different areas in the legal field.
Apuroopa: You have been working as an advocate at Bombay High Court for more than seven years. Could you share your experience as an advocate?
Sanket Deshpande: I joined the Chambers of Senior Advocate Mr Sadashiv G. Deshmukh in R. No.  36 of BHC and started practising at the Original and Appellate Side of Bombay High Court. Mr Deshmukh Sir was a very brilliant and loving Senior, and yes he was a disciplined Lawyer and he expected us to be the same. During my interview, I was told by him that he will not pay me any salary on the 1st day of the month but will pay me on the basis of my performance. Right from the start, he inculcated discipline in me, he wanted me to be at the bar at 10.30 am in the morning and get the matters which were very urgent circulated/produced. Later after the day's work post 5 pm I used to go to his office and then came the most fun part -new matters, new clients, filing, drafting and client conference. I used to stay in the office till 10 pm every day along with my clerk Sandip Palav and reach home at 11 pm. So yes it was a 9 am to 11 pm job and not 9 to 5 job like others. On every Sunday in the morning at 10 am, I and my senior used to give dictation to our stenographer of all old and new matters till 4 pm. So yes Lawyers have to work on Sunday's as well. There's no free or leisure time. Except during summer and Diwali Vacations. I thoroughly enjoyed it. Mr Deshmukh gave me all the liberty to handle his matters old and new and also used to send me to the courts for arguments. This helped me get good recognition before judges. 6 years of life passed so quickly and I continue to enjoy it. I handled many Civil Trials and Criminal Trials as well. I have also drafted and handled 1200 page Petition at Bombay High Court. Arbitration and IP Suits etc.
Because of my sheer hard work, I got many matters to work on.
Apuroopa: What kind of changes did you see in the litigation during these years?
Sanket Deshpande: Litigation I will say has not changed but it has evolved and has become more complex. Initially, matters were categorized more into just Civil Practice and Criminal Practice. Now it's no more Civil and Criminal only. Bombay High Court has now dedicated benches for Commercial Suits under Commercial Courts Act, Intellectual Property Suits, Arbitration Petition etc. With people becoming more and more aware of their rights Petitions under Article 226 and 227 have increased. Similarly, one thing which is important is the ADR mechanism and NCLT. Previously Bombay High Court and Civil Courts had Original Jurisdiction overall Company Petitions but now NCLT Bench at Bombay has made the Company Litigation more specialized. So as a Litigation Lawyer now you have to be ready with everything to be successful. I believe you must never say that 'I am Civil Law or Criminal Law practitioner'. You must just be a Lawyer and be ready to handle multiple litigations at multiple forums. Litigation has changed and will continue to change with India poised to be a globalized trillion-dollar economy and clients have more or less become capable enough to pay. IBC and winding up is also a big field now.
Apuroopa: Recently due to COVID-19, there is an increase in cybercrimes, in the sense of personal and financial information of individuals and companies are at risk considering the increase of cyber-attacks. What is your take on this? In your opinion what steps should be taken to overcome this?
Sanket Deshpande: The threat of Cyber Crime has always been there for years. But COVID has given an opportunity to Cyber Criminals to attack our personal data. For Example recently WHO said that there were certain fake emails which were sent to some people in the name of WHO and it was later found that the file was, in fact, a Trojan-Downloader which secretly downloads and installs malicious files. The cybercriminals are taking advantage of the Work From Home scenario and sending spam emails to spy on companies. Personal Data is the target as well. 'Corona Virus Malware' is attacking the personal details, bank accounts etc of individuals.
I think it is necessary in this situation to have a very user-friendly Cyber policy in place. Security Systems and Firewalls have to be strong but very user friendly. Only then can we tackle it.
Apuroopa: Recently, you joined as a legal consultant at K Raheja Corp. How is your experience so far? What kind of role and responsibility you take up as a legal consultant. In your opinion, what kind of profile should be maintained to become a legal consultant?
Sanket Deshpande:   I have a Linked In and Naukri profile. In January 2019 I had a call from K. Raheja Corporate Services Private Ltd. for a job opportunity as a Litigation Lawyer – In House. At first, I was very reluctant to take up the opportunity since I have a very decent practice at High Court, Bombay. But then I decided that I will give a shot at the interview. I was interviewed by the Senior Advocates of the Company who told me about the nature of the job and also the role. I was selected just in the first round itself and was also given liberty to join the Company one month later after settling my previous matters.
Raheja Group of Companies is the 2nd Biggest Company in the field of commercial real estate in India. It is also a leading company in retail, hospitality, power and residential sector. Brands like Shoppers Stop, Chalet Hotels, Cross Words, In Orbit Malls, Mindspace Business Parks, Commerzone Business Parks are owned by Raheja. It is but obvious that the Litigation is more commercial here. There are all high stake matters pending at Bombay High Court, NCLT and Supreme Court of India. And also very high-end Arbitration disputes. My role is more about acting as a representative advocate of the Company, advise the company on the Litigation matters, coordinate with external senior lawyers and also appear with them in the matters. It is really great experience since I get to handle very high stake disputes for such a huge corporate giant.
I think the Corporates look for a very strong profile as Legal Consultants. There is a bifurcation in the role namely Litigation related Legal Consultant and Non – Litigation related Legal Consultant. So it depends upon us what profile we want to maintain. We need to have a very strong CV which can stand out and for that, you should handle more and more matters which are very diverse in nature. I was lucky to get an entry to the Corporate World as a Lawyer having no law firm background. But I would advise all to be very serious in the job right from the day one of your careers. If you are a part of a Law Firm big or small ensure you work so hard with your reporting partner that he feels confident about you and you keep on getting more and more matters from him. Rest all will fall in place very easily. Try to improve your CV and make it more appealing.
Apuroopa: Lastly, what would be your word of advice to aspiring lawyers?
Sanket Deshpande:  I will answer this by quoting Franklin Roosevelt who said
'take a method and try it. If it fails, admit it frankly, and try another. But by all means, try something'.
Same is the case with the profession of law. Law is considered to be a noble profession. Just check what Mahatma Gandhi, Nelson Mandela, and Abraham Lincoln have in common – they were lawyers. They were the agents of change. They brought about significant changes in the world. Similarly, we have to decide for ourselves what we want to do as Lawyers. If you have taken up Law as a Career, you need to have a career goal. Decide for yourselves what you want to be, a Litigation Lawyer who argues in Court or Non – Litigation Lawyer who works in –house or a mix of both. You need to decide whether you want to be an independent practising lawyer or be a part of some Law Firm. Both roles are good. But the only drawback with being an independent lawyer is the gestation period. You must have the patience to earn money or get briefs. Nothing will happen quickly. I always feel 6 to 8 years of hard work is required to have a successful practice and 10 years of hard work for stable practice. Clients will not come quickly in the initial years. So it is necessary to take up any matter which you get and ensure that you work hard on that matter. That gives us a sense of satisfaction and also earns us praise from the fraternity. One thing I must state is not to run behind money. The money will come gradually. First few years of life is only about experience building and sharpening the tools. But one plus point is once you have a strong client base you will start earning like anything.
Also just be very honest with your clients. I have experienced that nowadays lawyers mislead the clients despite knowing that there's no case made out. This is really sad. If you want to fight a case for your client just tell him the truth and whether or not he has a chance of winning, even if you lose the client or brief later don't worry, ultimately that client will remember you as an honest lawyer.
Patience, Perseverance and Practicality are the three P's which will matter.
---
Recommend an Interview
Recommend an Interview here by filling up the recommendation form.