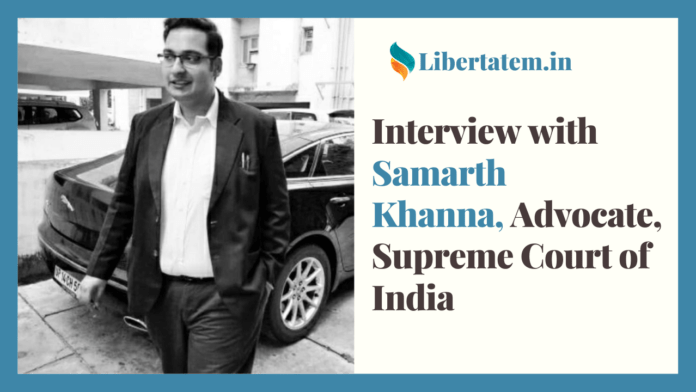 Samarth Khanna is a practising advocate based out of Delhi taking cases in various judicial and quasi-judicial forums in India. During his years at the Bar, he had got the opportunity of working on a wide gamut of cases ranging from commercial disputes to criminal and constitutional cases. This experience has equipped him with the necessary skills required in advocacy such as preparation of pleadings, conducting an examination of witnesses, performing arguments, drafting written submissions and a host of other documents.
In addition to his Independent practice, he is also associated with Senior Advocate Amarendra Sharan (former Additional Solicitor General of India) wherein, primary tasks assigned to him are research, preparation of case notes, briefing of Senior Counsels, preparation of written submissions, legal opinions etc
Apart from Advocacy, he has always had an active interest in Civil Rights pursuant to which he has worked with various Government and Non-Government Organisations both in India and abroad. To date, He continues to be associated with such organisations further nurturing his interests in Public Policy and Human Rights.
Libertatem Magazine got an opportunity to interview Mr. Samarth Khanna recently and below is the excerpt from the same.
Vidushi: When did you decide to study law and what influenced that decision? If not law, what alternate career would you have considered?
Samarth Khanna: Back in 2010, the Supreme Court of India dispensed compensation to the victims of the Bhopal Gas Tragedy. As a young man with a passion for justice, I somehow felt the anger and anguish of the victims, their families and in a way also felt betrayed by the delay in the country's legal system. It was at this juncture that I realised the potential law has to impact lives. The spirit of exploration required in law coupled with the application of operative logic excited me even more. I discovered that my inquisitiveness for critical reasoning was better served in law. As an alternative, I probably would have chosen to be an analyst.
Vidushi: What is your take on the role of academics, internships, co-curricular activities and extra-curricular activities during law school? How should law students go about building their CVs?
Samarth Khanna: Well there's no straight or simple answer to this question or there's no fixed hierarchy a student ought to follow. Everything plays a part in building your CV / honing your skills. Internships help you gain an insight into the functioning of the legal system, academics help one build a base in law, co-curricular skills help one better their arguing/drafting abilities and extra-curricular activities improve other aspects of one's personality like leadership, communication skills etc. One thing though is for sure and that is, do everything. As my professor of Jurisprudence once told me, a lawyer is not someone who should know everything of something rather, is someone who should know something of everything. Experience various facets to the Law School life. There are many career options available post-law school therefore, capture that what interests you, intern, hone your skills and talent and you'll be sorted. Law School, if done right, is a challenging and exciting affair.
Vidushi: The number of things, which a law student can do in their law school, has expanded significantly. So much so that picking up one activity inevitably means that you have to give up on another opportunity. In this academic landscape, how would you recommend that students prioritize different tasks in college?
Samarth Khanna: Again, picking up one thing over the other is completely subjective. For example, when I was asked to represent the college in a client consultation competition, it directly coincided with our cultural fest but I was okay giving that up for the experience of the said competition. Therefore, while picking up one activity over the other or one subject over the other, keep in mind your preferences and it's long term consequences. Given that most law school courses are now spread over a course of 5 years, I'd suggest trying everything like MUNing, Mooting, research paper writing, debating etc at least once during your law school. Post that, once you've got a hang of things, go ahead and excel in at least a couple of co-curricular and extra-curricular activities. One thing I'd like to point which I personally never ventured into was the Student Council and associated activities therein. In hindsight, I think I should have probably, actively participated in our college's Student Council activities.
Vidushi: Sir, you have also worked as an Associate with Senior Advocate Amarendra Sharan, Former Solicitor General of India, on some of the landmark cases like Mahatma Gandhi murder case and cases related to SC/ST Atrocities Act 1989. Post that you started working as an Associate with Advocate Abhinav Mukherji. This must-have provided you with great exposure and insights into advocacy. What challenges did you face at first as a fresh graduate from law school, and how have these challenges helped you develop as an Advocate?
Samarth Khanna: Being the first lawyer in my family of businessmen and doctors, the decision to enter law school took many by surprise. Yet, my conviction has stood by me, as I took up challenge after challenge during my 5 years at law school and thereafter, at the Bar. I joined Mr Sharan's chamber in November 2016 and continued to work at his chamber up until his sad demise in August 2019. It was a fantastic experience working under him. He was a great boss to work under and allowed a flow of fresh information even if the same came from someone as a junior as me (as I then was). I was also fortunate enough to have had some fantastic colleagues when I was working under Mr. Sharan and Mr. Sharan's chamber felt more like family than work. I think the same could be said about Mr. Mukerji and his chamber as well. It was a chamber focussed on efficiency, hard work and well being of everyone involved. I'd say I have been very lucky in so far as my chambers are concerned and both of these chambers have in equal measure taught me, honed me, nurtured me and made me a better lawyer than I was the day before.
Apart from the very obvious challenges of drafting, arguing etc. the one that really hit a chord was that of reading and understanding a brief within those few first minutes since you've got hold of it. In so far as drafting goes, I have followed one simple advice and that is to keep the brief short, simple and understandable within the first 2 pages. In so far as arguing goes, the trick is to just simply observe, observe and observe. No one can teach you better than the courtroom itself and that's a skill you continue to hone, continue to develop as and when you progress in the profession. In so far as reading the brief goes, nothing but practice can help you in this regard. An advice I got from my chamber seniors was that to constantly read. A very senior lawyer once told me that an advocate who doesn't read every day is an advocate who has fallen behind his contemporaries. Mr. Sharan would often frown at us (the Juniors) loitering around in court and would always promote us to spend as much time as possible in the Supreme Court / High Court library reading SCALE or Judgement today or any other journal we could get our hands-on. Lastly, I would reiterate the words of the great Mr. Ram Jethmalani (my professor emeritus from back in law school) when he said that an advocate is forever, a student of law, throughout his life. In a similar spirit, the profession throws unseen and unique challenges every day at you and one just has to navigate the waters both, professionally and personally.
Vidushi: Getting justice is a human right of every individual, be it a rich or a poor person. But, in today's time, the kind of trial an individual gets depends on the amount of money he has in his bank account. You have actively worked as a civil right pursuant in governmental as well as a non-governmental organization for quite a long time now. Sir, what made you inclined to work towards a social cause? Please motivate our readers to render legal services through Pro-bono contributions.
Samarth Khanna: As I said before, my motivation to do law was my ability to bring about a social change. Let's get one thing straight, we as lawyers are people in a position of responsibility. It's our solemn duty to help those in need, money not being a factor in the entire equation. My pro-bono work is simply based on the fact that: "I will because I can." Having co-founded a student welfare organisation here in my hometown of Dehradun, India and working as an executive committee member on the board of another, social work has been and is my priority in the legal field. Money is important, yes, but at the same time, we as humans and as lawyers need to make sure that we do our bit and give back to the society in equal measure. The importance of pro-bono work is also something that Mr. Sharan's chamber taught me in great detail. He would often say that money is not the ultimate goal or should not be the ultimate goal of one life. Personal fulfilment from professional services should really be the key. Like I said before, money is important and no one is expected to do pro-bono work only, however, as Mr. Sharan taught me, one must have a humane side to the practice of law as well.
Vidushi: Sir, due to the spread of COVID-19, people all over the world are doing their respective works 'Online'. From corporate and different professionals working from home to students doing online classes and online internships. Cyber Crime and Cyber Bullying is a part and parcel of this. For instance, it is being noticed that many random people are joining various online meetings on zoom or google meet and they are disrupting the meetings by using abusive languages and other means. In the light of all these issues, what is your take on Cyber Crime & Compliance in an era where people are doing most of their work 'Online' due to the pandemic?
Samarth Khanna: Cybercrime, especially in the context of a developing country such as ours, is a major concern and it's an area we all need to as a society (not just the police or the policy/ lawmakers etc) up to our game. First and foremost we need to spread awareness among the elderly especially so that they don't fall prey to crimes such as phishing, identity theft etc. To this end, the Government and the civil society should inculcate a culture of cyber awareness among the general populace. Another aspect where we are deficient is the lack of facilities, the necessary infrastructure and trained personnel, especially in the small cities and towns. That is an area which is need of some major improvement.
Vidushi: There was news about the state's violation of the fundamental rights of Migrant workers. At regular intervals, we have been witnessing heart-rending visuals of weary migrants painfully trudging along roads. Being a person who has worked for human rights issues for a considerable time, could you please explain that, isn't what has been happening these past days, a total violation of their human and constitutional right?
Samarth Khanna: When we talk of human rights / fundamental rights and their violation, we talk of state's action as a predecessor to the said violations. The extraordinary circumstances we find ourselves in, I don't think it would be fair to blame anyone government, state or central for the migrant labour crisis. Yes, whatever happened is very unfortunate, heart-wrenching and disturbing to say the least. However, let's not forget that these are unprecedented challenges and navigating the entire country through such tough times itself becomes a task. In hindsight, a couple of months post the lockdown one can say that probably this should have been done or that should have been done but again that is in hindsight. Therefore, it would not serve any purpose to play the blame game as of now. Rather, as responsible citizens, we should focus more on what we can do to really make a difference on the ground rather than be armchair activists and create hurdles in the entire process.
Vidushi: Lastly, what would you advise the young students at law school?
Samarth Khanna: Enjoy your time in law school, have fun in whatever task you decide to do. The goalposts will definitely shift so do not be disheartened. Experience everything once at least, be more aware. Challenge yourself constantly, push your own envelope of comfort further and further. Don't settle into your comfort zone.
---
Recommend an Interview
Recommend an Interview here by filling up the recommendation form.