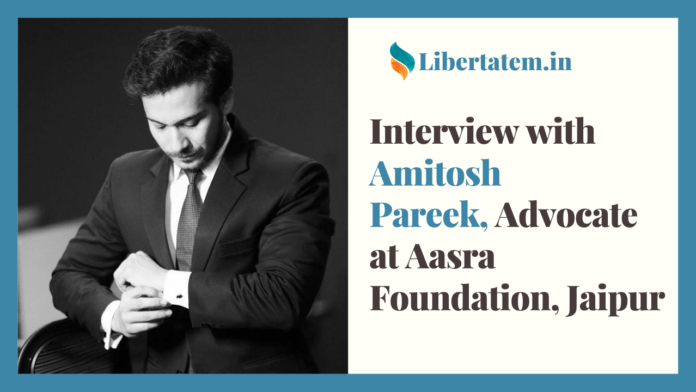 Amitosh Pareek is a Practicing Counsel at the High Court of Rajasthan. He is actively working for strengthening believe in the judicial system of the nation through emerging legal enterprise. He is also serving the needy people through public interest litigations apart from his own professional assignments. He strongly believes that every child is having a future and therefore he fights for child rights too.
Libertatem Magazine got an opportunity to interview Mr. Pareek and know more about him as well as his journey. Read on to get an insight into Mr. Pareek's journey.
Vidushi: I am curious to know your take on the long-standing belief that those who have people in their families from the legal background have it easy in the legal profession. Was this the case with you too? Tell us what made you choose law over other disciplines?
Amitosh Pareek: Law is the field, which requires "dedication, consistency and patience". It is not the field much dominant by the thought of lawyers coming from a legal background. Well at the same time I won't deny the very fact that young lawyers who are coming from the legal background has a little comfort route so as to mark their appearances in Courtrooms but at the very same time, I, per se, look at it with a different tangent. I believe that we, majorly pronounce not only "court" but "Court of Law", which itself makes it very clear and specific that if you have the knowledge of law you are in a position to compete with everyone around.
In my case, I don't come from a legal background. I was a science student but from a very younger age, I always observe and notices things happening around. I opted law so that I could stand for the rights of people. I always wanted to be the voice of righteous and want to be the source to bring them justice. When I was a law student I never confined myself to the relationship of "lawyer and client" as according to me it was and it is very narrow in approach but I always wanted to stand for the public at large as followed the very idea of Mahatma Gandhi "If you want to bring the change be the Change" just walking on his words.
Vidushi: You have been a practising advocate for more than 3 years. You have started your career as a Junior counsel at a law firm. However, now you are the founder of your very own firm; Primis Legal. How was your experience when you started your career? Were the years of transformation easy or difficult to navigate?
Amitosh Pareek: Everyone has to start from scratch to reach to a refined line. For me, I passed out as a law student in 2016 and thereafter the journey of struggle initiated. I with god grace got an opportunity to work with S.S. Hora and Associates under the seniorship of Mr. Swadeep Hora Sir. In law college, we study the law but under his juniorship I learned the law, whatever I am today is all because of Sir who taught me the very principles of law.
Thereafter taking my journey further I registered my own law firm. The very basic idea behind registering for my own law firm and working under its roof is to create a platform where I can join young associates and can work with young advocates. Everyone who enters into litigation comes with a dream to be a big lawyer and a big name but many young associates couldn't able to take the struggle because of various factors. I believe every individual is having a talent if we can provide them with the platform they can show their talents. I faced the lot of struggle and till date, it is not over but we grow our affair with struggle because it is the path who teach you how to stand on your feet. In last I would like to thanks my Senior Swadeep Sir for providing me with the platform when I was struggling and to provide me with an opportunity to take learnings from him.
Vidushi: Could you tell us something about how the experience of working with other law firms is different than running your firm practise?
Amitosh Pareek: I have never worked for law firms but yes getting independent is a tough task, which I believe every young advocate who has chosen a field of litigation for himself has to go not today but tomorrow. I believe when you have to go up at the heights then you have to take step by step of ladder cautiously and patiently so as to reach the top but the story doesn't end here it doesn't take too much to fall back so when you go independent you need to maintain the performance in courtrooms and to know how to maintain yourself. But yes having said so I won't deny the fact that it is tough to run your own establishment but yes it is another journey a journey truly yours. So have faith and believe.
Vidushi: What are the challenges that you faced when you thought of starting your firm? What are your key learnings and experiences throughout the journey?
Amitosh Pareek: For me, there is no word exist like "challenges". Life another name is a struggle and for me, another name of struggle is a life journey. Yes, there are hard times and there are good times so I focus on my work rather than focusing on challenges because things which are temporary in nature does not require your focus and therefore I believe in keep working consistently. When we think of something different then it becomes natural that you have to face up and down little more than others are facing but that is the beauty of success. So for me, I won't say challenges came but yes hard times.
Key Advice and major learning throughout the journey:
Be patient and don't loose your focus
Try to create another domain in your life as a lawyer
Always explore different aspects of law and legal field, it is very vast
Never afraid of struggle but embrace it
And subject to my learning I cannot pen it down as I am still learning every day, didn't reach its conclusion.
Vidushi: You have actively worked for issues related to child rights and you have defended the aggrieved. Please tell us such niche areas in the Indian legal system that you have come across while practising which you think are yet to evolve?
Amitosh Pareek: For me every child matters. We all are privileged enough that we secured our childhood but everyone is not that much destined. When I became a lawyer I always wanted to fight for those who cannot afford lawyers and to represent them in courts. India is facing one of the major problems of child labour due to poverty. Think for once if we as a lawyer cannot stand for them and fight for justice what are we doing. I took a pledge that I for my whole life fight for child rights and I don't promise much but I have promised one thing and I will follow the same that I will fight for children who are a victim of child labour and also the sufferer of various other offences committed against them till my last breath. I am glad that with the Aasra Foundation Jaipur I with our team of lawyers and staff able to fight for the child rights.
Vidushi: You have also worked as an assisting counsel to the additional solicitor general of India. How was your overall experience? What were your top 3 key learnings and how has it helped you develop as a professional?
Amitosh Pareek: Working as an Assisting counsel to the Additional Solicitor General of India was a proud moment for me. It provided me with the best exposure to witness the functioning of the Government of India and allows me the floor to assist. ASG Sir in legal matters and to protect the interest of Union Of India. It enhances within me the sense of responsibility. Working with the ASG office was a tough task as you have to deal with various complex issues, involving the high stakes but I am glad that Mr. R.D. Rastogi Sir (present ASG) always make us learn very basics of the law so that we can deal with complex matters in a more professional and responsible manner. He always treated his juniors as a family and always there to guide you as a true mentor. ASG sir gave me one of the best learnings of my life that never support the wrong always stand for the right, the path will be tough no doubt but it will make you the good human being with a good lawyer.
My three key learnings:
You should always be prepared when standing for arguments as every word of yours counts.
Remain calm even in hectic schedules and dealing with complex problems.
Dediction/Consistency/Patience
Vidushi: For the last one, I just have a really simple question for you. What one piece of advice would you give to yourself if you were entering college?
Amitosh Pareek:  I am graduated from Amity Law School, Jaipur and one thing I kept in my mind when I attended the first day that I have cleared one phase of my life, which is my schooling and now a cycle of my life is in another phase and I cannot afford to compromise with this as this will decide my journey. I never complain about my surroundings though Amity has given me the great teachers who beautifully established my foundation many of us complain about our college for them I always say, always have a "Solution-Based Approach" like we cannot change where we are but we can change the perspective as for lawyer the profession never ask from which college you have completed law, it will remain same for everyone so stop complaining and start focusing on better things.  And the last advice, I always knew when I will complete my law then with me many law students will clear their graduation, what will mark a difference for me then so, therefore, I have always strived to do something different so that you can be recognized in a crowd.
---
Recommend an Interview
Recommend an Interview here by filling up the recommendation form.