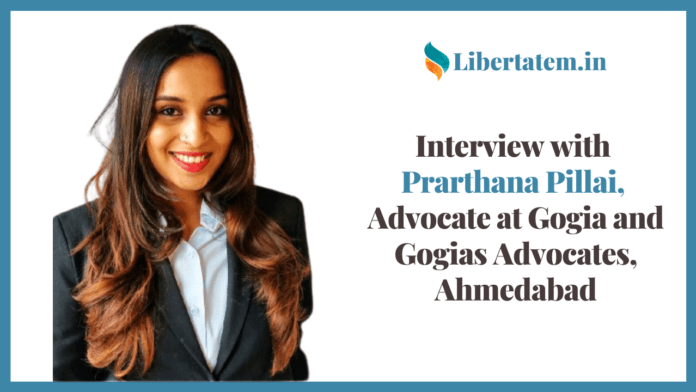 Ms. Prarthana Pillai is currently an Advocate at Gogia and Gogias Advocates, a law firm based in Ahmedabad. Cases related to Family matters, Service matters, the Negotiable Instruments Act, Civil and Criminal Litigation are her forte. Ms Prarthana is graduated from The Maharaja Sayajirao University with a BALLB Degree.  In this interview, we would look at the journey of Ms. Prarthana from his Law School days to becoming an Associate in a Law Firm.
Below is the transcript of the interview conducted with Adv. Prarthana Pillai.
Shubhi: You completed your graduation from Maharaja Sayajirao University. How was your experience at law school? Was law as a career your first preference since the beginning?
Prarthana: Choosing law as a career is not an easy decision, though most of us take it lightly. One can never know how different the practical implications of law is until you start with your practice. My plan was to pursue Law clubbed with Journalism and get into Investigative Journalism. But during my internships, I found my calling for litigation and since I've begun my practice I am assured I took the right decision. I am very grateful to my University for giving me the platform, means and guidance I needed to expose myself to opportunities that lay ahead of me. My college days were everything ranging from fun to hectic. I was an active participant in cultural activities, probably because I wanted an excuse to bunk classes! From rule of law to rule of life, half a decade at Law School has taught me all. What is to be reckoned here is that, until you've experienced work, you cannot be sure if it is what you want to do for the rest of your life. 5 years of law school gives you more than enough time to explore your possibilities.
Shubhi: How were you able to strike a balance in extracurricular activities and academics and how important do you feel it is to be a part of extra-curricular activities?
Prarthana: The only key to academics at law school is voracious reading. If you can do that every day religiously, I think you should then give the rest of all your time to co-curricular activities because during such participation one gets to interact with all kinds of people from the legal fraternity. Some of these people will be so inspiring that meeting them will help you with some of your career decisions. Also, quite honestly, working for faculty events are the only memories you're going to take forward.
Shubhi: With amazing experience, what is the advice that you would give to students that they should keep in mind while choosing places to intern at? What elements do you think are very important while choosing?
Prarthana: Firstly, I think every law student can dedicate 2-3 months of the academic year to internships if they learn to manage their time well. We, as law students, are all lured by big names (firms and advocates) and rightly so. While working with highly established firms may feel posh but it is not going to teach you like a comparatively smaller firm would. This stands true for budding litigators. Moreover, if you find yourself tuning well at a particular firm it is advisable to intern there regularly, especially in your final years. This was you have an office to begin at right after graduation and since you are already comfortable with the work- environment it boosts your confidence. Of course, it is also more than okay to keep exploring till the end of 5 years, do what suits you best.
Shubhi: There is much debate on the ways in which the Indian economy will bounce back post-COVID. How will India sustain these times? What are your thoughts?
Prarthana: Currently, India is facing a historic technical recession, which if persists, will put our names on the top of recessions of all time across the world. I have no words to sugarcoat my statement. The country's economy was already going downhill and the COVID-19 pandemic came as an external shock. For India, however, the downward slide commenced even before the COVID-19 surge caused a massive economic fallout. Our government has been propagating self –reliance but if every nation practices it, world trade would shrink. With food inequalities remaining large within the structure of the Indian economy, this pandemic can be an opportunity for redistributive measures, as Mr. Amartya Sen has contended, hinting at Public Distribution System for help with retrieval of the economy. Obviously, there are many layers when we talk about such a subject. It is going to be long tedious journey. Let's hope we have a plan!
Shubhi: On a closing note, what advice would you like to give our readers and students for helping them stand out and that can help them devise their strategy to deal with different legal problems?
Prarthana: Firstly, read. Make it a practice to read a judgment before bed. Law is all about interpretation. Secondly, understand that litigation is a slow process. It tests your patience so you might want to strengthen that quality. Refrain from comparing yourselves with the monetary success of your non-lawyer friends, for the initial years. They will need you at some point in life so you hope they earn well!
Moreover, always remember this is a learning process. It is so vast that you will never run out of subjects and topics to learn about. Your knowledge is your power. And I genuinely believe that with great knowledge comes great responsibility. Understand the duty our profession owes towards society and when the time comes, serve.
---