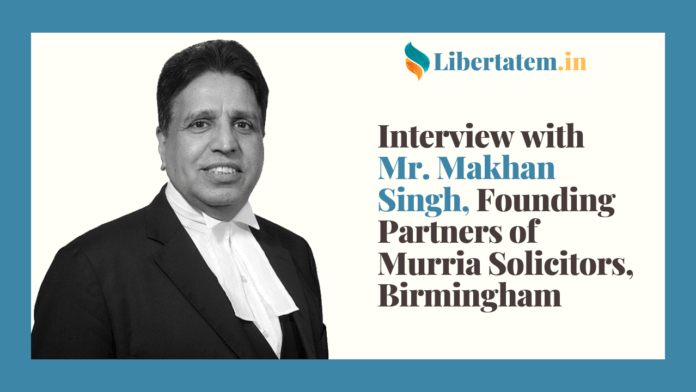 Mr. Makhan Singh is a senior criminal law practitioner in Birmingham. He is one of the founding partners of Murria Solicitors, Birmingham which came into existence in 1988.
He is a Higher Courts' Advocate and a Learning and Development Director, he also supervises the firm's training and development processes. He has acted as an independent legal advisor to the Crown Prosecution Service Hate Crime Panel and got features in the Legal 500 rankings, having worked on a series of high-profile regional and national cases in the past.
He is a specialist in fraud and major crime and has defended a wide range of clients in serious allegations including homicide, fraud, VAT fraud, money laundering, drug-related conspiracies, historical sex offences, public office misconduct and many more.
We got the wonderful opportunity to gain his insight over how the to practice of law in England is like and what opportunities might be available for us. Here is an excerpt from the same:
Anukriti: What motivated you to pursue law? Was law always the career you wanted to pursue? Can you please share with us your law school experience in England?
Mr. Makhan: I became interested when I studied GCSE law as a subject at college prior to enrolling for the LLB law degree.
I was encouraged by my Law tutor to enrol on the degree due to his opinion at the time 'That I had potential'. He encouraged me as there were very few UK qualified lawyers from the ethnic minorities.
Law was not my first choice as my father had restaurants and I was looking forward to taking over the management and expanding the business.
My experience at law school was that I was extremely apprehensive when I commenced my first year but soon realized that the other students were no brighter than me which gave me the confidence to continue with the degree and then do complete the one-year Solicitors finals course.
It is of note that out of some 300 law students in the law faculty there were less than 10 law students from the ethnic minorities. I was the only Asian male in my year.
Due to my schooling in England from the age of 5 I had no problem mixing and making friends with white students in the law faculty and other faculties.
Anukriti: You founded Murria Solicitors in 1988 in Birmingham. How hard was it to establish your practice during that time with racial discrimination still being prevalent in the country?
Mr. Makhan: In 1988 there was certainly racial discrimination and conservatism in the Legal profession. Let's say Asian lawyers were not welcomed with open arms by the predominantly white male legal profession and judiciary.
The few Asian lawyers who had qualified in India and then transferred to the UK Bar were often ridiculed due to their heavy accents.
However, it was not difficult to establish Murria Solicitors due to the growing work from the Indian Business Community and the lack of Indian lawyers at the time.
As my father had arrived in the UK in 1949 and was a well-known figure amongst the Punjabi community a lot of work was referred to the firm due to his contacts.
Anukriti: What changes have you observed over the years in terms of practice in the UK Courts and in the level of acceptability of people of Indian Origin?
Mr. Makhan: As the older White lawyers and Judiciary have retired and the Society being much more diverse in the UK racial discrimination appears to have disappeared and Indians are well respected in the Legal profession. I am now seeing many Asians being appointed as prosecutors, magistrates and the Judiciary.
Anukriti: Out of all your glorious achievements like getting featured in the Legal 500 rankings in your practice, which ones do you consider as milestones and why?
Mr. Makhan: The formation of Murria Solicitors and keeping 7 Partners together for nearly 30 years.
No Partner who has joined Murria Solicitors has left to join another firm. Only one partner has left and that was due to retirement.
Anukriti: What are your views on India disallowing permanent practice of International Law firms in India as per the Landmark Judgement of Bar Council of India vs. AK Balaji & Ors? Do you feel that the same could actually be beneficial for both the stakeholders even if it would mean a decline in the practice of the Indian firms to some extent?
Mr. Makhan: It has been India's loss and more so for the younger Indian lawyers.
If International firms had been allowed there would have been great opportunities for the younger lawyers.
I worked hard in the early years with England and Wales Law Society and the Indian Bar to encourage Indian law firms to collaborate with cross-border work but to no avail.
We held joint conferences in Delhi, Mumbai and Pune but the Indian law firms were totally non-co-operative in the end.
All that has happened is that though the very few Indian law firms are monopolizing International cross-border work it is to the detriment of the younger lawyers in my opinion.
Other cross-border work is simply being conducted in places like Hong Kong, Dubai and Singapore. Where representatives from Indian businesses simply fly to the UK or the above-named destinations to avoid breaching any Indian laws relating to this type of work.
My argument was always this was not the UK lawyers wanting to take a slice of the Indian domestic work but to share an entirely new cake. The natural consequence of this would have been the recruitment of young able Indian lawyers and providing the training and personal development for these lawyers. In the long term, this would encourage these new breeds of lawyers to develop their own international law firms in India and elsewhere.
Anukriti: How has the Coronavirus outbreak affected the functioning of courts in the UK? What are the long term changes that you forecast taking place to accommodate the effects of this pandemic?
Mr. Makhan: Trials have been suspended due to social distancing
Other work being conducted from Video platforms such as Skype for business.
There will be a reduction of litigation work civil and criminal for 2020 and early 2021.
Possibly increase in Probate and Wills Work.
Increase in Employment law-related work due to dismissals etc.
Anukriti: What procedural changes have you observed in the English Courts over the years which you believe would be beneficial for a country like India in handling the huge pendency of cases that exists here.
Mr. Makhan: Digitalisation of Court casework.
Close scrutiny of any case being adjourned and – adjournments being an exception rather than a rule.
Administrative hearings in absence of parties attending and robust case management by the Judiciary.
Anukriti: How receptive are the systems in the UK in terms of allowing an Indian to practise in the English Courts? And what are the educational as well as professional opportunities available for Indian students there?
Mr. Makhan: England and Wales law society were very receptive in allowing Indian law graduates/Lawyers to sit the Qualified Lawyers Transfer Test to practice in England and Wales in the past without having to do undergo the mandatory 2 years training prior to qualification and being admitted as a Solicitor.
However when the Indian Bar did not reciprocate the Law Society brought this to an end.
Educational opportunities are always available to Indian Students but at a fee of 3 times what a domestic student would have to pay!! on top of accommodation costs etc.
---