About the Organization
Established in 1982, Zaiwalla & Co is the first law firm in the one square mile financial district of the City of London, started by a solicitor born outside of Europe. The practice began in shipping arbitration, working primarily for the Indian Government, before expanding into commercial law.
Burnished Law Journal: Aims to provide a number of legal journal articles & practical update of law. They actively invite people to share their research on contemporary issues of law, so as to enable the growth and understanding of the aspects of the law to the individual in society. The main goal of Burnished Law Journal includes a topic on socio-legal, socio-economic or any other law related topic or social issues.
About the Competition
This is the first edition of Zaiwalla & Co. National Online Debate Competition Reckoning the COVID-19 Pandemic. The competition aims at inculcating a healthy debate culture amongst students and preparing them to defend what they truly believe in.
The competition will be judged by a panel of eminent jury members and we hope that through this platform, students get another activity to exercise their brains and maintain the spirit of education despite being locked inside their homes.
Chief guest: G. R Raghvender Joint Secretary, Department of Justice, Ministry of Law & Justice. He Is a civil servant from Central Secretariat Service (CCS) 1988.
Registration Details
The last date for online registration is 23rd June 2020.
The link for online registration is here.
Registration fee of Rs. 300/- will have to be paid before filling of the registration form. Participant will have to upload a screenshot of successful payment made in the form.
Mode of Payment: PayTM, Google Pay, PhonePe (+917254849058).
Important Dates
Last date of Registration: 23rd June 2020
Knockout Round: 25th June 2020
Final Round: 26th June 2020
General Instructions
Participation shall be on an individual basis.
The event is open to all students of India.
The competition shall follow the amended version of Lincoln- Douglas format i.e. one to one debate.
Registrations shall be accepted on till 11:59 pm of 23rd June 2020.
The competition shall be conducted in two rounds: Knockout Round and Final Round.
The motion for knockout round is "PM Care Fund is a Public Authority"; & for the final round, the motion shall be provided one the day prior to the round.
Each participant is required to prepare for both sides of the motion, i.e. 'For' and 'Against' the topic.
The organizers shall, one day prior to the commencement of round one, communicate with the participant(s) the particular side (for/ against) they need to speak for.
No requests for any kind of changes shall be entertained.
Written material can be used only for citing statistics and case laws.
Usage of any abusive language shall implicate immediate disqualification of candidature.
Use of Webcam while speaking is mandatory.
At any point of conflict, the decision of the organising committee would be final and binding.
The Competition will be conducted online over Zoom App. Organizing Committee will schedule every zoom meeting and will share the Meeting ID and Password to the participants 30 minutes prior to the debate.
E-Certificate of participation will be provided to all the participants on the email ID provided at the time of registration.
Prizes
1st prize: Rs. 2,000/ + Internship at UKCA and Partners
2nd prize: Rs. 1,200/+ Internship at UKCA and Partners
Best Speaker: Rs. 800/-+ Internship at Burnished Law Journal
Contact Details
Ritu Raj (Founder & Publisher of Burnished Law Journal): +91 7254849058
Ankita Kar (Coordinator): +91 7978252499
Sakshi Arya (Coordinator): +91 8956210032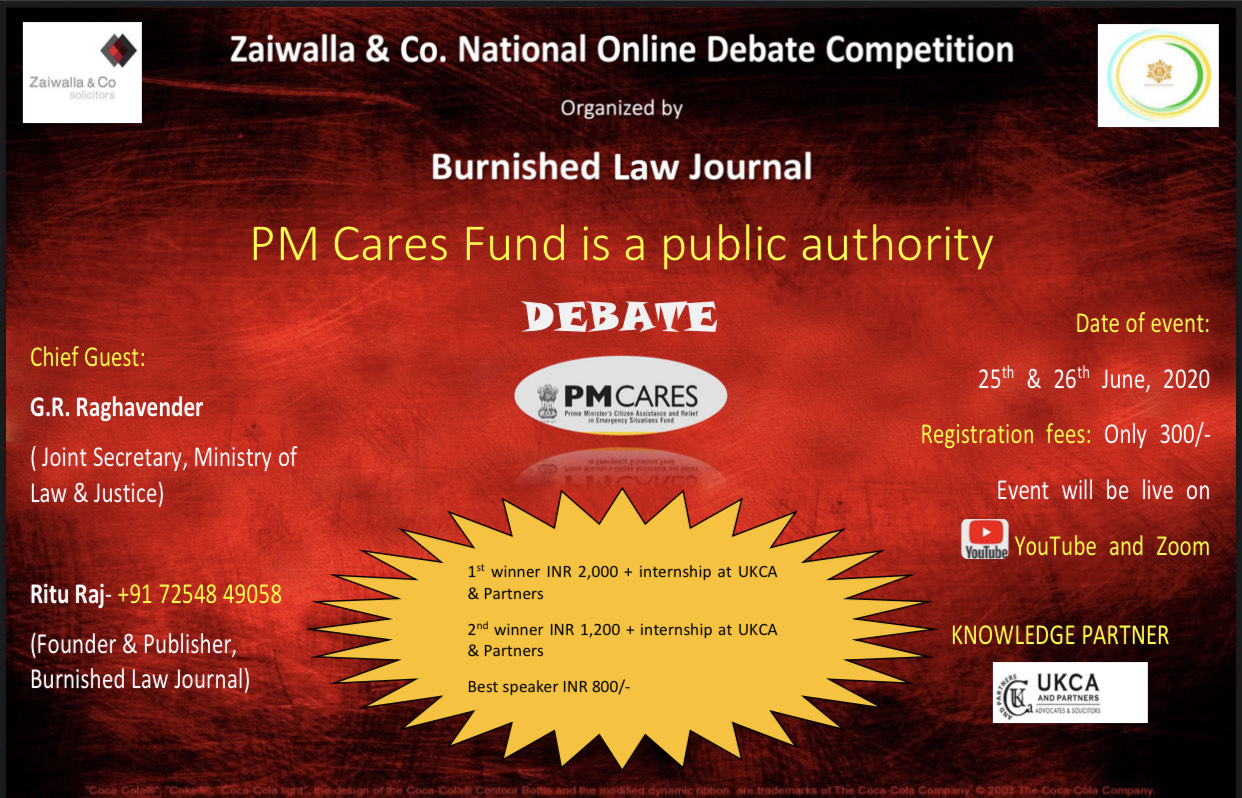 ---
Libertatem.in is now on Telegram. Follow us for regular legal updates and judgements from the court. Follow us on Google News, Instagram, LinkedIn, Facebook & Twitter. You can also subscribe for our Weekly Email Updates. Libertatem Group does not take any responsibility for the accuracy of this Event Notification. The post has been shared as we received.