Zia Judicials was founded due to the sub-standards of education provided by the existing institutes at very high prices. Zia Judicials is located in Laxmi Nagar, Delhi and is the fastest-growing judicial institute among Judicial Services Coaching Institute in India.
Zia Judicials was started with the aim to provide Judicial coaching to those who cannot afford to enroll in expensive institutions. Money can't buy education and hence the money cannot be the reason for hindrance to education. Merely giving judicial coaching does not serve the real purpose behind the idea of Zia Judicials.
About the Webinar
Zia Judicials Legal Research Cell is organising a webinar series. The series will be as follows:
16th June 2020: Joint Hindu Family Property and Distribution
17th June 2020: Division of Property in Muslims
18th June 2020: Concept of Relevancy and Admissibility
19th June 2020: Concept of Res Judicata in CPC
20th June 2020: Understanding Bail Provisions through CrPC
21st June 2020: General Exceptions of IPC (Part 1)
22nd June 2020: General Exceptions of IPC (Part 2)
23rd June 2020: Understanding Arbitration Law
About the Speakers
Hon'ble Mr. Justice K. G. Balakrishnan: Former Chief Justice of India
Hon'ble Mr. Justice Kurian Joseph: Former Judge, Supreme Court of India
Hon'ble Mr. Justice S. N. Dhingra: Former Judge, Delhi High Court
Hon'ble Mr. Justice Zaki Ullah Khan: Former Judge, Allahabad High Court
Hon'ble Mr. Justice M. C. Garg: Former Judge, Delhi & M. P. High Court
Mr. P. K. Malhotra: Former Union Law Secretary & Member Law
Commission of Justice: Mr. K. T. S. Tulsi
Hon'ble Member of Parliament (RS), Senior: Advocate Supreme Court of India
Mr. Karnal Singh: Ex Enforcement Director (ED)
Dr. T. N. Naval: Ex District Judge, Karkardooma Courts
Dr. P. N. Tiwari: Member, Medical Matters Consumer Courts
Advocate Jatan Singh: Vice President, Delhi High Court Bar Assoc.
Dr. Jaskaran Singh: Head Forensic Science, Lovely Professional University, Punjab
Dr. Ranjeet Singh: CEO, SIFS, Fingerprint Expert
Dr. Gaurav Aggarwal: Forensic Medicine, M. S. Y. Medical
Mr. Vivek Narayan Sharma: Ex Joint Secretary, Supreme Court Advocate on Record Assoc. (ND)
Advocate Sanjay Vashishtha: SCI, Delhi High Courts, National Company Law Tribunal, Spl. Counsel for NLU (Delhi), Guest Faculty for Delhi Police.
Advocate Jayant Bhatt: Supreme Court of India
Advocate Ravi Prakash: Supreme Court of India
Advocate Tariq Khan: Senior Associate, Advani & Co. (ND)
How to Register?
Registration Fee:
Per Lecture (without certificate): Rs. 100/-
Full Series (without certificate): Rs. 500/-
Full Series (with certificate): Rs. 600/-
Time: 4:00 PM to 5:00 PM
Note: The organisation will be providing you the zoom meeting details one day prior to the webinar.
Contact Information
E-mail ID: [email protected]
Phone Numbers: +91 – 81303 74873, 80058 21541, 95400 94873, 011-42148003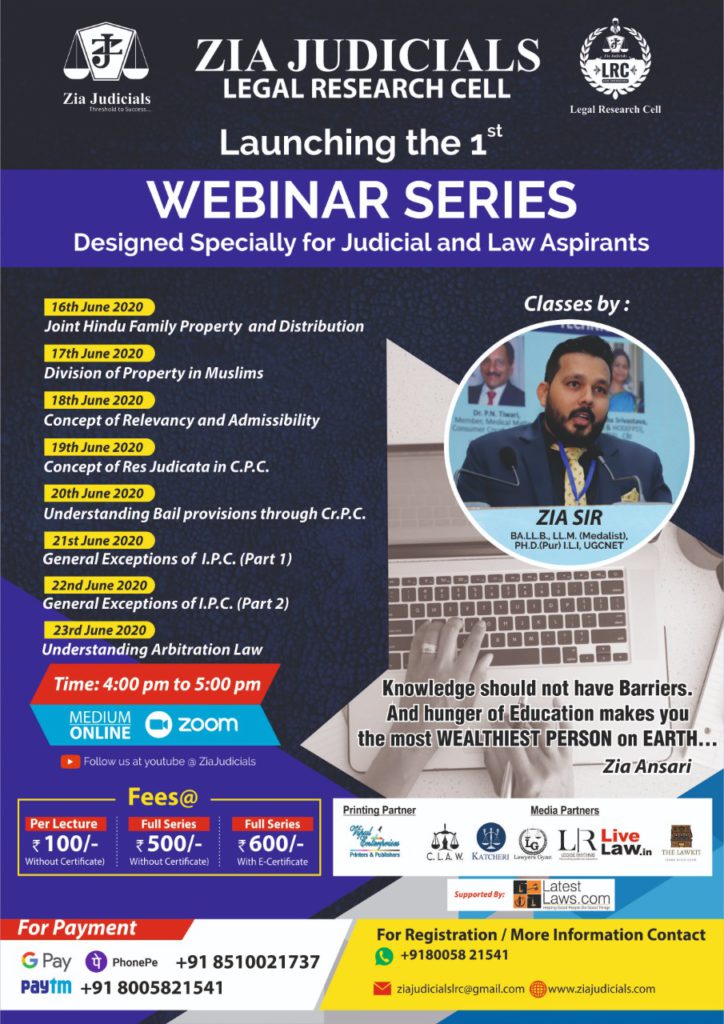 ---
Libertatem.in is now on Telegram. Follow us for regular legal updates and judgements from the court. Follow us on Google News, Instagram, LinkedIn, Facebook & Twitter. You can also subscribe for our Weekly Email Updates. Libertatem Group does not take any responsibility for the accuracy of this Event Notification. The post has been shared as we received it from the event organizers/host.