FastForward Justice is an online legal organisation which is aimed at advancing the present legal education within the country.
About the Webinar
FastForward Justice is organising a Webinar on How to Choose Your Specialisation in Law.
Venue: Zoom/Youtube
About the Speaker
Advocate Sumitra Choudhary is an advocate practicing at the Supreme Court. She has substantial international exposure and having earned a Master's from Canada and worked for 2 years in a corporate role in London.
She has been Championing the cause of Prevention of Sexual harassment at workplace and Violence's against women & Children.
She believes in making legal simple for the common man and strives to make legal awareness reach the last mile of the social strata. She contributes to the social causes through her writings, lectures, videos, awareness camps and appropriate representation on global forum.
Registration Process
The Registration fee for the webinar is Rs. 100/-
The registration fee is to be paid by the following methods:
Account number:50100284424909
IFSC Code: HDFC0003143
Account Holder's name: Amit
UPI ID: [email protected]
Google Pay/Phonpay: 8262892004
Registration fee is not refundable at all costs. It will be refundable only in a case the webinar is called off by the organizing committee due to any unavoidable circumstances. (In such a case refund will be initiated in your BANK ACCOUNT NUMBERS).
Note: All the students will be verified with their names when they will be admitted to the Zoom webinar. So make sure that the
names should be the same as per on the registrations form. You will be added in the WhatsApp group soon for the link after a successful registration.
Registration Forms: Firstly fill out this Zoom form. In case if it is closed then fill the YouTube form.
Perks
Certificate of participation (Soft Copy).
Important Dates
Official notification release date: 16th June 2020
Last Date to fill out the form: 23rd June 2020 (1:00 PM)
Date and time of webinar: 23rd June 2020 (4:00 PM)
Contact Information
Amit (Founder & CEO & Editor-in-chief).
Contact Number: +918262892004
Email: [email protected]
Contact Timings: 05: 00 PM to 09:00 PM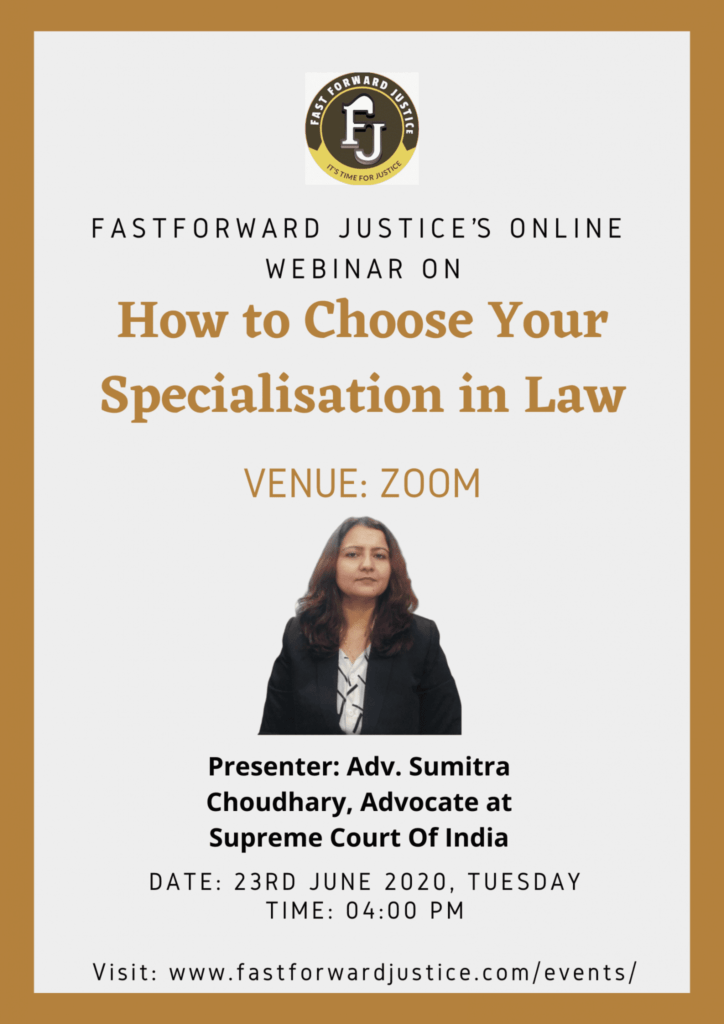 ---
Libertatem.in is now on Telegram. Follow us for regular legal updates and judgements from the court. Follow us on Google News, Instagram, LinkedIn, Facebook & Twitter. You can also subscribe for our Weekly Email Updates. Libertatem Group does not take any responsibility for the accuracy of this Event Notification. The post has been shared as we received it from the event organizers/host