The Symposium is the annual flagship conference and represents our continuing commitment to thought leadership in India by bringing together leading sports law practitioners, sports policy experts, in-house counsel, researchers, academicians, sports administrators, NGOs and students in India to exchange and share their experiences and learnings on various aspects of the law and policy relating to sports in India.
Since the first edition of the Symposium in 2017, each year, the Symposium highlights emerging concerns in the domain of sports law and policy in India, and encourages deeper engagement in the issues to benefit the Indian sports eco-system.
About the Conference
The Sports Law & Policy Centre will be organising the 2020 edition of 'The Sports Law & Policy Symposium' on June 20th and June 27th, 2020.
Note: This time the Symposium will be held virtually and is free to join.
Eligibility
Anyone with an interest in Indian sports law, governance, commerce, management, marketing and policy.
Themes
Match Manipulation, Sports Governance, Sports Post COVID, Equal Pay, Livelihoods in Sport, Funding and Women's Cricket.
Registration Procedure
Contact Information
Contact info: [email protected]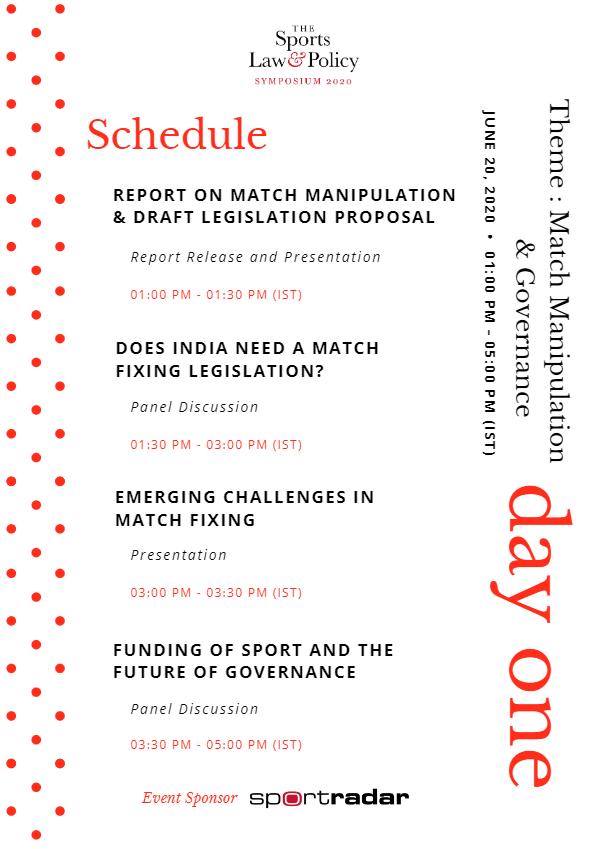 ---
Libertatem.in is now on Telegram. Follow us for regular legal updates and judgements from the court. Follow us on Google News, Instagram, LinkedIn, Facebook & Twitter. You can also subscribe for our Weekly Email Updates. Libertatem Group does not take any responsibility for the accuracy of this Event Notification. The post has been shared as we received it from the event organizers/host.