Delhi Metropolitan Education is a premier educational institute, affiliated to Guru Gobind Singh Indraprastha University (GGSIPU). DME imparts education in the field of Law, Management and Journalism and Mass Communication.
About the Webinar
Delhi Metropolitan Education (DME) (IP University) Noida, is organising an online panel discussion on "Macroeconomic Implications of COVID- 19 and the way ahead" which is scheduled on Saturday 4th July 2020 between 11:00 am to 12.30 pm.
As we all know the Corona Pandemic has caught the world off guard. Ensuring that education and learning are not obstructed due to lockdown and social distancing, Research Cell, DME is organising this panel discussion online using videoconferencing software Zoom on July 4th as stated above.
By organising this online panel discussion they are making an honest attempt to find certain answers to these queries pertaining to India and many other relevant ones engulfing the world economies. This is also intended to help even those attendees who are not from an economics background to understand the economic effects of COVID-19 and how it can affect their lives.
The session will begin with the moderator introducing the topic and theme of the discussion. There will be three panellists and they will be making a PPT presentation for 10-15 minutes each about their perspectives on the topic. Then the moderators will be asking a few curated questions followed by 20-25 minutes of Q&A with the audience ending with a summary and thanks.
Registration Procedure
Participation is on the base of first come and first served basis so kindly register by clicking on this link.
They will also share the YouTube link of the recording on the registered email ids 2 days after the panel discussion.
Mode: The panel discussion will be online using Zoom Meeting
Meeting ID: 947 0626 1543
Password: 8QDxXa
Contact Information
Ganesh Nair: 9968159019 (Student convener, Research Cell DME)
Aashna Aggarwal: 9811043614 (Student convener Research Cell DME)
Rohit Kumar: 7004024218 (Student member Research Cell DME)
Email: [email protected]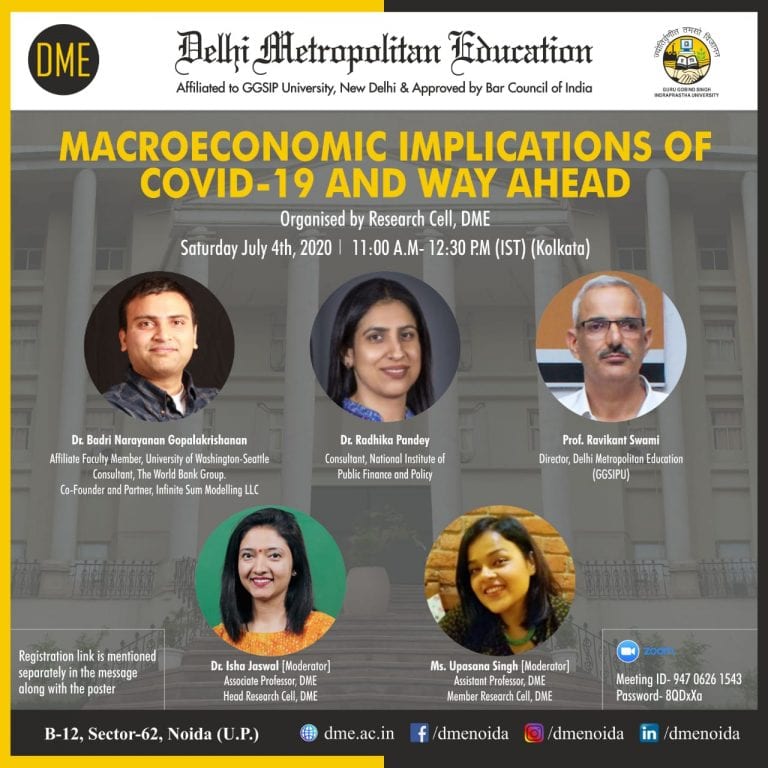 ---
Libertatem.in is now on Telegram. Follow us for regular legal updates and judgements from the court. Follow us on Google News, Instagram, LinkedIn, Facebook & Twitter. You can also subscribe for our Weekly Email Updates. Libertatem Group does not take any responsibility for the accuracy of this Event Notification. The post has been shared as we received it from the event organizers/host