About MNLU
Maharashtra National Law University Mumbai, established under the Maharashtra National Law University Act 2014 is one of the premier National Law Universities in India. The Act envisaged to establish National Law University in Maharashtra to impart
advanced legal education and promote society oriented research in legal studies for the advancement of societal life of the people in the country.
About the Programme
MNLU Mumbai has floated LL.M. (Professional) is a one year program and invites application for admission. LL.M.(Professional) Programme is unique and tailored to meet the needs and expectations law professionals who want to upgrade their knowledge but for personal or professional reasons, are unable to take a rigorous regular residential LL.M. program. Programme and Courses are devised to benefit and advance the careers of law professionals.
The beneficiary of the Programme: Litigation Lawyers, Consultants, Judges, Law Teachers, Attorney, Journalists, Legal
Professionals in Firms, Companies, Banks, PSU, MNC, NGO, etc.
Duration: The programme will be for a period of one academic year. The academic year will run from July 2020 to June
2021. The intense academic activity during each semester will be spread across 18 weeks and it shall include
teaching, project assignments, seminars etc.
Eligibility
The LL.M. (Professional) Programme will be conducted through a mixed-mode of classroom teaching & virtual contact learning. A person who has completed his/her LL.B. (3 years or 5 years) and has been in service or had professional experience will be eligible to enroll for the said programme.
Total Number of Seats
The total numbers of seats are 100. However, the University reserves the right to alter the number of seats for the programme in a given academic year without prior notice.
Note: Reservation: As per Maharashtra Government Rules.
Admission Criteria
Candidates for admission will be selected on the basis of percentage secured in LL.B. The merit cut-off list will accordingly be prepared for admission. Reservation is as per Maharashtra Government Rules.
Note: LL. M. (Professional) shall not qualify a candidate to the academic benefits of regular LL.M. degree like admission to M.Phil./Ph.D. It shall not provide eligibility for NET/SET Exams.
Fee Details
Rs. 60,000/- (Rs. Sixty thousand only) for Indian students.
USD 1500/- (USD One Thousand Five Hundred only) for Foreign Nationals.
Note: Being a professional program there is no consideration for differential fees to any category.
Application Fee
Rs. 3,500/- (Rupees Three Thousand and Five hundred only)
Bank Details of the University
Name of Account: MNLU Fee Collection
Account Number: 35225399055
Name of Bank: State Bank of India, Branch: Jain Mandir Road, Powai (Mumbai)
IFSC Code: SBIN0020869 (SBIN zero zero two zero eight six nine)
The receipt of payment transfer should be enclosed along with the main admission form. Scanned copy of the same be sent to the admission Committee-2020 at [email protected] and marked CC to Finance Department, MNLU Mumbai at [email protected]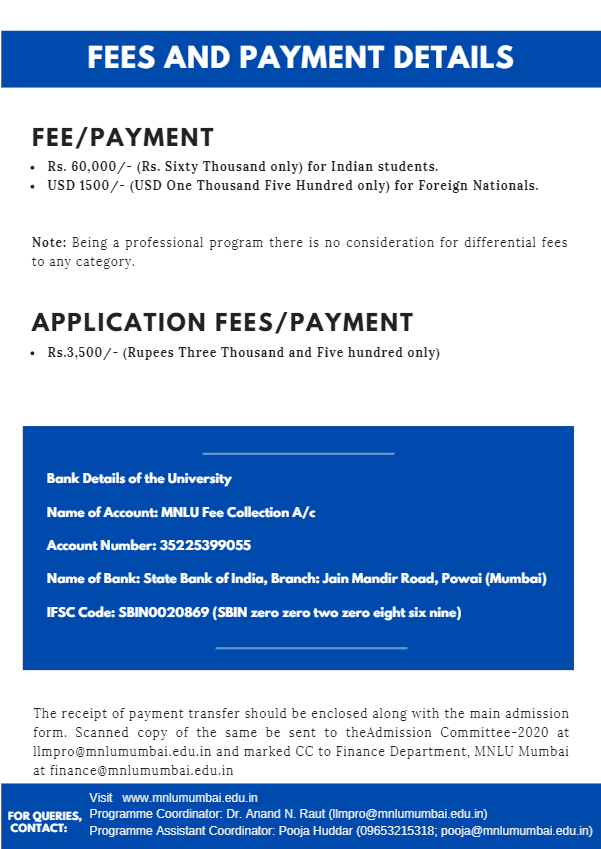 ---
Libertatem.in is now on Telegram. Follow us for regular legal updates and judgements from the court. Follow us on Google News, Instagram, LinkedIn, Facebook & Twitter. You can also subscribe for our Weekly Email Updates. Libertatem Group does not take any responsibility for the accuracy of this Event Notification. The post has been shared as we received it from the event organizers/host