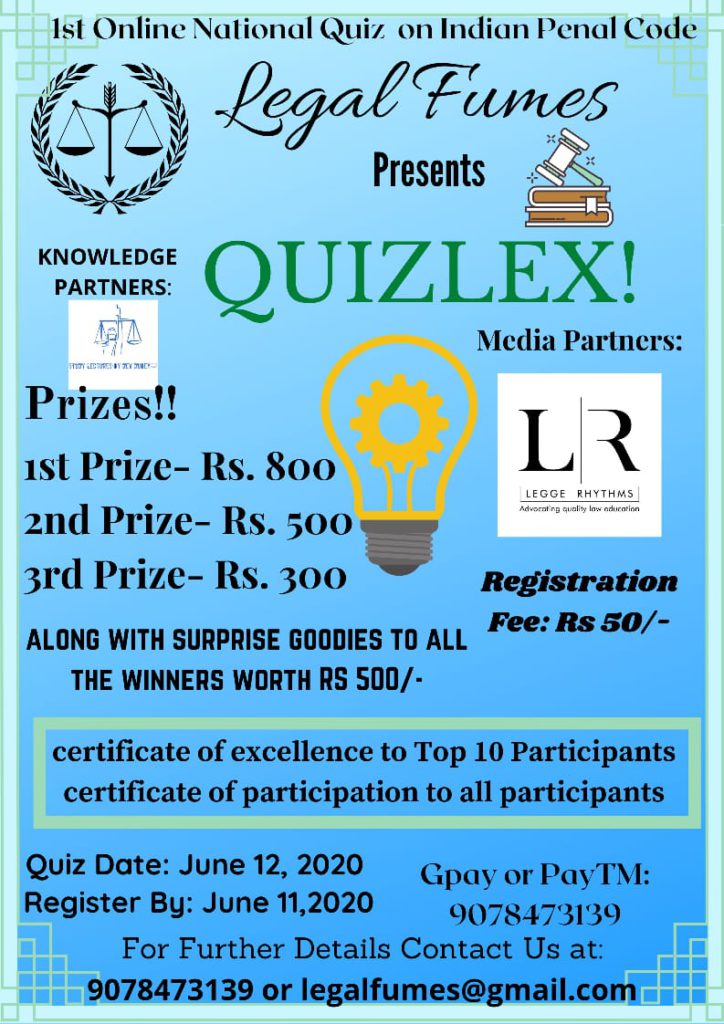 About Legal Fumes
LEGAL FUMES is a startup aiming to serve all the law students as well as the CLAT aspirants by means of an online platform. The main idea is to assist every law student as well as every clat aspirant in every way possible which includes by conducting law quizzes, debates, essay competitions, online moots and etc. Legal Fumes also aims at developing the inner talent of the student by providing intense knowledge about a course as well as also providing important knowledge about the real scenarios.
About Quiz
The quiz aims at testing the ideas of all the legal students as well as the professionals. This is the quiz that can be participated even by the legal professionals as well. This quiz would ensure the depth of knowledge in regards to the Indian penal Code of the Country. This quiz comprises all sets of questions with addition to case laws so that the students or the professionals applying for the quiz gain ultimately something and won't return with empty hands.
Theme
INDIAN PENAL CODE
Who can participate
The Quiz is open to anyone who is interested in regards to the criminal field of our country. This will also help the CLAT Students to prepare them for their future CLAT exam.
Format of Quiz
Quiz shall take place in online mode and it will contain Multiple Choice Questions only and the participant had to choose the best suitable one.
– The total number of questions will be 50 and each question will carry 1 mark and there will be a negative marking of 0.25 for each wrong answer.
– The total time limit for the Quiz is 25 minutes.
– In Case of a tie, the prize money will be equally distributed along with the surprise goodies.
Prizes
WINNER: RS 800/- Along with the Certificate of Excellence
1ST RUNNERS UP: RS 500/- Along with the Certificate of Excellence
2ND RUNNERS UP: RS 300/- Along with the Certificate of Excellence
TOP 10 PARTICIPANTS WILL ALSO BE PROVIDED WITH THE CERTIFICATE OF EXCELLENCE
ALL PARTICIPANTS WOULD GET THE CERTIFICATE OF PARTICIPATION.
NOTE: SURPRISE GOODIES WORTH RS 500/- TO ALL WINNERS AND RUNNERS UP AND ALSO GET A CHANCE TO PUBLISH YOUR BLOG AT OUR WEBSITE ABSOLUTE FREE.
Few More Perks for the Winners from our Media Partners:
40 percent off in publication fee with JLSR Journal with ISSN No. For your Research Articles
15 percent off in Katcheri.in' collaboration courses.
Dates
Last Date of Registration: June 11,2020
Date of Online Quiz: June 12,2020
Result Declaration: June 20,2020
Registration Details
For Registration, fill in the Google Form
https://docs.google.com/forms/d/e/1FAIpQLScmcyUTDBnxi-31gJEwzcAnaCtYlT2glkb2c7oWjhyB1EYKPg/viewform?vc=0&c=0&w=1
A fee of Rs 50/- is charged for each person for the Registration of the Quiz.
Gpay or PayTM: 9078473139
Contact Details
For any queries, feel free to contact us at:
9078473139 or [email protected] or visit:https://lawtoprotect.wordpress.com/
---
Libertatem.in is now on Telegram. Follow us for regular legal updates and judgements from the court. Follow us on Google News, Instagram, LinkedIn, Facebook & Twitter. You can also subscribe for our Weekly Email Updates. Libertatem Group does not take any responsibility for the accuracy of this Event Notification. The post has been shared as we received it from the event organizers/host.