About the Organisation
Zia Judicials was founded due to the sub-standards of education provided by the existing institutes at very high prices. Zia Judicials is located in Laxmi Nagar, Delhi and is the fastest-growing judicial institute among Judicial Services Coaching Institute in India.
Zia Judicials was started with the aim to provide Judicial coaching to those who cannot afford to enroll in expensive institutions. Money can't buy education and hence the money cannot be the reason for hindrance to education. Merely giving judicial coaching does not serve the real purpose behind the idea of Zia Judicials.
About the Lecture Series
Zia Judicials Legal Research Cell organizing a Lecture Series on "Civil Procedure Code".
About the Speaker
The speaker for the Lecture Series will be Mr. Zia-Ul Mustafa Ansari.
Details of the Lecture Series
Date: 22nd – 28th August 2020
Venue: Zoom
Fees: Rs 799/- for whole series and Rs. 150/- per session
E-Certificate will be provided
For Registration Contact: 8005821541, 8510021737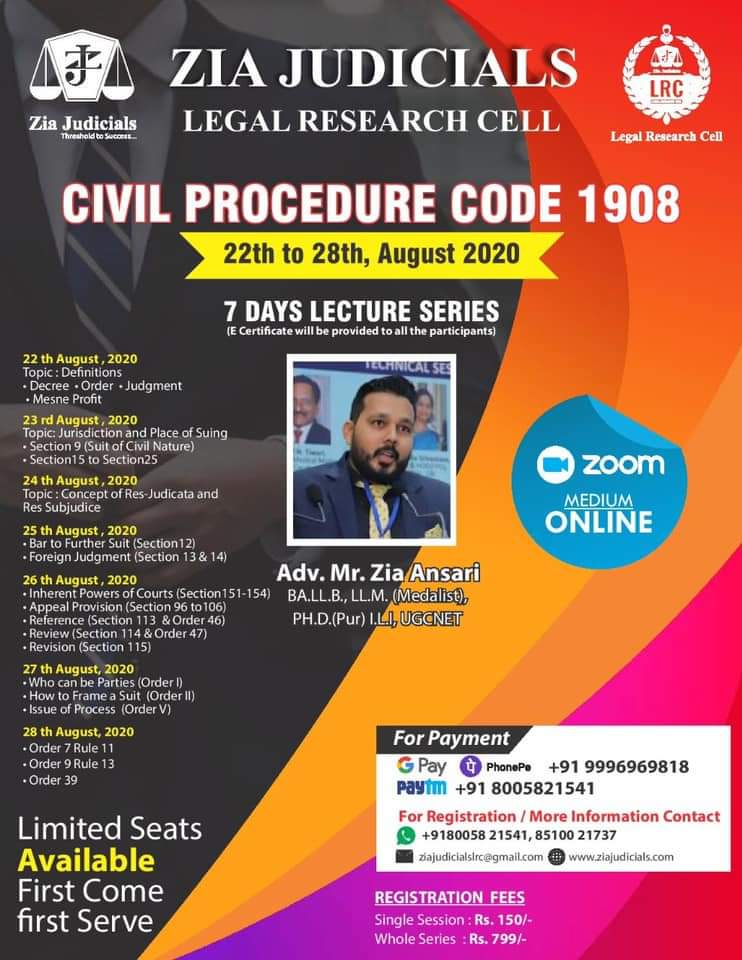 ---
Libertatem.in is now on Telegram. Follow us for regular legal updates and judgements from the court. Follow us on Google News, Instagram, LinkedIn, Facebook & Twitter. You can also subscribe for our Weekly Email Updates. Libertatem Group does not take any responsibility for the accuracy of this Event Notification. The post has been shared as we received it from the event organizers/host.