About the Institute
ILS Law College, or in its full name Indian Law Society's Law College, is a government law school in Pune, India. It was established in 1924 and offers courses that include three-year and five-year degrees. ILS is located on Law College Road, Pune. The college was aided by The Ford Foundation.
About the Webinar
Centre for Public Law at ILS Law College is organising its next webinar titled "Defence of Insanity and Criminal Liability: Critical Reflections".
Date: Saturday, 4th July 2020
Time: 4:30 PM
About the Speakers
Justice (Retired) S. Nagamuthu, (Madras High Court) Senior Advocate, Supreme Court of India.
Professor (Dr.) Mrinal Satish, Professor, National Law University Delhi.
Moderated by: Dr. Sanjay Jain, Associate Professor, Additional Charge, Principal, ILS Law College.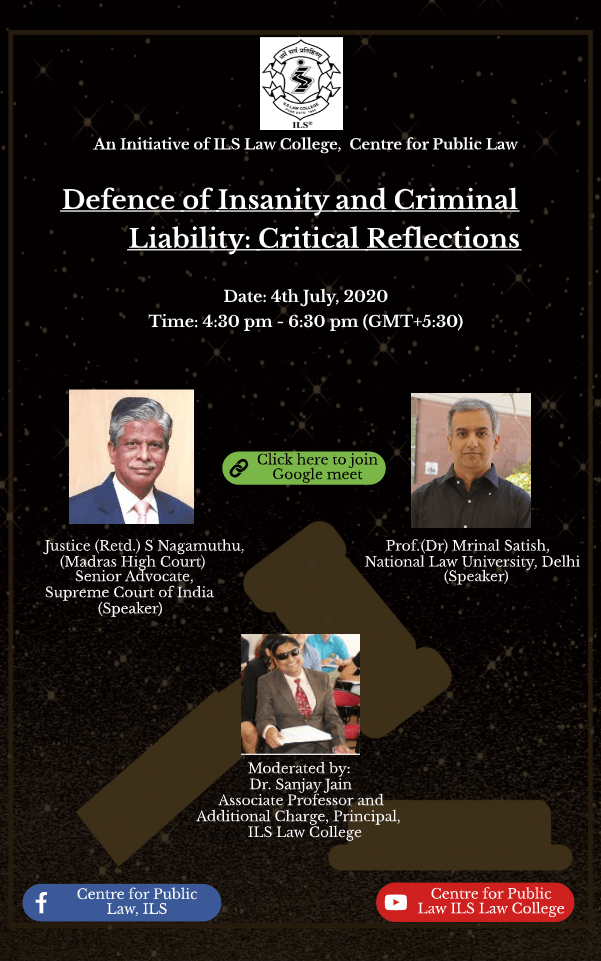 ---
Libertatem.in is now on Telegram. Follow us for regular legal updates and judgements from the court. Follow us on Google News, Instagram, LinkedIn, Facebook & Twitter. You can also subscribe for our Weekly Email Updates. Libertatem Group does not take any responsibility for the accuracy of this Event Notification. The post has been shared as we received it from the event organizers/host