About the Organisation
FastForward Justice is an online legal organization which aims at improving the legal education in country. The main motive of the organization is to enhance various skills that are basic for any law student like skills related to researching, drafting, mooting, legal writing etc.
About the Competition
The Judgment Writing Competition, 2020 has been imagined with the plan to develop the specialty of composing decisions among students to push the students to compose decisions. The students are given the vibe of accepting the job of the judge.
Eligibility
It shall be an online event.
At present students/participants must be pursuing a Bachelor's Degree in Law, i.e., 3-year LL.B. Course or 5-year LL.B from any recognized college or university or pursuing LL.M from any recognized university or preparing for the judiciary.
In one team, no more than 2 participants are allowed. But, however, participants may seek Individual or Single participation. In one team, participants from different universities or schools or colleges are allowed.
Submission Guidelines
It shall not exceed 6000 words (including authorities).
The team is required to cite authorities similar to Judgments of Court.
It shall be submitted as an attachment in .doc/.docX format and .pdf format with a font size of 12 and line spacing of 1.5 lines in Times New Roman' font.
The alignment must be justified on A4 size paper.
The subject of the mail must be in the format of Judgment Submission 2020.
Important Dates
Last Date of Registration: 10th July 2020
Last Date of Clarification: 12th July 2020
Last Date of Submission: 25th July 2020
Declaration of the Result: 16th August 2020
Registration Details
To register fill the form available here.
Rs. 500 for a single-member team.
Rs. 750 for two-member team.
A team may have a maximum of two participants.
Jury Member
Mr. Prakash George M, Editor at FastForward Justice.
He has done his B.com and LLB from Sardar Patel University and LLM from ICFAI University Dehradun. He had got 10 years of advocacy in corporate sector and thereafter he joined in Academics where he is currently serving as Law Faculty at R N Patel Ipcowala School of Law and Justice.
Email: [email protected]
Contact Information
Ms. Khyati Tongia, Content Manager
Email ID: [email protected]
Mobile Number: 8103101852
Mr. Amit, Founder, CEO and Editor-in-Chief
Email ID: [email protected]
Mobile Number: 8262892004
Important Links
Click here to upload your submissions.
For the proposition, click here.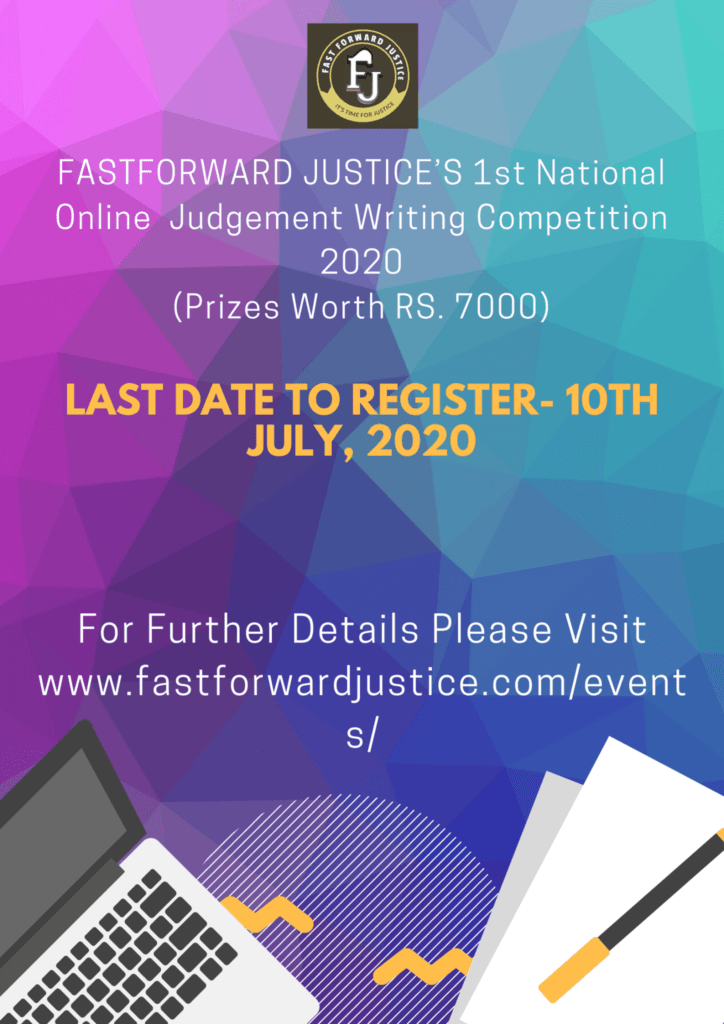 ---
Libertatem.in is now on Telegram. Follow us for regular legal updates and judgements from the court. Follow us on Google News, Instagram, LinkedIn, Facebook & Twitter. You can also subscribe for our Weekly Email Updates. Libertatem Group does not take any responsibility for the accuracy of this Event Notification. The post has been shared as we received it from the event organizers/host