About the Institute
Vivekananda Institute of Professional Studies, affiliated to Guru Gobind Singh Indraprastha University was established in the year 2000 with the vision to maintain and promote excellence in education and for imparting quality professional education comparable with the best in the world. Vivekananda School of Law and Legal Studies (VSLLS) of Vivekananda Institute of Professional Studies (VIPS), is committed to realizing the words of Swami Vivekananda: "Man Making, Character Building and Nation Building".
Atma Ram Sanatan Dharma College is a premier educational institution of Delhi University which aims to nurture excellence in education. It emphasizes on fostering the quality of human resources and promoting productive ideas that benefit the students.
About the Debate
Vivekananda Institute of Professional Studies in collaboration with Atma Ram Sanatan Dharma College is organising 1st National Virtual Debate Competition, 2020 on 14th June 2020.
Eligibility
The event is open for students across all departments and institutes pursuing undergraduate courses in India.
Registration Procedure
The language of the competition shall be ENGLISH only.
A participant may choose to speak on either For or Against the motion. Though the final call shall be made by the organizing committee.
The time limit for each participant shall be 2+1 minutes. Non-adherence may lead to deduction of marks.
They shall be entertaining interjections during the rebuttal round.
Fee Details
Participation fee is Rs. 100 for individual registration and Rs. 200 for team registration.
The payment for the same is to be made via PayTm or Google Pay on 9818886982.
The registration shall be entertained on FIRST COME FIRST SERVE basis. Hence, it is requested to all the anticipating participants to complete the registration process as soon as possible. The last date for registration is 11th June 2020 till 23:59 Hrs.
The registration portal will automatically expire on the said date or on filling up of slots, whichever is earlier.
Since there is cap on the number of participants for logistical reasons. The organizers reserve the right to refuse the registration of participant(s). However, the organizers will try their best to accept such participation(s).
Contact Information
Vritti Gulati (9897772479) (VIPS)
Soumya Gupta (9958750753)(ARSD)
Ishita Tripathi (9792842233) (VIPS)
Priyam (9953096460) (ARSD)
Jahnvi Sharma (9818886982) (VIPS)
Ramyaa (8851035574) (ARSD)
Nitya Tandon (9811923262) (VIPS)
Prerna Dhingra (9811273042) (VIPS)
Aritra Chatterjee (9775902070) (VIPS)
Astha Dhawan (9582042118) (VIPS)
Pritthish Roy (8860367740) (VIPS)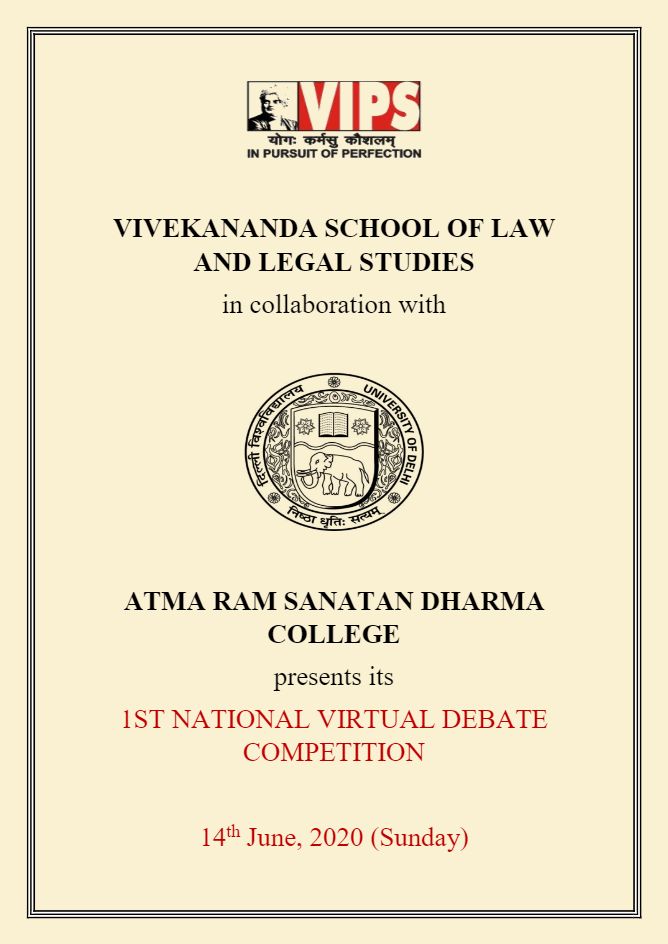 ---