With growing border tensions and India's boycott movement, what if China boycotts India?
India-China Retaliation
20 Indian soldiers were martyred in compelling combat with the People's Republic of China. Increasing border tensions and transmission of novel coronavirus has created boycott movements in India and China. The Indian government banned 59 Chinese apps' which are prejudicial to sovereignty and integrity of India, defense of India, the security of the state and public order'.
In retaliation, China blocked Indian manufacturing items at its ports. As tweeted by Atul Khatri, China banned IRCTC, NaMo, and Aarogya Setu App. 
Startups and Investment
China has gradually penetrated into India's technology sector. Chinese companies like Alibaba and Tencent entered Indian markets by investing in startups like Zomato, Ola, Big Basket, and Paytm. Amit Bhandari, an analyst at Gateway House, believes "There have been more than 90 Chinese investments in Indian startups, most of them made over the last five years. Eighteen out of 30 Indian unicorns [tech startups valued at over $1bn] have a Chinese investor." 
While the boycott China movement gained momentum, Shanghai Tunnel Engineering Co Ltd (Chinese firm) was the lowest bidder in the Delhi-Meerut RRTS Project. Also, Swadeshi Jagran Manch (SJM), an affiliate of the Rashtriya Swayamsevak Sangh, has demanded the Modi government to cancel the bid. 
The Department of Telecommunications (DoT) has planned to ban the supply of 4G to BSNL from Chinese companies. On the contrary, India has allowed Huawei to develop 5G technology in India. India ended a Chinese contract of Rupees Four hundred seventy crores in the railways. However, railway officials claim that this did not happen because of the growing boycott China movements. 
China is a significant supplier of coal and solar power in India. China provides about 78% of India's solar project market. However, Gautam Adani, chairman of Adani enterprises, believes that they would nose out China in 3-4 years. 
India restricted its FDI from China to avoid hostile takeovers without violating WTO norms. A remarkable point to note here is that India is a member of the World Trade Organization (WTO). WTO in-principle constrains its members from performing discriminatory treatments. Therefore, to boycott China of its products, India will have to do it within WTO norms.
Trade Relations
Top export destinations of India include, United States ($52B), United Arab Emirates ($27.1B), China ($16.6B), Hong Kong ($12.8B) and Germany ($9.66B). Whereas, top import destinations include, China ($ 75.5B), United States ($31.6B), Saudi Arabia ($26.3B), United Arab Emirates ($23.8B) and Iraq ($20.8B). 
Since 2009, the intensity of imports in India from China has risen. With industrialization, China's exports to India shifted from intermediate to capital goods. Contrariwise, the intensity of the Indian market in China is minimal. 
China's export to India is concentrated on fewer products like dominance in the smartphones industry (Xiaomi, Vivo, Oppo). This gives rise to a situation where the prices can move in either direction in the short run. For the traders (China), this highly volatile situation seems to be excellent and favourable, which gives them the opportunity in the long run. 
Trade Intensity
The Trade Intensity Index (TII) is used to discover whether the value of trade between the two countries is higher or smaller than would be expected on an average in the world. 
Trade Intensity Index between India and China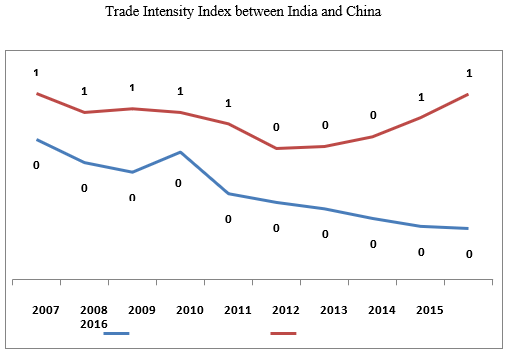 Source: PhD. Research Bureau; Compiled from World Integrated Trade Database
Trade Intensity Index's value greater than 1 indicates high trade intensity. China's TII in India grew from 0.88 in 2012 to 1.24 in 2016 whereas India's TII in China has consistently fallen from 0.94 in 2007 to 0.34 in 2016 indicating a non-intense presence of Indian products in China's market. 
What if China Retaliates?
China is India's second-largest trading partner after the US. Nationalism? The world does not function with emotions. Choices and calculations are based on what is economically best.
China dominates the Indian market and has a grip over various market sectors. From power generation to pharmaceuticals equipment, India is dependent on China. During 2001-16, India's trade deficit expanded almost 57 times.
Indirectly, China has killed Indian manufacturing units slowly. How? Chinese goods are comparatively cheap due to the presence of economies of scale and cheap labour. Economies of scale arise when the companies can save proportionately due in no small number of buyers. A consumer would like to buy cheap products instead of expensive products, unasserted in quality from India. India does not buy Chinese products because of love for them. Instead, the market functions with lower price and good quality. When Indian local manufactures turn self-reliant and can match the market requirement, the market will inevitably shift to India. 
Import substitution involves the replacement of imported products with domestic industries. In the times where the country is suffering from the novel coronavirus, which has a significant impact on all economic activities, is import substitution possible at the moment? Furthermore, even if India manages to go for import substitution mode, it will be left with fewer expensive products due to lack of technology and financial resources. 
So far as competition in technology is concerned, India is ranked 46th among 64 countries. Hence, India imports mobile phones from China in bulk. Under such circumstances, Xiaomi captures the Indian smartphone market because of its less distribution cost and numerous buyers. Around 1.5 million graduates in engineering every year which makes India the largest producer of engineers in the world. 
While India continues to boycott China by banning 59 apps as the first step, the country has to bear financial burdens. Completion of projects in infrastructure and manufacture seems to suffer. According to CMIE, where unemployment recovered a little in June 2020, it was still 7.4 per cent lower than 2019-20 (the deficit was about 30 million). 
They are keeping all the scenarios in mind, what if in any case China blocks its trade with India in retaliation? However, there are lesser chances for China to do so as India-China trade relations are favourable for China. India will bear substantial economic pain, indeed. 
---
Libertatem.in is now on Telegram. Follow us for regular legal updates and judgments from the court. Follow us on Google News, Instagram, LinkedIn, Facebook & Twitter. You can also subscribe to our Weekly Email Updates. You can also contribute stories like this and help us spread awareness for a better society. Submit Your Post Now.