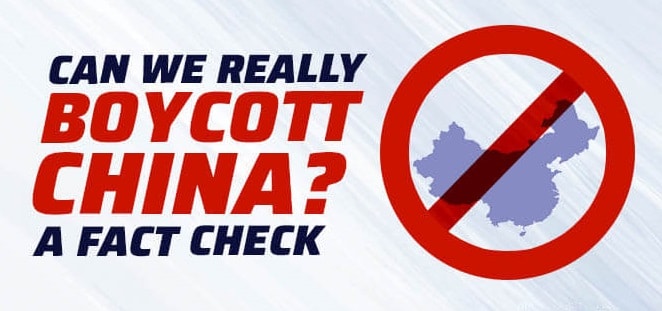 With Covid-19 pandemic, border tensions with China and growing Indian production capabilities along with the Atmanirbhar Bharat and Boycott China campaign, China has witnessed a decline in its fame.
What is the Boycott China Campaign all about?
Boycotting Chinese Products have been trending on social media. After the spread of novel coronavirus and its origin being China, Indian activitist made "Boycott Chinese Products" campaign popular.
An app named 'Remove China Apps' was launched to promote uninstalling of Chinese apps. However, it was removed quickly by Google from its play store. Amul posted a creative content on Twitter which roughly indicated Atmanirbhar Bharat. Following which, Amul's twitter account was blocked on June 4, 2020 at night and was restored on June 5, 2020 in the morning. Several people associated the temporary suspension to the atmanirbhar campaign. When it was restored it was the most trending posts on Twitter. Sonam Wangchuk, an engineer and also the inspiration behind the movie '3 Idiots' posted videos to promote boycott of Chinese products on social media. Baba Ramdev, the yoga guru, posted a video in which he was found deleting Chinese apps. Flipkart and Amazon also promoted the boycott Chinese Goods Campaign. Amazon has made a 'Go vocal for local' section while Flipkart promotes Raymond, Libas and Hidesign through its advertisements.
India-China Trade Relations
India and China have formed trade relations since early 1980s. The trade relations between India and China started to grow as both entered into Trade Agreements one after the other; Trade Agreement in 1984, bilateral trade relation in 1992, Double Taxation agreement in 1994, Bangkok Agreement in 2003 and Open Border Trade via the Silk Route in 2003.
| | | | | |
| --- | --- | --- | --- | --- |
| | 2001 | 2006 | 2011 | 2016 |
| India's imports from China (USD billion) | 1.83 | 15.64 | 55.48 | 60.48 |
| CAGR (%) | – | 53.6% | 28.8% | 1.7% |
| Share in India's total imports | 3.6% | 8.8% | 12.0% | 17.0% |
| India's exports to China (USD billion) | 0.92 | 7.83 | 16.72 | 8.92 |
| CAGR (%) | – | 53.4% | 16.4% | -11.8% |
| Share in China's total imports | 0.4% | 1.0% | 1.0% | 0.6% |
Source: PHD Research Bureau; Compiled from Trade Map Database
India-China Trade Statistics
Between 2001-06, the growth rate of imports first increased to 53.6% but then decreased to 28.8% in 2006-11. In 2011-16, it further decreased to 1.7%. India's share in China's imports was significantly small, i.e.; 0.6% and export trend was -11.8% in 2016. However, in 2017, India's export grew while imports from China declined. According to General Administration of Customs, China, India's Export to China again grew by 15.21 % and -4.6% in 2018 and 2019. Besides, India's Import from China grew by 12.89% and -3.5% in 2018 and 2019.
Import penetration between India and China
In 2013, China became India's biggest trading partner defeating UAE. China seems to benefit more in trading aspect. In 2016, China exported approximately 60.48 billion and imported 9 billion. Also, trade figures shows drastic change in trading relations between 2001-16. Gradually, India's export to China deviated from raw materials to intermediate goods. And, with industrialization, import from China to India shifted from intermediate to capital goods.  The Bureau of Indian Standards has laid down 18,000 standards, but they are voluntary, which provides low quality Chinese products to enter Indian markets.
Rate of Import Penetration between India and China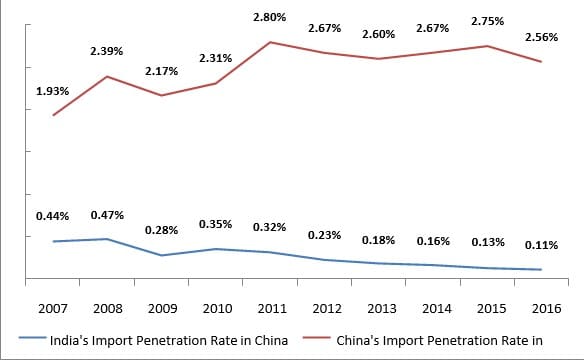 As the chart indicates, China's import penetration in India has increased drastically. The trade relations should not favour any of one country. Yet, China is benefitting far more than India. Under such circumstances, India has enormous trade deficit in its Balance of Trade. China has initiated SPS and TBT to restrict rising imports from other countries. India is among the largest manufacturers of generic drugs. But it is shocking that China does not allow import of drugs from India easily.
What products are imported from China?
China captures Indian market majorly with the import of electrical equipments, mechanical appliances and organic chemicals. On the contrary, India exports ores, slag & ash, copper, plastic products, mineral fuels and cotton.
The consumption patterns of Indian consumers rely on Chinese products more than Indian products. Indian social media market has 86.04% share in Facebook, Instagram (4.84%), YouTube (3.26%), Pinterest (3%), Twitter (2.57%), Google (91.89%), Bing (1.1%), Yahoo! (1.87%) and WhatsApp has 400 million plus users. What's Interesting? Not even one of the above mentioned digital platforms is owned by India.
India imports mobile phones from China in bulk. In 2016-17, mobile phones worth $ 11.3 billion were imported from China. Despite imposing duties, the import rose to $15.5 billion in 2017-18. Import declined to $ 7.4 billion when local manufactures became competitive in 2018-19. Imports declined but the share remains at 40 per cent. India has a high import dependence on China for Power and renewable energy.
Surprisingly, 80% of the incense sticks sold in India comes from China. Legally, firecrackers cannot be imported or exported. However, Raja Chandrashekar, chief of the Federation of Tamil Nadu Fireworks Traders believes that Chinese fireworks find a way to India. Many other products like fertilizers, iron and steel, glass and glassware, plaster, cement, asbestos, mica, paper etc. are also imported.
China's dominance over Indian smartphone market
Indian market is price sensitive. When Micromax entered the smartphone market and provided less expensive features, it became one of the leading companies in India. According to IDC data, in 2015, Micromax, Lava and Index were among the top leading smartphones brands in India. Micromax repackaged Chinese phones to provide low cost features and win Indian market. In 2013, Ericsson sued Micromax for patent infringement. This dispute threw light on Indian vendor's investment in technology and intellectual property rights (IPR). Later, Micromax started manufacturing its mobile phones at its Rudraprayag facility in Uttrakhand.
Indian brands of smartphones did not notice the emergence of 4G. Indian players of smartphones also did not pay heed to growing trend of good camera phones. However, when they started to introduce it was too late as Xiaomi, Oppo, and Vivo had already captured the market. In 2015, when Xiaomi entered the Indian market, it sold products online which reduced the distribution cost. This made Xiaomi phones cheaper. Not only the phones looked like an Apple iPhone but also had features like an iPhone. Xiaomi phones do not go out of stock for 6 months. Therefore, the company earns throughout the lifecycle of the product.
India Smartphone Market, Top 5 Company, Market Share, Year-on-Year Growth, 1Q20 (Shipments in million)
Company
1Q20 Shipment Volumes
1Q20 Market Share
1Q19 Shipment Volumes
1Q19

Market Share

Year-Over-Year Unit Change (1Q20 over 1Q19)
1. Xiaomi
10.1
31.2%
9.8
30.6%
3.4%
2. vivo
6.8
21.0%
4.2
13.0%
63.3%
3. Samsung
5.1
15.6%
7.1
22.2%
-28.4%
4. realme
4.3
13.1%
1.9
6.1%
119.4%
5. OPPO
3.4
10.6%
2.4
7.6%
 41.0%
Others
2.8
8.5%
6.6
20.5%
-58.0%
Total
32.5
100.0%
32.0
100.0%
1.5%
Source: IDC Quarterly Mobile Phone Tracker, May 2020
Since 2015, Xiaomi has been dominating the market and have captured Indian market. The change was due to the fact that when 4G came to India, Chinese phones were already equipped with 4G tech. But, the competition for Indian market remained a stormy challenge.
Through the government scheme 'Make in India', Apple shifted its part of production from China to India. This was made possible by setting up plants with the help of Wistron in Bengaluru and Foxconn in Chennai. According to Counterpoint research, Apple witnessed a 78 percent growth in smartphone shipments in India in the first quarter of 2020. This acts as leverage for Indian consumers as price of iPhones will be cheaper than before. Here, it is important to bear in mind that Wistron and Foxconn are China based company. In a way, boycotting Chinese products would mean boycotting Apple too.
The Video Gaming Industry
Tencent Games is a Chinese multinational company. Also, it is the largest video game company in the world. It has its shares in Epic Games (40% stake), Supercell (84%) – the powerhouse behind  'Clash of Clans', 'Clash Royal' and 'Brawl Stars' and minority stakes in 'Call of Duty'. The PUBG Corporation also has a partnership with Tencent Games. Again, ByteDance Ltd., a multinational Chinese company is the developer of the most popular TikTok app. The diverse content of the app attracts approx 200 million users in India. Sadly, China seems to have penetrated the Indian market drastically.
Can we really Boycott China?
It is difficult to replace Chinese products. Chinese factories are a part of global supply chain. There are certain products for which China is the only source. Suppose India stops to import those products which acquire a large proportion in overall imports. It will impact India's industries at large. These products are necessary to manufacture goods, medicines and electronics in India.
If India boycotts Chinese products, the price of products will increase as the cost of production will increase. This would mean expensive products for consumers, comparatively. Here, menu cost theory will come into play.
Technology journalist Sahil Bhalla believes "the ascent for Indian apps on the Google Play Store and Apple's App Store has been very slow." Many economists warn against Chinese boycott movement. India's trade deficit is worrisome. India needs to have a stronger manufacture sector to provide cheaper goods to consumers.
Every country has its own specialization in manufacturing. Where there are complex manufacturing process it is difficult to boycott a certain country. Due to the 'Make in India' campaign many Chinese companies started Indian operations. If India boycotts Chinese products, these companies are sure to suffer. Boycotting Chinese products will impact GDP negatively.
Even if India boycotts finished goods to enter Indian markets, it will be difficult to boycott import of raw materials.
The government has introduced Self-Reliant India Movement, CAIT announced boycott of 3000 Chinese products and import duties are enforced. But, boycotting Chinese products remains a hefty challenge for India.
---