History of Indian Education System
Pathshala, Maktabs, and Madrasas were regarded as elementary schools before British Rule. Education was imparted by way of old texts like Vedas and their commentaries. East India Company and Christian Missionaries brought the idea of western education in India. The idea was to spread Christianity through English Medium. In 1834, Lord Macaulay became Law member of the council of Governor-General and laid the foundation of the modern education system. 
The first National Education Policy was released in 1968. It followed a structure of 10+2+3 which was accepted across the country. However, it was not successful due to a shortage of funds, improper action plans and implementation of the scheme. Thence, another National Education Policy was introduced in 1986 which focused on equalizing education for all. This policy encouraged the idea of the open university also. Furthermore, National Education Policy 1992 was released which emphasized women's education and particularly on primary education and adult literacy. 
Yet again, National Education Policy 2020 was released to meet the pressing priority of the Education system in India. 
Key Features of the New Policy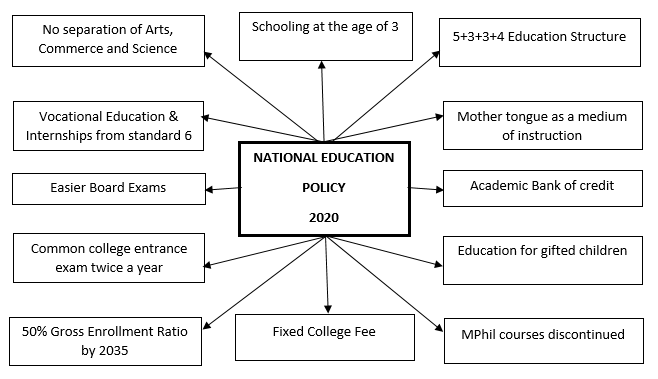 To achieve Goal 4 (SDG4) of the 2030 agenda of sustainable development, huge diversification was needed in the Indian Education system. Therefore, National Education Policy 2020 was welcomed and approved on the 29th of July 2020. 
A major modification of the policy is the introduction of a 5+3+3+4 structure which will be replacing 10+2 structure. This consists of 3 years of pre-school/Anganwadi education and 2 years of primary education (Standard I and II) who are of 3-8 years of age. Children of age 11-14 will cover their school education from standard VI-VIII. Standard IX to XII will be studied in two phases (class 9-10 & class 11-12). To test the core-competence of a student, board exams will be comparatively easier. Besides, a 360-degree progress report card is introduced for class 3,5 and 8. 
Students will now be allowed to choose a combination of subjects irrespective of the streams they belong to (Arts, Commerce, Science). Vocational subjects and opportunities for internships will be open for grades six to twelve. Foreign languages will be introduced at the secondary level while Sanskrit will be offered at all levels. NEP 2020 recommends teaching in mother tongue up to class 5 or 8 and wherever possible. NEP 2020 throws light on SEDGs (Socially and Economically Disadvantaged Groups). It states that provision will be made for SEDGs children to attend schools until higher education. 
College students will be given credits and they will have a chance to complete the courses even after breaks. India will be gearing for becoming a 'global knowledge superpower'. It will target a 50% gross enrolment ratio by 2035 and make provisions for multiple entries and exit options for students. No extra fee will be charged in any college except for the fixed structure. The new education policy has also scraped out MPhil courses. Opponents argue ruling out MPhil courses will be devastating for the research sector. The National Testing Agency will conduct a common test for entrance in college twice a year. Also, foreign universities will be allowed to set up their campuses to promote internationalization.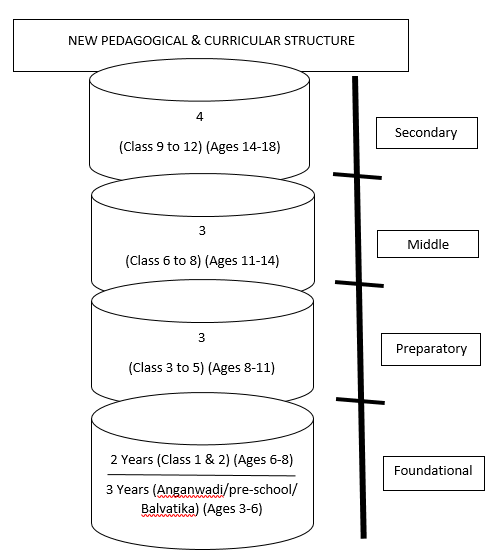 Source: National Education Policy 2020
Professors! A penny for your thoughts!
Several professors speak about the paradigm of Higher Education. 
Professor Saumen Chattopadhyay, Economics Professor, JNU, New Delhi believes that pandemic has accelerated the changes. 
Professor Sachidanand Sinha, JNU, New Delhi considers there is different digitalization in different universities. That, the university's regional and national architecture, both, are equally important. 
Professor Pankaj Mittal, ATU, New Delhi talked about universities and their poor infrastructure and international curriculum. She also expresses her thoughts on the GIAN online scheme (Global Initiative of Academic Networks). Above all she believes "Kisi Bhi Sanstha ko banana ke liye saman se zyada arman ki zaroorat hoti hai", meaning thereby, to build any organization, desire is needed more than things. She throws light upon internationalization by disclosing that about 7.5 lakh students go to foreign. But, only around 7000 return back to India. 
Dr. Abdulla Rasheed Ahmed, Republic of Maldives, Minister of Education affairs, elucidates the UNESCO framework on continuing education. UNESCO promotes higher education for all, leaves no student behind, and reviews current regulatory framework & policies. 
Onward and Upward
The National Education Policy 2020 may cause a seismic shift in the education system of India. The proposal of renaming the Ministry of Human Resource Development as the Ministry of Education has been approved by the cabinet. After independence, it is the third major change in the education policy of India. 
The revamping of the education policy was a prolonged need for India. A flexible curriculum, emphasis on the technology used for education and global aspirations are welcoming reforms. Countries like the USA and Switzerland follow a far more advanced and progressive education system. Thence, allowing the top 100 universities from all over the world to set up their campuses in India is a favorable move, indeed. This will stop the appreciable amount of dollar outflow from India. Also, more stress on extracurricular activities is commendable. 
Time and time again, a lot of Indians give up on education due to financial ailments. Thus, good education policy should also take care of finances and funding. So far as NEP 2020 is concerned, it has aimed to double up the investment to 20% of its public expenditure. The NEP will create a National Research Foundation for funding and monitoring education in India. This Foundation will be incentivized with Rs. 20,000 crore or 0.1% of GDP. 
The policy will also set a National Mission on Education to protect the technological interest. The mission will help in providing remote access to laboratories in different fields. The policy also states that its deep focus will be on digital infrastructure, digital content, and integration of technology. 
The education system which helps in the development of a talented persona is good. Perhaps, let us contemplate how the National Education Policy 2020 brings a change in India!
---
Libertatem.in is now on Telegram. Follow us for regular legal updates and judgements from the court. Follow us on Google News, Instagram, LinkedIn, Facebook & Twitter. You can also subscribe for our Weekly Email Updates. You can also contribute stories like this and help us spread awareness for a better society. Submit Your Post Now.