The war between two retail giants Amazon and Reliance in 2020 was out in the open putting India's retail market worth Rs. 42 lakh Crore at stake. Reliance retail spent Rs. 25000 Crores to buy out eleven food and groceries brands of Kishore Biyani's Future group.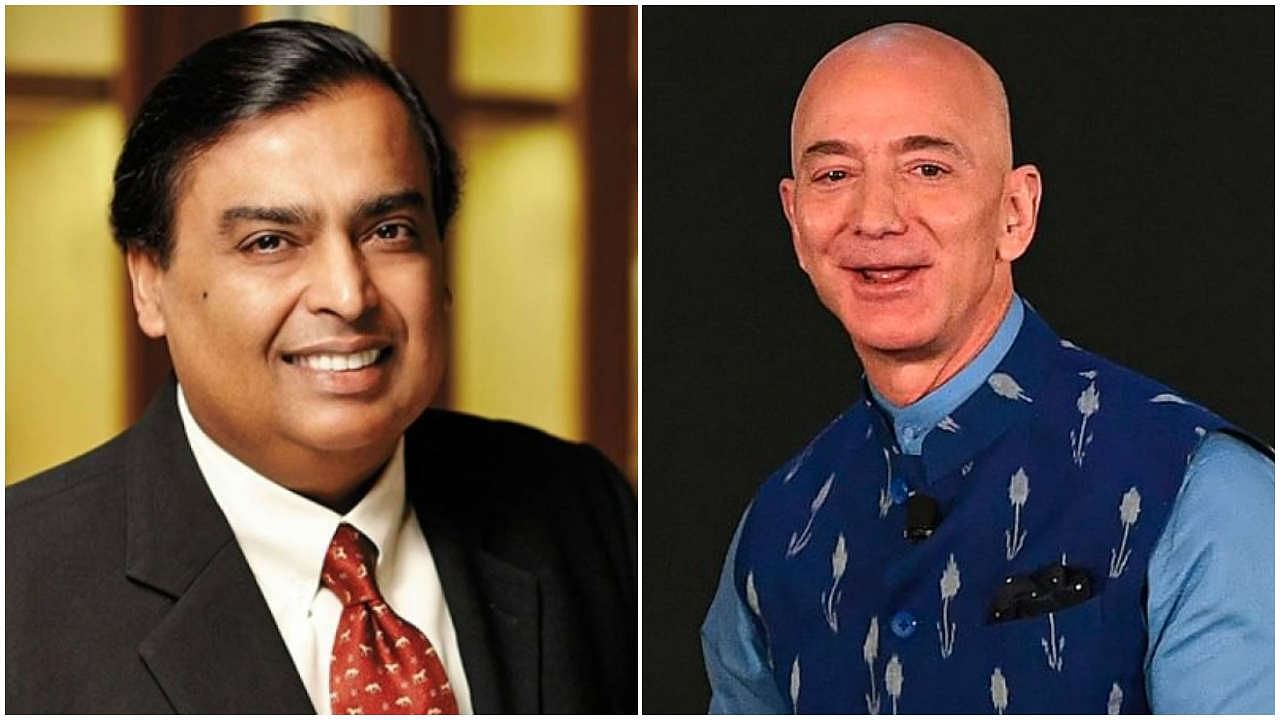 The valuation of his retail arm shot up by $13 billion from around 3 lakh crore to 6 lakh crore with sales of Rs. 1,62,936 Crore. Reliance retail is already the market leader in electronics, FMCG, and apparel categories, but with Future's sales of Rs. 30,000 crores, they will take off to $29.5 billion (Rs. 1,93,000 Crore) more than all of India's listed retailers combined.
What is the Controversy about?
Kishore Biyani by entering into a contract with Reliance was said to have breached the contract with Amazon. Amazon had bought 49% in Biyani's holding firm for Rs. 15 Crores of which Future Group in turn have a 10% stake in their own business. Amazon says that the business that was sold to Reliance by Future Group had entitled them the right to acquire at least 26% of the company between 3-10 years after the transaction along with the right to first refusal. Further, Reliance along with 15 others Companies were specifically mentioned as competitors and hence no sale could be made to them. Therefore, it was argued that if Amazon is ready to pay Biyani what Reliance retail paid them, i.e. roughly rupees 25000 crores then Biyani must sell only to Amazon.
Moving dispute to SIAC
Amazon dragged Future Group to the Singapore International Arbitration Centre (SIAC) to enforce their rights and asked for the deal between Future Group and Reliance to be called off. The battle between the world's richest man, Amazons Jeff Bezos, and Asia's richest man Mukesh Ambani, is going to take place in India.
The Future Group- Reliance deal involved Biyani merging 19 of his companies including five of his listed ones into future enterprises, of which the merged retail businesses will be then be sold to Reliance for Rs. 24,713 crores. In an all-cash deal, the sales strips of the company of all retail businesses. An asset sale avoids making Amazon a shareholder of Reliance retail, moreover, Reliance will invest Rs. 16 crores into future enterprises (FEL), to acquire 13% and become a co-shareholder along with Amazon.
Kishore Biyani CEO of the Future group said, "The pandemic has ruined our business and we are unable to pay interest on the Rs. 13 crore debt." This was also since their Group's value dropped below Rs. 100 crores, and by mid-2020 Biyani was neck-deep with debt greater than the market value of all is listed companies which had plummeted. COVID-19 was the final nail in the coffin of his overextended empire, as Biyani lost Rs. 7000 crores during the lockdown. The Reliance deal was set to be a great save as the deal agreed to lift Future Group's entire debt and interest burden till March 31st, 2020. However, Biyani will still be obligated to pay his debt amounting to an additional Rs. 11,900 Crores and interest on the debt of Future retail from April 1st, 2020 onwards till the deal is concluded. However, since Amazon has stepped into the front, the controversy may prevail till there is a decision on the matter.
Singapore Arbitration Court
Former solicitor general, Harish Salve, represented the Future group. While, Gopal Subramaniam, another former solicitor general, represented Amazon at the arbitration. An emergency single-judge bench presided over the matter by V K Rajah Singapore (Former Attorney General) who gave Amazon interim relief by putting the sale on hold on October 25th, 2020.
Due to Amazon's contractual rights, limitation to investment in India, Amazon opens its helping hands to get a new investor for Future Groups. SIAC, therefore, asked Amazon to submit a proposal. The future Group filed a challenge in the Delhi High Court making Reliance retail a party to the suit. The parties to the arbitration agreement are Amazon, and various promoters of future retail, CEO of the Future group. The competition commission of India (CCI), later approved the Reliance acquisition bid. Hence, Amazon moved the High Court to enforce the stay. As of February 2021, a petition by Amazon was Supreme Court to restore the Delhi High Court's interim order putting on hold Rs. 24,713 Crore Reliance Retail and Future Group's deal.
---
Libertatem.in is now on Telegram. Follow us for regular legal updates and judgments from the court. Follow us on Google News, Instagram, LinkedIn, Facebook & Twitter. You can also subscribe to our Weekly Email Updates. You can also contribute stories like this and help us spread awareness for a better society. Submit Your Post Now.