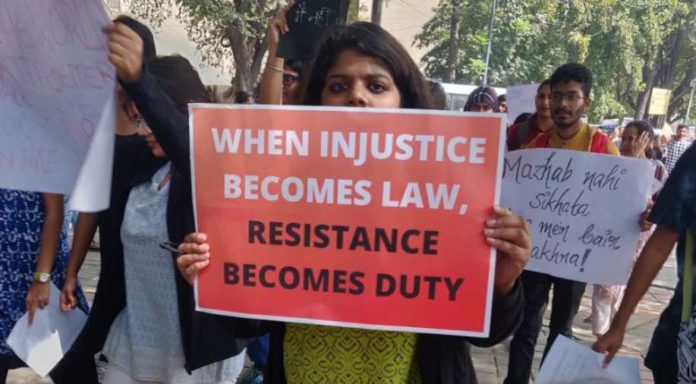 While the Country has been in lockdown, the police have arrested many anti – Citizenship Amendment Act (CAA) student protestors.
The police claim that they are investigating their role in inciting violence. But activists and student organisations have deemed it an attack on dissent by the State.
Arrests of Student Activists
The police have arrested many students and student leaders in connection with the Delhi riots and protests in February. The same led to 53 deaths along with severe harm to public property. Their charges are under provisions of the Indian Penal Code(IPC) and the Unlawful Activities Prevention Act (UAPA).
Natasha Narwal and Devangana Kalita underwent arrest on Saturday, due to their alleged role in the aforementioned protests in Jaffrabad. Jafrabad police had arrested the two women as per FIR No. 48/2020 for offences under IPC sections such as:
186 (obstructing public servant in discharge of public functions)
341(wrongful restraint)
353 (assault or criminal force to deter a public servant from discharge of his duty).
The Duty Magistrate Ajeet granted bail to Narwal and Kalita on Sunday. He stated that
"the accused were merely protesting against CAA and NRC and did not indulge in any violence. Also, the accused have strong roots in society and are well-educated. Accused are also ready to cooperate with the police regarding the investigation."
However, minutes later, an investigating officer of the crime branch applied for further custody of 14 days for both the women. This application was in connection with another FIR No. 50/2020. The offences under this FIR were Sections 302 (murder), Section 307 (attempt to murder), Section 120B (criminal conspiracy) etc. of the IPC, offences under Arms Act and also the Prevention of Destruction of Public Property Act.
On Sunday, the Judge gave custody of two days. He also gave an order to produce them in court on Tuesday (i.e. Two days later). On Tuesday, May 26, they were put in custody for another two days.
The Arrest of JNU Students
Narwal and Kalita are JNU students and are a part of women-led activist group Pinjra Tod.
Saket Moon, Vice President, JNU Student Union says
"This is a very clear witch hunt of student activists. This is meant to intimidate and harass students by levying draconian charges such as sedition and the UAPA".
He added that
"Instead of a clear-cut inquiry of the Delhi riots, the police is targeting anti – CAA activists who organised peaceful protests. But there has been no action on Kapil Mishra, Anurag Thakur and others who actually made public statements inciting violence."
The petition seeking the arrest of government leaders is pending in the Delhi High Court.
The police arrested three JNU students and one was taken in for questioning. It has also arrested Jamia Milia student Safoora Zargar, Shifa-Ur-Rehman, Meeran Haider and Gulfisha. Numerous other students have also been questioned by the police and have FIRs registered against them.
The government now has the ability to declare an individual as a terrorist under the amended UAPA. The conviction rate of the cases under UAPA provisions is very low. But the acquittal involves a lengthy legal process. It can be effectively misused as a tool to intimidate dissenting voices. This poses a serious threat for student activists who often lack adequate legal resources.
Further, the police arrested young student protestors on sedition charges. Activists, students and lawyers have condemned these arrests.
---
Libertatem.in is now on Telegram. Follow us for regular legal updates and judgements from the court. Follow us on Google News, Instagram, LinkedIn, Facebook & Twitter. You can also subscribe for our Weekly Email Updates. You can also contribute stories like this and help us spread awareness for a better society. Submit Your Post Now.