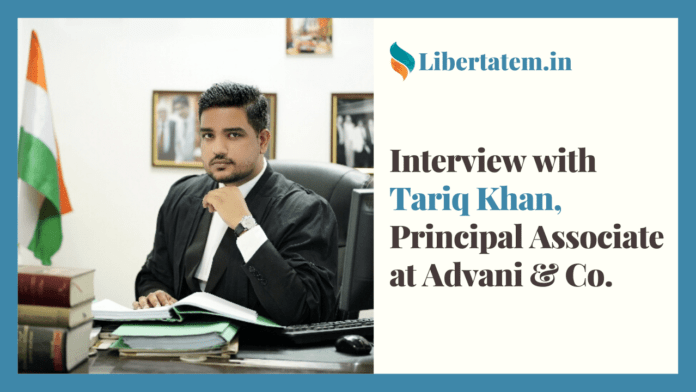 Mr. Tariq Khan is currently the Principal Associate at Advani & Co. He is skilled in International & Domestic Arbitrations, MSME disputes, commercial laws, and writ remedies. He is also working as the Secretary to the Tribunal for SIAC Arbitration.
Along with this, he is also a guest faculty in various law colleges in Delhi and is associated with various NGOs. He has featured in Fortune 500 Magazine for authoring his bestseller book 'On the Rise'.
Akanksha: Back in the day law was seen as a backup and secondary career option but the same is not true in the present. What motivated you to take up law? Please share your experience.
Tariq Khan: Law was not my first choice. After completing my Higher Secondary Education, I started exploring alternate career options as I did not feel the influence of law. Since I was a science student, I wanted to become an engineer and hence, I appeared for various engineering entrance examinations. However, I failed miserably. That's when my father suggested me to do law. Incidentally, I wasn't keen on pursuing law as a career as I had stage fright and did not have much command over the English language. I must add that it is hardships in life that we have to meet with and overcome, to build our true character. Nevertheless, I realized the unvarnished truth that it's not what we take, it's what we leave that enables us to sieve and confidently winnow down the choices to the career path and therefore, I can vouch for the fact that I didn't choose law, law chose me.
Akanksha: You have been working with your law firm, Advani & co. for quite some time. What kind of relationships do you believe a lawyer must maintain with his or her clients to secure a long and stable association?
Tariq Khan: At the outset, I would like to say that this is a result-oriented profession and thus client satisfaction is of paramount importance. I feel that a lawyer must maintain communication with his/her client in relation to the case. Further, the relationship of a lawyer and a client is pyramided on trust and confidence of the highest order and any information shared by the client with the lawyer must be considered sacred, privileged, and must be guarded. Prompt and diligent indulgence in the case must be ensured in order to establish a healthy professional relationship. Also, keeping in touch with the clients and constantly apprising them with necessary legal developments and its implications on their matter is important for establishing a long and stable association.
Akanksha: You have been a trainee in Amarchand & Mangaldas and a legal intern in the chambers of many advocates. What is the significance of networking and contacts for a fresher in the legal field, in your opinion?
Tariq Khan: To get internships in law firms is always a challenge for law students. However, networking plays a vital role to get in touch with legal professionals and in securing various opportunities. It is extremely important to get involved with your peers, seniors, co-interns, etc. for establishing meaningful professional relationships. Undoubtedly "what you know" is important but "who you know" also plays an important role in your career. Therefore, networking for first-generation lawyers is of utmost importance as most of them lack adequate career guidance. Networking with the lawyers in law firms during internships will open avenues and job prospects for law students.
Akanksha: You are currently working as the principal associate in Advani & co. What skill sets does a lawyer, who wishes to join a law firm, has to possess to secure a position? What skills should law students work upon to get into such law firms?
Tariq Khan: There is no substitute for hard work. Having said that, I believe law students during their internships should put in two hundred percent efforts in whatever task is assigned to them. Further, one must put blood, sweat, and tears during the course of their internship to make an impact and assist the team to the best of his/her ability. These efforts will definitely be acknowledged and appreciated and will eventually help in securing a position in the firm. Needless to say that smart work coupled with hard work is the ultimate combination.
Akanksha: Apart from being a principal associate you also are a guest lecturer and visiting faculty in law institutions. What academic and para-academic activities do you suggest law students to undertake to be successful in the future?
Tariq Khan: Teaching helps me in keeping myself abreast of the latest developments in law and brainstorming with the students gives more clarity to the subject through which even I get to learn.
These days there are so many opportunities for young aspirants to make a niche for themselves including but not limited to writing articles on important aspects of law. If a student is interested in pursuing a career in arbitration, he could actively participate in arbitration conferences, that are associated with groups like Young ICCA, ICC YAF, YSIAC, etc. Attending these conferences and joining such groups help not only in gaining practical knowledge and technicalities but also help in building connections.
Additionally, participate in the Moot Court Competitions involving your area of interest, attend conferences and events (either as a participant or volunteer), join diploma or online courses in specialized subjects, read important judgments and articles which will keep you updated.
Akanksha: You have been featured in Fortune 500 magazine for authoring the best seller book, 'On the Rise.' What inspired you to write this book and where did you get your ideas from? What advice do you have for young writers?
Tariq Khan: In the early days of my career I realized that there is no dearth of opportunities, but it is the dearth of information that restricts the trickling down of a variety of options available to budding lawyers and hence, I felt that there was a dire need for a publication to give budding lawyers an insight of the legal profession and the challenges that follow.
I must thank my mentor Mr. Shashank Garg who helped me extensively and also motivated me to come up with a book like this. Incidentally, the 20 contributors who believed in my idea deserve full credit for this book. When I came up with this idea, many people in fact discouraged me thereby making it one of the most challenging works of my life. It was difficult to execute the idea as it was my first book and being a first-generation lawyer I did not have any connections. However, I felt that there was no harm in taking aim, even if the target was a dream.
For young writers I would suggest them to get started as ideas shall take shape only after you start working on them.
Akanksha: Since you have been associated with many NGOs and working with them, what advice would you like to give to students and even practicing lawyers, who wish to open up an NGO and work for social betterment?
Tariq Khan: Socially-minded law students can definitely set up NGO's if they truly believe in a particular social cause.  They can start off by doing internships and working in a coveted position in an NGO of their choice. Gradually they can start working with social workers at the ground level. Ability, interest, passion, and dedication are some of the prerequisites for setting up an NGO and putting the law degree to civic use. Interning with lawyers who have a history of working for various social causes and the downtrodden is also a good idea.
---