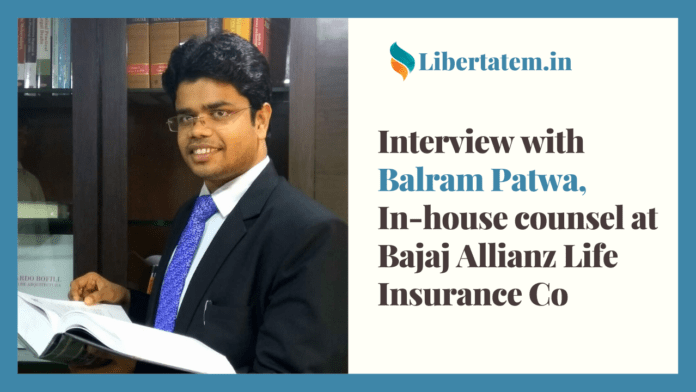 Mr. Balram Patwa is a law graduate with Gold Medals from Gujarat National Law University, Gandhinagar. Presently, he is working as Zonal Head – Legal & Compliance for North East Zone in Bajaj Allianz Life Insurance Company Ltd. His rich experience and insight in specified practice areas have led to the publishing of books and various articles in Journals/books of national repute.
Libertatem Magazine interviewed Mr. Patwa recently and we talked about his experience in Law Firms and as an In-house Counsel. He also talks about how working as an in-house counsel worked for him as compared to a Law Firm. Read on the interview below to know about his experience in details.
Akanksha: Back in the day law was seen as a backup and secondary career option but the same is not true in the present. What motivated you to take up law? Please share your experience.
Balram Patwa: Yes, very true. Earlier when one spoke of law as a career, the general perception was to become an advocate and maybe elevated as Judge someday. People had a negative perspective towards the legal profession and legal professionals, but things have changed since then to a certain extent and are improving with every passing day. I think a lot of credit to this change of mindset and attitude goes to the structured legal education that was been introduced by the establishment of National Law Schools in India. For example, some years back it was a common notion that only those who exhaust all their preferred career options opted for Law as their profession. It was more a compulsion because of exhaustion of the available options, rather than a conscious, well thought of the decision to take up law as a career, but as I said, it all has changed now, people now have started opting for the law as a career, and this is a conscious decision rather than a compulsive choice. The opinion and view of the society as a whole towards legal fraternity has undergone a paradigm shift in the last decade, and this could be very well understood from the fact that I do not come from a family of lawyers and my family kept a safe distance from lawyers and courts. So, I was also swayed with the same thoughts and perception initially. And it was truly difficult for me to take up law as a career. Being from a society where every next door you have an IIT graduate, and the neighbourhood full of medical and engineering graduates, it is quite predictable to understand the mindset people carried and the preference they had when it came of studies and career, but what intrigued me the most to break the stereotype was that I could take a proposition which was codified, break it down and give my own spin to it. The main challenge was to convince a third person that my perspective was correct, and I applied the same first to my mother to take law as a career which worked in my favour. It was the firsthand experience I had in the art of convincing a third person, an art with creativity at its best. I continue to be baffled by the sheer out of the box arguments that lawyers come up with and this continues to fascinate and intrigue me even today.
Akanksha: You have been working in the legal field for quite a long time. In your opinion, what areas of law are experiencing the most growth, and why?
Balram Patwa: To answer this question, we need to understand that law has been bound by the society intrinsically, thus making it heavily dependent on the socio-economic conditions prevailing at any given point of time. Since these conditions are, which lead to the formation of new laws and their implementation. These given conditions have been changing rapidly in our nation and globally since the past few years. With the rapid globalization and industrialization, the corporate structure and work culture which has become an integral part of the workforce of the society today has not left the legal profession untouched.
The requirements of the society and the people have changed and so has the legal profession to accommodate these changes. The changing requirement of the clients and the society has paved the way for new verticals at law firms and opened up an altogether a new horizon for the legal profession. Corporate sector along with the Real Estate has seen some drastic changes with the introduction of new laws and policies. It has forced them to go back to the drawing board and chalk out new plans to accommodate these changes. The lawyers and law firms working in these sectors have seen good demand in their services towards their Corporate and Real Estate Clients since these changes came into effect.
Similarly, with the change in general attitude, people are now exploring unconventional options for the redressal of their disputes and Arbitration has been one of the favoured choices in this segment.
One sector which has surprised everyone recently, to be more precise since the outbreak of the pandemic and implementation of the lockdown, is the Insurance Sector. It had been marginalized and not many paid any attention to it till recently. You can say it had been the more neglected of the lot. And it is evident from the fact that not many law firms have insurance vertical. But the recent socio-economic scenario has made every guru redraw their opinion towards this sector, which has in particular seen tremendous and unhindered growth since the outbreak of the Pandemic. People are proactively opting for insurance cover for themselves, their family and employees. This in return has sent the legal departments and the compliance officer of the Insurance companies to work overtime to accommodate this sudden spur in demand for insurance. What is to be taken home from this change is, that this change in the attitude is not temporary, it is here to stay.
Having said of all this, we should not forget that litigation has always been in trend and it is the cornerstone of the legal profession. Criminal Litigation accompanied by Corporate Litigation is gaining a good pace today. With the rise in general awareness towards law has also led to a sharp rise in the litigation in constitutional matters.
Akanksha: You have worked with law firms like PLS Legal before working with Bajaj Allianz Life Insurance Company. What motivated you to shift to the corporate industry? How did working in a corporate benefit you over working with a law firm?
Balram Patwa: Honestly saying, litigation happened to me by chance as I always wanted to go for Judiciary and was preparing for the same even during my college days. However, destiny had some other plans in store for me. I completed my law degree from Gujarat National Law University which is among the top law Universities in India. Once my college friends started getting placed with handsome perks, I came under peer and family pressure for grabbing a job. So, I applied for recruitment through the college recruitment committee and the very next day Indialaw LLP, a Mumbai based law firm was visiting our college for campus recruitment. It was my first job interview and luckily, I made through it and accepted the offer without any second thought. When I joined Indialaw LLP and later in PLS Legal, I was given litigation matters to handle. Nevertheless, I thoroughly enjoyed litigation during the first couple of years of my career. It was a great learning experience especially preparing for hearings, briefing counsels and senior counsels and occasionally appearing and arguing matters. It helped me to improve my drafting, communication and presentation skills. Having got the opportunity to work on varied types of cases and appearing before different forums such as High Court, NCLT, City Civil Court, DRT, Consumer Forum and State Commission, etc., gave me broad exposure.
Along with litigation, I also worked on corporate assignments viz. drafting of agreements, legal opinions, etc. I gradually realized that though litigation was turning out to be a great learning experience for me, I should also explore different sectors.
Frankly speaking, leaving litigation and entering the corporate world as an in-house counsel was not a very comfortable decision for me but it was surely a well thought one. But I can say from my experience that having litigation experience and the skills which I developed and incorporated while working as a litigation lawyer, continues to help me in my current role as an in-house counsel.
The role of corporate lawyers in a law firm and in-house counsels are quite different. The role of an in-house counsel is that of a strategic business advisor within the dynamics of the business rather than participating in specific legal matters before the court of law. Further, the knowledge of in-house counsel is applied in actual decision-making processes in a business. So, I think to work in a corporate benefited me over working with a law firm.
Akanksha: You have worked with Indialaw LLP as an associate, PLS Legal as a senior associate, and are currently working as a Zonal Legal Head. What part of being corporate litigant interests you the most and why?
Balram Patwa: In a law firm, one always specializes and begins to do the same kind of work. The specialization is very important from profitability and scalability point of view. Whereas, an in-house counsel by the very nature of the job has to handle varied matters. One day we are defending the company against a class action suit, another day we have to deal with the regulatory authorities for product approval and very next day we may be handling POSH cases. Further, we do a lot of contract drafting of different kinds and handle all sorts of disputes viz. business structuring to labour law compliances and then engaging with policy professionals with equal elan. We are curious about every bit of law or regulation that may even tangentially apply to the company because in-house counsels are after the last defenders and they cannot let anything slip.
I think that a lot of work that law firms used to do is now going to in-house legal teams. In-house legal teams have grown in size, stature and depth, and the trend is in favour of corporate India spending more on in-house legal teams, rather than on outsourcing work from law firms.
Akanksha: Lastly, what advice would you like to give to law students who look forward to being a corporate lawyer? What would be your advice for the lawyers who have been practising for years now and want to open their law firm? What tips would you like to give so that it may help them in the first few years?
Balram Patwa: My advice to the law students would be that they must identify a career of their own interest, before initiating any action in a specific direction. Each one has a different interest and potential. Some may be interested in the judiciary and some in corporate work as a legal consultant or in-house legal counsel; others might be interested in opting for litigation as a professional career. Therefore, it is very important to find out what career path attracts one the most. Further, I will personally advise law students or fresh graduates who are looking forward to being a corporate lawyer that he or she must learn the basic litigation prior to entering the corporate world. The first work experience is very important specifically for a legal professional as it embeds the roots of one's entire professional career.
I would suggest to the law fresher's, that there is no substitution for perseverance with the additional quality of grit along with a well-worked out marketing and business plan to succeed. The biggest challenge in setting up your own law firm is convincing the client and getting work from them. It is a herculean task. One can only convince the client with the quality of work. If your quality is anything less than perfect, it is futile. Second, one needs to manage his team and bring the best out of them. Timely delivery of projects and resource availability are also major concerns. Lastly, one needs to be flexible enough to adapt to the ever-growing field. Nevertheless, one must be humble, logical and open to new ideas. Despite taking the best efforts, mistakes will happen, but it is important to handle and overcome the same. One should always look for improvement in whatever one does. Consistency in your work, Adaptation to the requirements, conditions and ever-growing field and being updated with the current laws, judgments, precedents, policies and frameworks are the key to success in this profession.