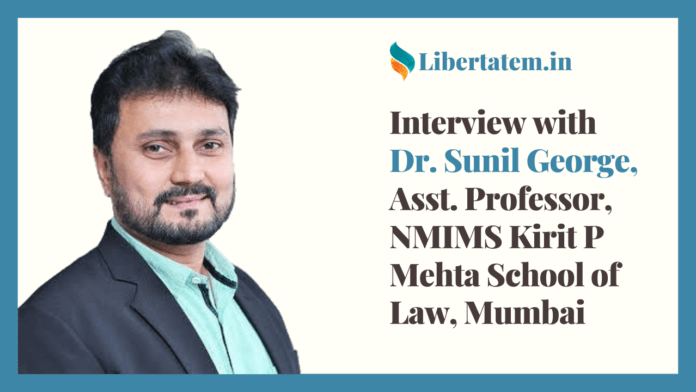 Dr. Sunil George is an Assistant Professor in NMIMS Kirit P Mehta School of Law, Mumbai. His areas of specializations include Contract Law, Company Law, Criminal Law, and Human Rights.
He has an experience of more than four years of teaching experience as an Assistant Professor at NMIMS, Kirit P Mehta School of Law, one year (approximately) as an Assistant Professor in M.K.E.S College of Law, Mumbai, and worked as a Visiting Faculty in many Law Colleges like Jitendra Chouhan Law College, Advani Law College, Thane Law College Adv. Babasaheb Apte Law College, CWC Law College, and Rizvi Law College (2011-2014).
Libertatem Magazine interviewed Dr. George and we talked about the legal education scenario now as compared to the time he was pursuing law. He also talks about how we moved from Corporate Sector to Teaching and also clears some confusion surrounding higher education in law such as LLM. Below is the excerpt from the Interview.
Swastika: You completed your LLB in 1998. How do you feel the Law schools these days are different from that of those times?
Dr. Sunil George: I completed my LLB in the year 1998 from the prestigious Government Law College. We as students were blessed to be taught by a plethora of dedicated full-time faculty members and visiting legal luminaries who were real experts in their respective fields and tried to balance theoretical knowledge of the law along with its practical aspects. If one has to look at the law schools of today, I feel each one of them are better equipped with bigger libraries, state-of-the-art infrastructure, an environment conducive for research and a greater focus on practical training of students and making them ready for industry besides providing them with placement assistance and so on. Also, the advancement of technology, the internet, and digitalization has been the icing on the cake for the law schools of today. However, not many of the students after having finished their legal education from these law schools show an inclination towards academics making dedicated full-time faculty members in many of these law schools of today a scarce phenomenon.
Swastika: You have been an assistant professor at NMIMS School of Law, Mumbai for over 5 years. Please share your journey from being an Economics student to being a law professor in one of the most esteemed universities in India.
Dr. Sunil George: It has been a long though enriching and satisfying journey – having completed my graduation in Economics from Ramnarian Ruia College and Law from Government Law College, I went on to obtain my post-graduation in Law from Mumbai University. I had started working right from when I was in my second year of LLB and continued to do so. Having worked in the corporate world for almost 14 rewarding years in Administration, Legal and Secretarial functions and having settled financially in life, I decided to pursue my passion which was teaching. But the academic journey was equally challenging and demanding. It came with a prerequisite of either clearing NET or SET exams or obtaining a doctorate degree so that you are in a position to bring decent food on the table for your family. So, the first target was to clear SET or NET but fortune was more than generous and I was able to clear both though not at the first shot. A doctorate degree in Law I was told would be the ladder for further academic growth which motivated me to acquire the same. Having worked with NMIMS Kirit P Mehta School of Law for the past five years, I again feel lucky to be associated with a well-established organization that not only has one of the best infrastructures in the country but is dedicated to the welfare of each of its employees. Looking back, I feel content with the way professional life has evolved to finally help me to pursue my passion but strongly feel that I should have ventured into academics a bit earlier so that I could have contributed more to the field.
Swastika: You completed your LLM in 2002. There is a belief in India that only those people pursue LLM who want to build a future in the teaching sector. Do you feel that this ideology is correct or does LLM have a wider scope?
Dr. Sunil George: The vast majority of those who pursue LLM are the ones who want to either go for a doctorate degree in Law or build their future in academics. This may not be true in every case as there may be students who may want to pursue an LLM for deeper understanding and research in the subject. Besides an LLB is like plain vanilla and it is only LLM that presents you with more flavors of the subject of your liking!
Swastika: You worked in the corporate world for over fourteen years. What motivated you to pursue teaching as a career?
Dr. Sunil George: Teaching was a passion – a passion which was pushed many years back into forced hibernation by economic compulsions. I always wished to be a professor and am thankful to all who supported me in this adventure – my family being the one who imposed that infallible trust in me in the transition process. Otherwise, definitely the decision of leaving a well-settled corporate life was definitely not an easy one.
Swastika: Most of the students these days are involved in the organisation and participation of various events such as moots, debates, etc. in order to build up a good CV. Do you think it is necessary for them to do so?
Dr. Sunil George: Debates, Moots, MUN's, Judgement Writing, etc which constitute the main extra-curricular activities in a law school go a long way to hone the soft skills of students besides polishing their management and leadership skills – something which can neither be imparted nor acquired in a classroom setup. A debate competition is analogous to practice in the court – wherein a debate competition, you try to convince the opposite team and the judge, in real practice it boils down to being able to convince your clients and the judge. These competitions only sharpen the listening, persuasive and analytical skills of students. I would like to recall here the debut of Mahatma Gandhi in the Small Cause Court to substantiate my point. When the Mahatma stood up in the court to cross-examine the opposite party, he felt as if his head was reeling and was very nervous and could not think of even a single question to ask. So, in a nutshell, participation in these competitions are indispensable and provides students the necessary value addition to their academic excellence.
Swastika: Considering the current COVID- 19 situations, a lot of firms and lawyers cancelled their summer internship programs which led to a lot of law students having no internships at all. How do you suggest they should utilize their time in order to have some fruitful results in their career?
Dr. Sunil George: One should be in a position to overcome the uncertainty created by the pandemic. As the saying goes, 'When life gives you lemons, make lemonade'. There is no dearth of law firms that are willing to offer online internships. If a student is not able to fetch one such online internship, he may also consider taking up a part-time job in some other field of his liking in lieu of an internship. This can provide students with a flavor of the corporate set up and office dynamics which would in turn provide them the necessary advantage when applying in the future for the 'dream job' as compared to their peers with no prior work experience.
Swastika: A majority of students try to obtain internships in top tier firms as they feel that it adds a good value to their CV. However, it is also said that these top tier firms do not pay a lot of attention to what the students are gaining through the internship. What are your opinions on this?
Dr. Sunil George: Yes there seems to be a craze among students to obtain internships in top tier firms and sometimes they do not even mind the waiting time for making into one of these law firms rather than taking up internships at comparatively smaller firms. Students should remember that 'A bird in the hand is worth two in the bush' and should be willing to utilize their time to learn the nuances of the law in the opportunity they get irrespective of whether it is a small firm or a top tier firm. It is definitely not a fact that these top tier firms have no clue of what their interns are doing and whether they are actually gaining through these internships. In fact, many of these top tier firms by virtue of their sheer size and infrastructure have a constant monitoring system to fathom the progress made by the intern and to gauge whether the intern has the mettle to be absorbed in a later stage as a full-time employee. Nevertheless, would like to conclude by saying that the future does not seem to be in the job but in the person who holds the job.
---