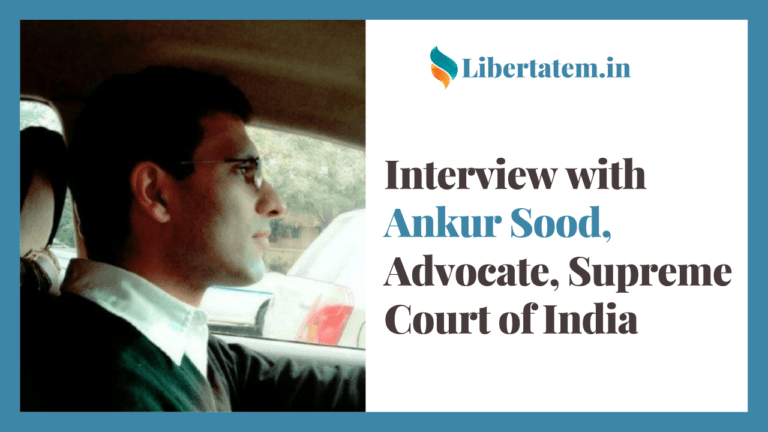 Ankur Sood is an Independent Advocate dealing with both Civil as well as Criminal Cases before various Courts and Tribunals in Delhi. He is empanelled with the Delhi High Court Legal Services Committee, Indian Oil Corporation Ltd., EPF Organisation to name a few. Before starting out his independent practice, Mr. Sood was an Associate at Amarchand & Mangaldas & Suresh A. Shroff & Co. Below is the transcript of our interview with Mr. Sood.
Chavi: What factors influenced you to choose law as a career? What motivated you to opt for a career in law?
Ankur Sood: I had selected the Science Stream after Class 10 and was primarily looking at engineering as the most viable career option. At the time, there was no CLAT and all law schools held separate entrance exams. Perchance, my father was requested by a family friend to get the admission form for NUJS and he got one for me as well. The exam for NUJS was held very early in the process. Without having much knowledge about law as a career option, I gave the exam and qualified. It was after qualifying that I started studying law and exploring the option of law as a career. I discovered it was an interesting and exciting field which offered a myriad of career options. I was especially intrigued by how interesting day to day legal work can be with the tremendous mental application towards finding solutions and the extent of regular reading required in the field.
Interestingly, since I was not exploring a career in law, I had failed to pay the NUJS admission fees within the time prescribed and consequently, my position had been reassigned to another student. With a stroke of luck, Prof. Madhava Menon (NUJS Vice-Chancellor) was visiting Delhi at the time and I was advised to meet him to explain my case. I met him and explained my case. Fortunately, he appreciated my efforts and said he would see what could be done to secure my admission. A few weeks later, my admission was confirmed through special decisions of the Academic and Executive Committees.
Chavi: Tell us about your experience at Law School. Is there any specific anecdote that means a lot to you, which you would like to share?
Ankur Sood: When I joined NUJS, it was still very early years and it was a small close-knit community. That was the first year when students shifted into the Hostel Buildings on campus (before this, students were housed in Apartments on a temporary basis). The academic buildings on campus were still under construction and we had to walk to a nearby government building that had been temporarily made available for classes. Not a single batch had finished the course so there was very little clarity about what fate finally held for us. We had to travel to a cyber café for the internet.
That being said the environment was a sea change from what I had experienced till then. A large part of the facilities and services were operated under student control and supervision. Students were also given an important role in the decision-making process. This theme continued for all of my 5 years at NUJS – the students continued to play an important role in all aspects of the administration and education at the university.
When I joined NUJS, I was 17 years of age. Being a minor, I faced a small predicament since the bank did not allow me to make any payments by cheque and as a special dispensation only allowed self-cheques. Unfortunately, the university insisted on payment of all charges (hostel rent, mess and electricity charges etc.) through cheque only. Fortunately, my seniors and batchmates came to my rescue and issued cheques from their account to clear the payments on my behalf.
Chavi: Why did you choose to go independent after working with big law firms such as Amarchand & Mangaldas & Suresh A. Shroff & Co.?
Ankur Sood: During law school itself, I was quite interested in building my career as an independent practitioner. I joined the Mumbai/ Bombay office of Amarchand & Mangaldas & Suresh A. Shroff & Co. immediately after college because I felt that it would provide the best possible opportunity to for me to gain exposure to corporate work and the working environment at a big law firm.
After working at Amarchand & Mangaldas & Suresh A. Shroff & Co. for approximately 3 years, I decided to pursue my original goal of becoming an independent practitioner and had the "conversation" with Ashwath Rau (the partner in charge of my work). After some initial hesitation, he was quite supportive and even put me in touch with some of his classmates who were independent counsels in Delhi. Since my family was based in Delhi and Delhi being a great place for young lawyers to start out, the shift to Delhi was natural too.
Chavi: What is your opinion about the work environment at big law firms? How hard did it prove to be going independent in your profession?
Ankur Sood: I have fond memories of my time at Amarchand & Mangaldas & Suresh A. Shroff & Co. During my time there, I was fortunate enough to get an opportunity to work on a wide variety and a vast number of assignments across various fields. I was especially interested in financial regulatory and advisory work. The only drawback I found was that everyone was too busy to enjoy the work or the successes and sometimes even to provide guidance on complicated assignments.
As I mentioned earlier, I was very keen to establish an independent practice since my days at law school, even so I did not face an internal struggle when making the decision to go independent. I think there are a lot of worries and insecurities one faces when setting up independently no matter the stage of the decision. I was fortunate enough to be able to get a regular stream of work from a very early stage as well as support from all quarters and was able to sustain despite being the first lawyer in my family.
Chavi: Students these days prefer to go for law firms rather than going independent, how far do you think that this ideology is correct?
Ankur Sood: Law firms and independent practice are completely separate career paths – each has some advantages and disadvantages. I feel there cannot be any broad-brush view of the correct approach or path that a person must adopt in his or her career. Each student or person must decide for himself or herself which path to adopt.
One thing that I can firmly say is that nothing matches the level of freedom and control over professional and personal life that independent practice allows. But at the same time, one needs to have the highest level of self-control to succeed in such a setup as there is no external push or pressure to propel you.
Chavi: You have been a part of the select group assisting the Central Vigilance Commission in preparation of a National Anti-Corruption Strategy for India, can you please share your experience in the same?
Ankur Sood: Soon after I left Amarchand & Mangaldas & Suresh A. Shroff & Co., I had the chance to work with the office of the CVC towards the preparation of a National Anti-Corruption Strategy. While I had worked with some government companies in the past, the experience of working with a government agency was completely different from what I had experienced in the past. Before this, I had always been focussed on the technical side of things. My work on the NACS with the CVC's office taught me the value of stakeholder consultation and gaining wider acceptance for a policy or measure. From the outside, the movement of government agencies appears slow, but a lot of this perceived lethargy is influenced by the decision-making process which emphasises wide-ranging consultation and bringing on board all the stakeholders. This process, in turn, aids in more effective implementation of the policy once it is rolled out.
Chavi: What aspects of the National Anti-corruption strategy you helped draft, you wished you could change? How far do you think that this strategy has been effective in its implementation?
Ankur Sood: Being part of the core team, I worked on the overall drafting and preparation of the NACS. I did extensive work on the following aspects:  legal and regulatory framework, political and administrative corruption, institutional framework and role of the private sector. There was a lot of excitement around the NACS when it was first issued and many of the recommendations made, for instance, the integrity pact etc., were adopted almost immediately. One area where I believe we have missed out is constant review and regular updating of the strategy. A yearly or two yearly review and update process would go a long way towards making the NACS even more effective in combating corruption.
Chavi: Lastly, what would be your advice to the young students at Law School?
Ankur Sood: Even when I completed my law degree many years ago, there were a very vast variety of career choices available. Today, the range of career options that a law degree opens up has widened even further. My experience and that of my classmates, seniors and juniors have been that all of these are viable and ultimately each of us will find the right fit for himself/ herself. So my advice is to shun and ignore the stress, tension and worries one goes through during the years at law school – enjoy what you're doing, try and understand your interests and inclinations – the rest will work out. Best wishes.
---
Recommend an Interview
Recommend an Interview here by filling up the recommendation form.