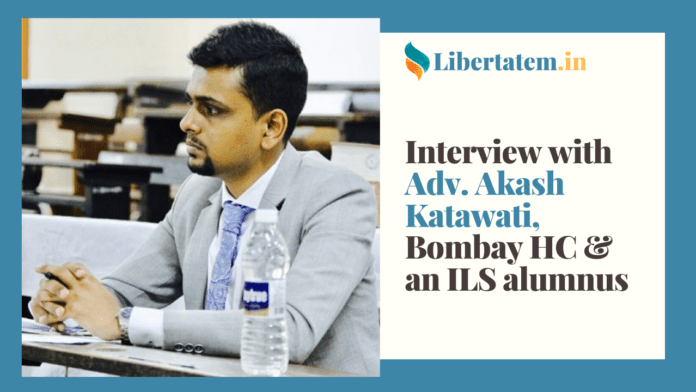 Akash Richard Katawati is a Pune based lawyer practicing before the Bombay High Court and the District Courts, Pune. He graduated from ILS Law College, Pune with a BSL LL.B. degree in the year 2016 and went on to pursue LL.M. in Constitutional Law and Administrative Law from the Savitribai Phule Pune University.
He practices primarily in Civil, Commercial and Educational Laws. He is also a visiting lecturer at Symbiosis Law School, Pune for Transfer of Property Law, Criminal Law, Arbitration, Economic offences and Drafting Pleading and Conveyancing. He is an advocate who is an embodiment of hard work and is a mentor and role model for his students.
Here is an extract from the interview with Akash Katawati where he has shared his experience as a young practicing advocate and what it takes to join the legal profession. He also shares his experience as a law students and gives his advice on joining LL.M. Being an advocate who recently joined the bar, he also takes about the initial struggles an advocate faces while beginning a legal career.
Vishesh: You studied law in ILS Law College Pune, one of the most prestigious Law schools in India. How was your experience as a law student?
Adv. Akash: In one word, Memorable! Being a student of ILS certainly did open a lot of doors and it gave me unmatched occasions to develop myself. We have one of the best libraries a law school can possibly put together and it was an absolute joy to be in the company of books. Our teachers were indeed among the best and we were blessed to have studied from some of the most inspiring teachers, in fact, it was while observing them teach, I too was inspired to take up teaching as a career. Such has been the relationship that I regularly seek their guidance and counsel on varied matters till date.
ILS put us in close contact with legal stalwarts and offered us the opportunity of peeking into their minds. I was fortunate to have met many such personalities, all of whom have left a mark on me. For instance, I had the occasion to converse with the Hon'ble Judge who passed the death sentence against the infamous Ajmal Kasab. He shared his experience during the trial as well as his interactions with Kasab. He also shared how he performed his duties without letting personal bias interfere or the excessive media spotlight stand in the way of delivering justice. He was also kind enough to let me pick his mind on the various questions that had arisen during the interaction.
College also contributed in shaping us as professionals through the various co-curricular and extra-curricular activities, in which I participated with equal enthusiasm. It is tough not to be in awe of the history and the legacy of the Institution. Comparatively, my contribution has been precious little, but I will always look back at my time in the Institution with pride and I hope that I can live up to the values instilled in me and carry the legacy forward.
Vishesh: Should a law graduate pursue LL.M.? When is the appropriate time for a Law graduate to pursue LL.M.- should one pursue LL.M. immediately after graduation?
Adv. Akash: Absolutely yes! Pursuing a LL.M not only adds to your knowledge in a specific subject of your choice, but also adds significant value to your personality, especially when its from a good Institution. Therefore, I would certainly recommend pursuing LL.M. However, I do not believe there is an appropriate time as such.
Personally, I was extremely keen on studying and learning more about our Constitution. Apart from wanting to study the subject, I was also motivated and convinced to take up teaching, for which a LL.M was an essential qualification. Therefore, it all fell in place for me and I decided to pursue my LL.M immediately after my Bachelors. But that is just me. I know of colleagues who have gained some experience before pursuing their LL.M and that has had a profound effect on their learning and understanding of the subject. At the same time I also know of several colleagues who did not pursue masters, yet have been quite successful in their careers. So all in all, it's a personal choice and one should not agonize over it.
Vishesh: What inspired you to take up litigation? How did you overcome the daunting challenge of attracting a good clientele?
Adv. Akash: Litigation was a gradual process of elimination. I had a variety of internships during my days as a student. I was even offered the opportunity to join one of the leading law firms in my final year, which I did consider. However, it was my internship in the same year with Dr. Aditya Sondhi, Senior Advocate, Bangalore, that really sealed the decision. It was during this internship that I found my calling in litigation and Dr. Sondhi, unknowingly had a big role to play. Observing him being briefed, his own preparations for the case as well as the arguments conducted before the bench is where I found my passion and calling in litigation and that's how the decision was made. When I spoke to him of my desire to pursue litigation, he wished me well and advised me to start at the lower Courts. I took his advice and it has made all the difference.
When I started out, I was fortunate to have the support of seniors and colleagues. Especially, Mr. Ravi Bhardwaj, in whose chambers I started my practice and who has shaped my career. It was during those days that he offered his guidance and encouraged me to discover myself as a lawyer. I was taught the basics of the skills required in litigation and then I was asked to fight my own battles from then on while being guided with each misstep. Eventually, once I was fairly confident and when the time finally came, he handed me briefs to argue, which was really the beginning of having my own clients.
For me, it was a gradual process of building my clientele. Clients want to know that you're being honest with them and you will take up for their cause. At times it also involves handing over a bitter pill to swallow, but that is an inevitable part of being a lawyer. Clients also want to know that you are working to the best of your ability for them and are charging them fairly. Once these boxes are ticked, more often than not, a client would want to engage you. Clients are often not very trusting of young lawyers, which is an issue I too faced. But I started out with the basic work of drafting notices, reviewing agreements, etc. I did this diligently and sincerely, eventually this won over the clients and they trusted me enough to conduct their matters before the Bench. I also have the habit of writing articles in the newspapers which helped attract clients. So it's all a matter of sincerity, honesty and giving the best of my abilities to my existing clients with the belief that my work and values will cause more clients to come in.
Vishesh: As a young advocate, what challenges did you face while practicing in various High Courts? How did you overcome them? What advice would you give someone who plans to join the bar?
Adv. Akash: The first and foremost challenge I faced was addressing the bench for the very first time. It's quite overwhelming to walk through those decorated halls and into the courtroom that bears testimony to the many greats in our profession. It is also difficult when surrounded by a sea of lawyers and litigants alike, who are observing your every movement and following every word you utter.
The first time I addressed the bench, I went in over-prepared with a stack of papers and documents. The first thought that crossed my mind was the possibility of the Order going against me, due to which I fumbled at times. Fortunately, the Judge was gracious and patiently heard me out and was convinced with the genuineness of what I had to submit and passed an Order in my favour. This was an immense boost of confidence and since then I have not looked back and continue my learning by facing new challenges every day. Mistakes do happen, but it's an even bigger mistake to not learn from them.
I believe the truthfulness with which you approach your brief and the honesty with which you address the bench plays a vital role in your journey and success at any court. Since litigation is all about human interaction, your credibility with your submissions can be a defining factor. Yes, a sound knowledge of the law is essential, but what sets you apart is your honesty, sincerity and integrity. Realizing this early on goes a long way in ensuring a good practice at the bar as well as earns the respect of your opponents, colleagues and clients alike.
Vishesh: You not only practice as an advocate, but you also are a professor of law at Symbiosis Law School Pune. How has been your experience so far as a professor of law? What advice would you give to law students of today?
Adv. Akash: Correction, I do not have the distinction of being professor, but rather I am a visiting faculty. It truly has been and continues to be a memorable experience and I feel enriched every single day. The opportunity of interacting with the lawyers of tomorrow, keeps me on my toes in terms of learning new things. Teaching is one of the best ways to be relevant in an ever evolving world. Questions are put forth from all around and it is the best way to develop the ability to think on your feet, which also helps you massively when addressing the Bench.
You also tend to learn a thing or two being on the other side of the table. You learn to pick on subtle hints and body language of students that forces you to apply an alternate method of getting your point across which I feel is an important skill, a litigating lawyer should possess. I myself learn so many new things on a daily basis from my students. But the ultimate reward is the satisfaction of having the opportunity to influence the lives of the many students who look up to you as a role model. Several of my students still recall my classes and never fail to share their thoughts and ideas with me from time to time. I've had the privilege to witness some of the best teachers of law and the opportunity to emulate them is priceless.
My advice to law students of today is to not agonize over your future, the package you will receive or what law firm should you join. Your student years are meant for contemplation and finding yourself, especially discovering your interests. So, use that time to learn new things, gain new skills, experience the different aspects of the law and to ultimately figure out what motivates you. Don't look for a job to earn your living, but rather discover something that will make you feel alive and drive you to excel in the profession, regardless of what it is.
Vishesh: Sir, you have also practiced in the field of criminal law. What are the limitations faced by the criminal justice system of India?
Adv. Akash: Criminal law was a challenge in itself. We always imagine it to be the courtroom drama that is shown on television, but the first time I appeared in a criminal matter, I was in for a rude shock. The most common and the biggest challenge is the obvious backlog of cases due to which justice is obscure often at the peril of the under trial. But the most obvious limitation I came across was the shocking lack of awareness, especially with regards the rights of the accused. Due to this, the role of the lawyer often becomes more important and crucial as he plays the role of the bridge between the system and the litigant, thereby ensuring justice is delivered. This lack of knowledge is often misused by various stakeholders, but as defenders of truth and justice, it is our duty to ensure fairness and that everyone has their say in Court. It is also very tough at times to not be affected by a particular case, but all you can do as a lawyer is to represent your client to the best of your ability and in doing so, not lose sleep over it.
Vishesh: What is your opinion on plea bargaining? Is it the most efficient way of dispensing justice?
Adv. Akash: Not always! Yes, it does reduce the burden of a whole trial, but it is not always effective. There are instances wherein the accused is innocent or there may not be sufficient evidence available against him, but the stigma of a trial accompanied with the countless formalities and the financial burden may cause him to take the plea and serve a sentence that he did not deserve. On the other hand, it also helps the accused in doing away with the stress of a trial and may help in dispensing speedy justice if he takes the plea.
Vishesh: How has the outbreak of COVID-19 affected your practice as an advocate? What are your opinion on the lockdown? Is this the only way to control the spreading of the COVID-19? What else should be done to control the spreading of the Coronavirus?
Adv. Akash: The obvious impact is the inability to visit the Courts and conduct matters due to which, several proceedings have come to a grinding halt. But the rule of nature dictates adaptability. Covid has, in no uncertain terms highlighted the importance of this. The sudden transition from a brick and mortar office to a virtual one was accompanied with problems of its own. But this has not majorly affected my practice so to speak. It has merely modified it. Rather than meeting with clients in person, we meet virtually. A lot of the work has also moved online and the dependence on technology has increased manifold. I have learnt new things related to technology that I did not know previously and would not have made an effort knowing had it not been for the lockdown.
I think the government is doing all that is possible and the essential workers are a perfect example of selflessness. They literally are putting themselves on the line and the best help we can give them is by staying at home and following government directions.
Vishesh: What advice would you give to those who have completed their law school journey and are about to enter the legal profession. What challenges must they be ready for?
Adv. Akash: From the very limited experience that I have gained being at the bar, I'd advice young lawyers to be patient with their careers. There is a certain way the cookie crumbles and that's how it has always been. There are no shortcuts to success and if there were legitimate shortcuts, everyone would have taken them. So be patient and wait for your moment because the bar is an unforgiving place. Compromising on your ethics and principles will bring in short term gains, but the true success of your career lays in your repute. You may not be decorated with headlines or medals, but your standing at the bar is your true success. Also, hard work and talent will get you ahead in life, but there is only so much you can achieve with them. If you truly want to be successful, have the hunger and the discipline to achieve your goals. Be inspired and continue inspiring others.