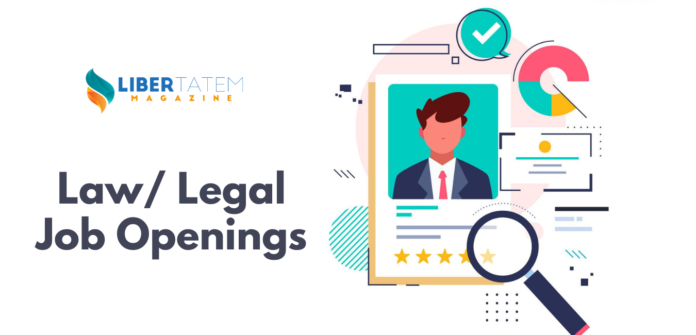 About the Company
Tata CLiQ is the flagship digital commerce initiative of the Tata Group. It is a multi-category e-commerce platform, operating across categories such as Fashion, Footwear and Accessories, Electronics, and Luxury. At CLiQ, they encourage experiments and creativity in Technology. Develop and use technology to enhance day-to-day life and have a positive impact on customers.
About the Post
Manager: Legal at Mumbai.
Area of Work
Litigation Management
Handling cases filed by and against the company under the Consumer Protection Act, recovery of outstanding amounts through civil suits, dishonoured cheques under Negotiable Instruments Act, Arbitration, labour matters, etc.
Pre-litigation scrutiny/collection of documents and coordinating with internal clients.
Gathering requisite information for drafting/vetting of pleadings and other related activities viz. the filing of evidence, drafting applications, affidavits, etc.
Coordination and briefing outside lawyers about the facts of the case, finalizing/drafting pleadings.
Appearing before the Court as Authorized Representative of the Company whenever required.
Drafting legal notices and replies of legal notices received on behalf of the Company.
Monitoring the progress of cases in coordination with lawyers.
Filing of Police Complaint and complaints for Cyber Crime cases
Maintaining and updating the database of cases.
Coordinate in hiring efficient Consultants and Legal Retainers.
Coordinate with various consultants as the point of contact for the smooth execution of work.
 Contract Management
Drafting and vetting of agreements, MoUs, LOIs, NDAs, Service Agreements, Transportation Agreement, Lease Agreement, Leave & Licence Agreement, Consultancy Agreement, Warehousing Agreement, Staffing Agreement, AMC, etc.
Drafting of extension, addendums, and termination notices.
Continuous improvement and standardization of agreements as per the Company's requirements and procedures.
Looking after the entire process of Contract Management.
 Legal Advisory
Conducting and coordinating property due diligence for pre-hire or pre-purchase activity.
Legal research on law points for advising internal stakeholders to minimize the risk of non-compliance.
Resolving legal queries.
Keeping abreast of changes and developments in the legal field especially in view of the company's business.
Eligibility
Anyone with an LLB degree can apply.
Note
The opportunities are perfect for highly motivated and talented candidates.
Tata CLiQ is looking for candidates who have a strong passion for customers, a high level of comfort with uncomfortable transparency, and a keen sense of ownership and drive to deliver results.
How to Apply?
Interested candidates can apply through this page.
---
Libertatem.in is now on Telegram. Follow us for regular legal updates and judgements from the court. Follow us on Google News, Instagram, LinkedIn, Facebook & Twitter. You can also subscribe for our Weekly Email Updates. Libertatem Group does not take any responsibility for the accuracy of this Event Notification. The post has been shared as we received it from the event organizers/host.