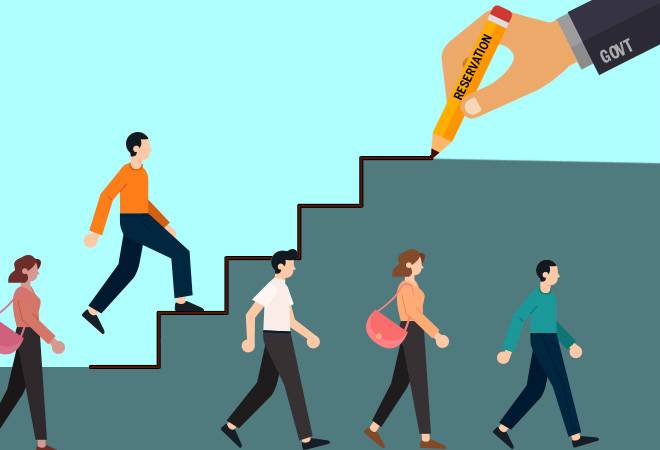 Introduction
India is a sovereign, secular, democratic republic whose current state is a result of continuous amendments and modifications in the Constitution. Reservation was one such modification introduced in India which was meant to solve problems and outcast the evils of the caste system in our society.
Caste Based Reservation in India, according to others, began in 2nd Century B.C. where the upper castes enjoyed privileges based on birth. In the year 1902, Chhatrapati Sahuji Maharaj, Emperor of Kolhapur in Maharashtra introduced reservations in favour of backward classes to eradicate poverty and give them a chance to participate in the state administration. 50% of seats were reserved for them in state services.
India achieved independence in 1947 and Dr B. R. Ambedkar was appointed head of the drafting committee of the Indian Constitution. With that, endless debate on the matter of reservation started. The limit was then decided accordingly. A reservation of 27% was provided and many castes were scheduled in SC (Scheduled Caste) and ST (Scheduled Tribe) category.
Disputes and Amendments
Although reservation was implemented as a noble cause it was met by strong resistance and reforms. In the case of State of Madras Vs. Smt. Champakam Dorairanjan (1951), Court pronounced that caste-based reservations as per Communal Award violate basic rights. Nehru's Government responded and the first constitutional amendment was introduced to invalidate this judgment.
In 1963, Court put a 50% cap on reservations in the case of M R Balaji v Mysore. Mandal Commission headed by Indian parliamentarian B.P. Mandal recommended considering the seat reservations and quotas for people still under caste discrimination. They used eleven social, economic, and educational indicators to determine backwardness in 1979 under the Janata Party rule. They recommended a new group of castes called Other Backward Classes (OBC) and suggested the reservation to lift by 50% to the existing 27%.
Despite all protests, in the 1990s, the recommendations of the Mandal Commission were implemented in Government Jobs by Vishwanath Pratap Singh. The government proposed to reserve 27% of seats in the premium educational institutions of India (AIIMS, IITs, NITs), providing greater quota for 'OBCs'.
Mandal commission recognized 1,257 communities as backwards and estimate the OBC population at 52%. As of 2006, the list of Backward Classes went up to an astonishing rate of 2297 which was an increase of 60% in comparison to the community list prepared by Mandal Commission!
In 2010, Women Reservation Bill was passed in Rajya Sabha which gave a 33% reservation to women.
The Impact of Reservation in Different Sectors
Education
The reservation policy had an important role in improving the education and employment of Dalits. 72% of Dalit women who enrolled for their higher education could not have attended colleges without reservation. Apart from that, affirmative action also helped in increasing the rank of the student in the entrance exams which was positively related to the achievement of the student in terms of grades.
Coming to this date, the education gap has considerably reduced between the upper castes and Dalits at the primary level.
Employment
The amendment in the constitution was taken as a step to increase the representation of Dalits in services under the state. Despite many efforts, the process of bringing Dalits into the mainstream in terms of employment has taken quite some time. The statistics indicate an increase in the number of Dalit employees. Implementation of the affirmative action faces immerses resistance from the other groups which are not the beneficiaries. The magnitude of resistance is higher when it comes to jobs of a higher grade as compared to lower job categories. Therefore, as far as employment is concerned it can be said that reservation policy has been able to develop Dalits in terms of employment, although not fully, but significantly.
Income and Poverty
The income and financial situation of a family plays a crucial role in whether their child can afford education or not. The study reveals that a low percentage of Dalits live in urban residences, which is also why they often don't have access to schools.
The percentage of rural Dalits below the poverty line has reduced over the past years. Thus, the post-reform trend in poverty levels has shown significant improvement.
Misuse of Reservation
The constitution drafters indeed had a bonafide intention behind the inclusion of reservation into the constitution, but now when we closely examine the issue, we observe that reservation in India is deviating from its primary purpose. People are often found misusing this privilege for their benefit. For poor and needy people, the benefits of reservation are out of reach due to unawareness. Today political parties are busy creating vote banks through the weapon of reservation. On the other hand, reservation plays a big role in dividing Indian society based on caste and creed.
People are often caught with fake caste certificates acquired by bribing the officers in charge, thus pulling the wool over the Government's eyes. Those who have already managed to cross the barriers of backwardness and poverty faster than their fellow mates are now subduing the remainders of their very own folk.
As a result, the deserving candidates of the privileged section failed to procure the benefits they are supposed to have and the disparity widens between the weaker and stronger sections within the privileged class. Corrupt officials gather favour from their colleagues and provide their kins with reputable Government posts. Politicians are often caught red-handed in scamming competitive exams which leads to the selection of non-deserving candidates.
Discrimination Faced by SCs/ST/s/OBCs in Different Sectors
We often find that the students from Backward classes who work hard are discriminated by the dominant classes. Their merits and certificates are overcast by the shadow of reservation quota, completely disregarding their hard work and credibility. This lowers their morale and belief in themselves.
The following are the incidents/places where SCs/STs/OBCs were found being discriminated based on Caste and Reservation:
Physical Segregation
In 2007, a committee set up by the central government to investigate allegations of harassment of SC/ST students at the All India Institute of Medical Sciences (AIIMS) in New Delhi found rampant discrimination against these students. Informal segregation in the AIIMS hostels was in action with SC/ST students. They were being forced to shift into certain hostels following harassment, abuse, and violence by dominant caste students. SC/ST students reported social isolation in dining rooms, on sports fields, and at cultural events.
84% of the SC/ST students in a survey said that the examiners had asked them about their caste directly or indirectly during their evaluations. One student said: "Teachers are fine till they do not know your caste. The moment they come to know, their attitude towards you changes completely."
Education Sector
In June 2015, after IIT-Roorkee expelled 73 first-year students from its BTech, IMT, and MSc courses – three-quarters of whom were SC/ST – the National Campaign on Dalit Human Rights (NCDHR) investigated the incident. In their report, the NCDHR was told about instances when students who approached teachers with questions were asked their 'category' or entrance exam ranks. One student said he was asked by a teacher, "Why do people like you even come to IITs?" The NCDHR found a lack of institutional support and infrastructure for students from diverse backgrounds, including inadequate English language classes, summer coaching classes, and remedial programs. Their report concluded that the SC/ST cell was mostly 'dysfunctional' and students weren't aware of its existence or mandate.
Discrimination at the Workplace
Often, we have seen that deserving SC, ST, and OBC people are being discriminated at their respective workplaces with respect to promotions, salary, on the job training, allowances, sexual harassment, etc.
Sports
In sports, it's been observed that much deserving backward class people don't get that much privilege and facilities by the Sports Authority. Often best players from backward class society are not selected by the committee for the International or National games. Moreover, they aren't paid equally and are not provided with the best sports equipment.
Suggestions to Rectify the Situation
The reservation benefits should flow to the vast majority of underprivileged children from deprived castes; not to a few privileged children with a caste tag.
High-rank officials' families, high-income professionals and others above a certain income should be excluded from getting the reservation benefits, especially in government jobs.
The radical solutions like excluding the entire creamy layer among all castes from the reservation and developing their capabilities instead of offering them reservations for admission to higher education or jobs on a platter must be implemented.
Reservation at promotional stages should not be given to anybody because it can create inefficiency in administration as well as amongst candidates.
It is often observed that political parties and the government in power want to sustain the reservations just for the sake of getting votes of backward classes and to reserve them as their party's solid vote banks. Due to this politics is becoming dirty day by day.
The criteria for a reservation should be economically based because there are many people or classes other than backward classes who are living under very harrowing conditions.
It is suggested that instead of reservation other measures should be provided i.e.—Incentives and Financial Assistance to the poor and needy wanting to pursue higher studies.
It is strongly recommended that now the time has come to restrict the reservation strictly up to only one generation. Because reservation benefit is such a drug whose extensive use can prove harmful to the particular class or community it is assigned to.
---
Libertatem.in is now on Telegram. Follow us for regular legal updates and judgments from the court. Follow us on Google News, Instagram, LinkedIn, Facebook & Twitter. You can also subscribe to our Weekly Email Updates. You can also contribute stories like this and help us spread awareness for a better society. Submit Your Post Now.