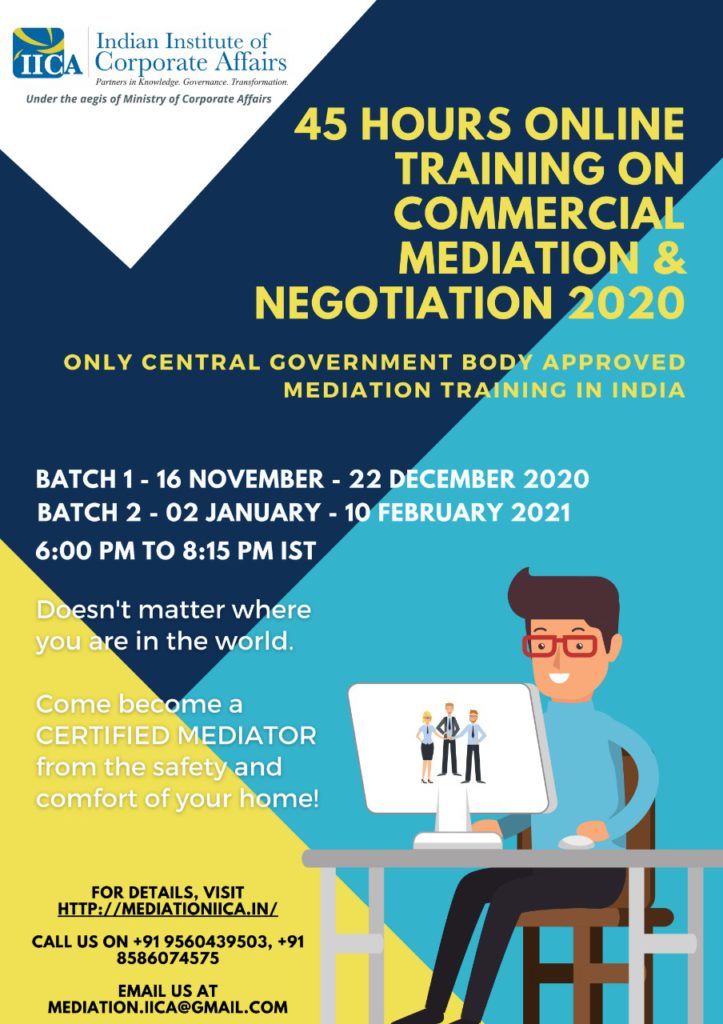 Indian Institute of Corporate Affairs, set up under the aegis of the Ministry of Corporate Affairs, Government of India is pleased to announce the newest edition of the 45 Hours Training on Commercial, Consumer, and Financial Mediation & Negotiation.
The 45 Hours Training Program on Commercial Mediation and Negotiation is the only training program in India introduced by IICA under the mandate of the Ministry of Corporate Affairs to train professionals with the skills and knowledge required to conduct commercial, consumer, financial mediation and negotiation. Through interactive online sessions by international experts supported by Indian trainers with relevant case studies. This month-long training (6:00 pm to 8:15 pm) will equip participants to understand the specifics of conflict management, Negotiation tools, and mediation mechanisms. The training is strictly designed for the participation of professionals.
For more details of the course, kindly visit http://mediationiica.in/.
Or contact us on +91 9560439503, +91 8586074575 | [email protected]
Registration Link
https://docs.google.com/forms/d/1UjuwvL4GH_-6ICapCTZnrP9oKmkhn61VNAUCvTNEV38/edit?no_redirect=true
Payment Link
https://www.payumoney.com/customer/users/paymentOptions/#/AD72FD3B35661E7A4F4122D14BB829B0/IICA-Mediation/211792
Download Brochure