The Supreme Court of India on 8th April guided the legislature to give citizens free COVID-19 testing in government labs as well as at private establishments endorsed by the Indian Council of Medical Research (ICMR) or the World Health Organization (WHO).
The Supreme Court's interim order required that-
The tests relating to COVID-19 whether at an Approved Government Laboratories or Approved Private Laboratories shall be free of cost. The respondents shall issue necessary direction in this regard immediately.
Tests relating to COVID-19 must be carried out in NAB accredited Labs or any agencies approved by WHO or ICMR."
while being an excellent goal, is by all accounts an overextension of its judicial reach.
The apex court, hearing the instance of Shashank Deo Sudhi v. Union of India, by the order of the bench of Ashok Bhushan and Ravindra Bhat of the Supreme Court, passed the aforementioned interim order.
The court, giving a choice of an Ethical & Moral dimension, said private medical clinics and research facilities have a significant task to carry out in containing the spread of the pandemic by 'expanding charitable administrations in the hour of national emergency.'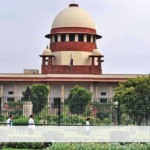 Legal Aspect
The duty of the judiciary is simply to give effect to the legislative policy of a statute in the light of the Constitution and not to reconstruct or create a policy. The court does not have jurisdiction in such issues since no legal question is involved.
At the end of the day, judges are individual who are not chosen through a democratic process; thus, they do not have the power to decide what should be done with public money or for that matter private money as in this case. The elected representative in the legislature are the ones who are responsible for such policy decisions which fall in their jurisdiction.
The government has specific power under the Essential Commodities Act Under Section 3 stating
"If the  Central  Government is of opinion that it is necessary or expedient so to do for maintaining or increasing supplies of any essential commodity…."
thus, to regulate and govern matters related to prices of testing by private labs and it is better placed to decide such issues that have implications for the public exchequer. The Supreme Court does not have the required power, or the capability as it lacks the proper acumen related to proper economic policy-making, keeping in mind that the government is well equipped with several economic analyst, policy-makers and administrators.
Economical Aspect
In the case of Peerless General Finance and Investment Co. Ltd. v. RBI, Justice Kasliwal observed
"Courts are not to interfere with the economic policy which is the function of experts. It is not the function of the courts to sit in judgment over matters of economic policy and it must necessarily be left to the expert bodies. In such matters, even experts can seriously and doubtlessly differ. Courts cannot be expected to decide them without even the aid of experts."
The idea of going ahead with such a policy which might seem fruitful in the short-term, can turn out to be disastrous, keeping in mind that there is a lack of incentive on the part of private entities to take such endeavours as there is no set repayment policy or a policy at all.
Secondly, it might even lead to existing private labs shutting down, seeing that there is no incentive in continuing such endeavour which might lead to losses in the future, as this can drastically affect the testing rate in a country like ours where testing rates are extremely low.
In a situation like this rather than forcing private entities to continue with charitable acts, the government should establish a proper reimbursement plan for COVID testing. Thus, creating an incentive for private entities to go ahead and establish such labs. Therefore, leaving the acts of charity to the people and the organisation themselves to be done voluntarily rather than being forced by the Apex Court.
Resting the case
According to the Indian Council of Medical Research (ICMR), India had performed 25,144 tests on 24,254 individuals as of 8pm on March 25. Among these, a total of 581 individuals who had been confirmed positive among suspected cases and contacts of known positive cases.
This puts the rate of testing in India at nearly 18 tests per one million of the population (World Bank estimates, 2018). Thus, clearly showing how low testing rates India has been working with.
To simply put the order into perspective, the decision in short-term might seem philanthropic and pro-poor. The issue, however, is that in the long term it deters private entities from establishing such labs, simply due to the reason of lack of incentive as there is no guarantee of repayment or compensation.  Even so, some private entities would still go ahead, but a majority of them would simply avoid setting up such labs due to a lack of incentive.
---
Libertatem.in is now on Telegram. Follow us for regular legal updates and judgements from the court. Follow us on Google News, Instagram, LinkedIn, Facebook & Twitter. You can also subscribe for our Weekly Email Updates. You can also contribute stories like this and help us spread awareness for a better society. Submit Your Post Now.