Mr. Sameer Pandit is a partner at Wadia Ghandy & Co. He has been in the legal profession for about 12 years. He graduated from the National Law School of India University in 2008 after which he went to complete his masters from the Harvard Law School. He specializes in dispute resolution and arbitration.
In this interview, he talks about his experience through his college and job. He further discusses concepts like specialization and internships and gives advice to the upcoming law students on how to master the job.
Devanshi Masand: You completed your graduation in 2008. Was law as a career your first preference since the beginning?
Sameer Pandit: Well, preferences change over the years as your experiences grow. My first dream was to open a restaurant and it still remains a dream I hope to someday fulfil. I think I veered towards law sometime between the end of my high school years and class 12. And it's a choice I have since not regretted.
Devanshi Masand: How was your experience at Harvard Law School while you were pursuing your masters there? What do you think were the major factors in your CV/application that helped you get into this ivy league law school?
Sameer Pandit:  One big advantage of a year studying abroad is that it helps you broaden your vision. Given that most masters programmes are only for 1 year, there is a limited amount of classroom learning you can achieve. What you take away and cherish for life is being taught by world-renowned jurists, industry-leading practitioners and getting to know people from almost every country in the world. In terms of getting into an ivy league school, I think they primarily look at consistency in performance and a differentiating factor – what sets you apart from the rest. I'm sure the persons who review applications have years of experience of sifting through great looking CVs and don't get swayed by flowery language and hyperboles. So, it's not just about how you draft your application but more about what you have done before you apply and what you propose to do after your degree programme.
Devanshi Masand: A lot of lawyers practice in a diverse array of fields. They don't choose a particular area of specialization. You have chosen to specialize in the field of dispute resolution and arbitration. What are your views on specialization?
Sameer Pandit: Specialisation is a relative term. As litigation lawyers, we primarily act for clients on a dispute. But that by no way means other areas of law can be ignored. In all litigation cases, you are ultimately debating over a particular area of substantive law – the Companies Act, FDI policies, law of trusts, stamp duty, personal laws like inheritance, partnership law or pretty much any other area that could be relevant in a legal dispute. In fact, what I enjoy most as a dispute resolution lawyer is that I end up learning about a new area or nuance of law in almost every new matter I do.
Practice areas were divided into fairly broad compartments of litigation, conveyancing, corporate/commercial law and personal laws. Senior lawyers in most older firms, at least in Mumbai, we're generalists and would advise on all areas. Juniors would try their hand at each practice and sometimes veer towards an area that they either enjoyed the most or felt best suited for. The "specialisation" concept as it exists today is more a function of the modern law firm that is styled on large foreign firms. Practice areas are sub-divided into macro-categories and you have "RIETs specialists" or "IBC practitioners". While this helps segregate departments/teams within a firm and pitch a specialisation to a client, a specialist lawyer cannot afford to ignore other areas of law that fall outside his or her specialisation. For e.g. a corporate lawyer who is advising a client on acquiring a stake in a real estate company will need sufficiently deep knowledge of property law. Similarly, a banking lawyer who is negotiating a facility agreement between a bank and stockbroking firm will need to know a great deal about capital markets and securities law.
Lastly, specialisation is not something you should think about too early on during your college years. Often obscure areas of law that you might have hated in college could turn out to be fascinating (or highly lucrative!) during your practice. Similarly, you may find that the subjects you enjoyed studying are actually quite dry outside the classroom or offer very little scope for growth.
Devanshi Masand: Considering the COVID-19 situation, a lot of firms are not hiring interns which in turn has led to students not getting practical experience in their field. Tell us about your internship experience while you were still a student. Being a successful lawyer, do you feel that it is extremely important for law students to intern while they are still in college in order to be successful?
Sameer Pandit:  Internships help to a certain extent. They give you a brief snapshot of the working environment in a legal office and of the courts. They also give a student a basic amount of practical training. But they are no replacement for and should not be prioritised over academic learning. Your success as a lawyer will not depend on the number of internships you can paste on your CV but on your legal knowledge and acumen. That requires a sound grounding in the fundamentals of law. So, I would always advise students to focus on their academics rather than spend all their time trying to land a glamourous sounding internship.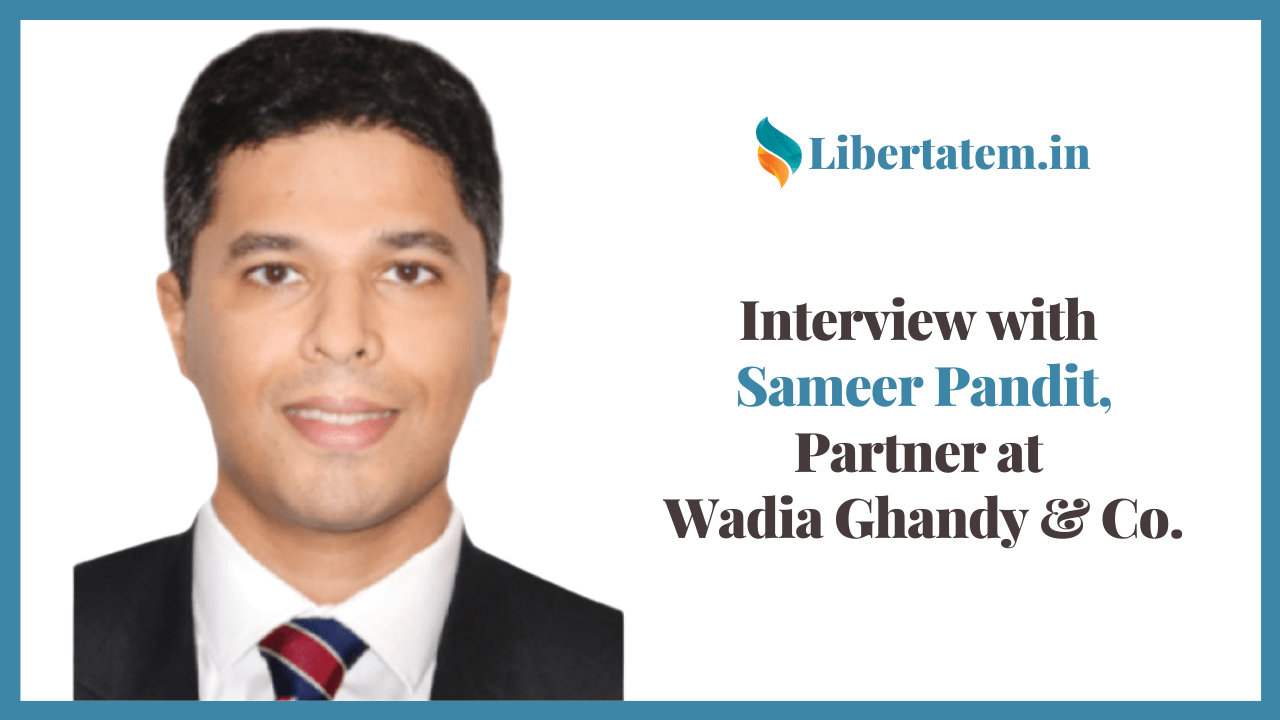 Devanshi Masand: You are currently a partner at Wadia Ghandy & Co. What do your responsibilities consist of?
Sameer Pandit: As a partner, you are first and foremost a lawyer. So, you can effectively advise a client only if you keep abreast of the latest happenings in your field. Once you become a partner, there are added responsibilities like being in charge of a team, training junior members and other administrative aspects of the business.
Devanshi Masand: You have completed almost 12 years in the legal field. How would you categorize your experience over the years?
Sameer Pandit: Thankfully, it has been an excellent experience thus far. While you regularly face frustrating incidents, many of which are not in your control, they are all part and parcel of the game and you have to take them in your stride. What keeps you going is that every day when you step into court, there is always a bit of excitement and surprise because no one can really predict accurately how a case is going to pan out or which way a judge will swing.
Devanshi Masand: In a recent webinar organized by FHRAI, you and your team advised against litigation for resolving conflicts. Any particular reason behind such advice. What are the unknown advantages of ADR over litigation? According to you, will ADR take over litigation in the near future in India?
Sameer Pandit: The reason is quite straightforward – why waste time, money and effort fighting if you can resolve the issue in a more productive manner. At least in commercial disputes, if both sides do a realistic cost benefit analysis, they would often realise that over the long term they are better off not litigating.
ADR is a fairly broad term and covers both – processes like mediation that seek an amicable settlement, and out of court adversarial processes like arbitration that basically involve adjudication before an arbitral tribunal and passing of an award which is no different from a judgment of a court. Arbitration has certainly grown exponentially over the past two decades and is now the preferred mode of dispute resolution in many commercial contracts. The success of conciliatory processes, on the other hand, depends entirely on the minds of the parties and expertise of the professionals involved. Unless both sides have a genuine desire to amicably settle the dispute and are advised by sensible professionals, mediation and conciliation often end up becoming only a precursor to litigation.
Devanshi Masand: In the last few months, terms like force majeure and the doctrine of frustration have been discussed over and over and often used interchangeably by certain online blogs? How would you differentiate between these terms and the effect they have on a contract?
Sameer Pandit: Answering this will take up an entire day and it's never advisable to give non-contextual legal advice. But a key difference between the two terms is that force majeure suspends or relaxes the rigors of certain terms of a contract (for e.g. timelines for performance may get extended) but the contract itself remains alive. Frustration on the other hand renders the contract void and puts an immediate end to the contract.
Devanshi Masand: On a closing note, what advice would you like to give our readers and students aspiring to enter the field of dispute resolution? According to you, what are the hallmark qualities of a specialist in your field?
Sameer Pandit: You must practice patience and not expect every day to be an episode of Suits. Litigation is an immensely enjoyable practice area if you understand what it entails. Unlike a transaction, litigation cases don't close in a matter of a few weeks or months but can potentially drag on for years. But when a case starts moving, it often proceeds very quickly. So along with legal knowledge, you need to make an effort to understand the procedural nuances of the jurisdiction you practice in. You must also try and understand the mind of the judges you will be appearing before and how they have decided similar cases in the past. This will help you strategize your client's case and achieve effective results within the limitations of our legal system.
All lawyers should (or are at least expected to) know the law. But the hallmarks of a good litigator are his or her knowledge of the facts of the case and court craft. The most unfortunate position for a litigator to be in is to be left dumbstruck in court because you do not know the answer to a question posed by a judge, or worse, you know that the correct answer is likely to sink your case. In such situations it is court craft that helps save the day. The best lawyers deftly navigate sticky situations and pivot focus to the strengths of their case rather than weaknesses. Or they give the same set of facts a totally different colour so that it supports their case. These I believe are the skills that make a good litigator.
---
Want us to Interview someone you know or admire?
Please recommend their name for an Interview by filling up the recommendation form. They can be a Lawyer/ Law Firm Associate or Partner/ Dean/ Professor etc.