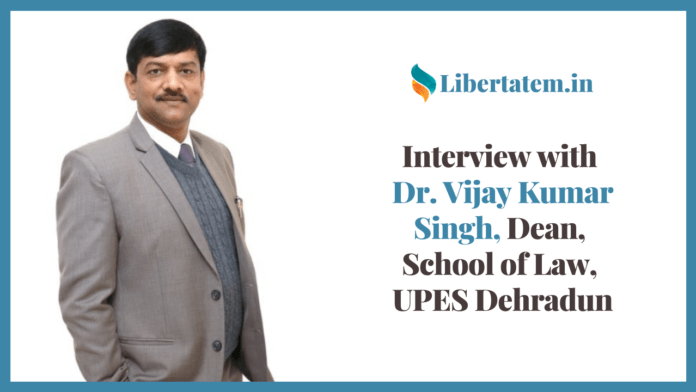 Dr Vijay Kumar Singh is the Dean of the School of Law, University of Petroleum and Energy Studies, Dehradun. He is known for his experience in the field and his will to never stop learning. His journey is quite interesting as he started off as a science student and with time discovered his passion for law.
He has served as the Deputy Director in the Competition Commission and also as the Associate Professor and Head of Corporate Law at Indian Institute of Corporate Affairs. Dr. Singh was invited as the Member on the Editorial Board of Annual Journal on Competition Law and Policy of Competition Commission of India, SIPI Task Force and Academics Committee of INSOL India, to name a few. He also has written many research papers and has published his work in form of books.
In this Interview, Dr Singh discusses his life as a student of law and how he utilizes his experience from those days to help the students of the University. He also discusses his experience of working at different places and provides advice on certain problems commonly faced by students of law.
Kanika Goswamy: Journey of every student differs and teaches them something new. How was your journey as a student of law?
Dr. V K Singh: One of the best phases of anyone's life is the life of a student. My journey as a student was quite eventful and full of learning. I owe a lot to my uncle and aunt who supported during my hay days for my studies at Nagpur.  I did B.Sc. with Chemistry Botany and Zoology.  I wanted to pursue M.Sc. in Chemistry and become a scientist, however, due to financial issues had to search for employment first.
I got into medical transcription training and then got employed as a transcriptionist for a year. Thereafter, my passion for studies made me enrol for LL.B. 3 years.  Soon after my first year, I knew that law was my calling as the constitutional debates with my colleagues and faculty charged me up. I decided that I would pursue law as my career. I completed my LLB with flying colours and was awarded Gold Medals. I also enrolled with the Bar Council of Maharashtra and Goa as an Advocate.  The same year, I got an opportunity to work as a Law Clerk with Hon'ble Judge of the Bombay High Court, Nagpur Bench. During this period, I also completed my LLM in Business Laws from Nagpur University. After my stint as a law clerk, I briefly practised under the mentorship of Advocate Subodh Dharmadhikari until I decided to pursue my career in academics with Hidayatullah National Law University (HNLU). I always keep the student alive in me, which keeps me grounded and prods me for learning new things and that's why I did not stop as a student and pursued my PhD, MBA from IGNOU and several online courses which I keep doing. My students initially say that I am a bit strict, which essentially is the discipline which comes from my NCC experience through its motto of 'unity and discipline'.  However, students who have known me for some time, like me and respect me a lot because of my way of life.
Kanika Goswamy: Many people do not prefer to take up academia after completing their degree. What pushed you to become an academician in the field of law?
Dr. V K Singh: Yes, it is true that many people do not prefer academia and it was used to be considered as a profession of last resort. But things have changed now when youngsters are opting academia as their career of the first choice. For me, academia was always at heart, as I used to take sessions for my friends on different topics during my college days as well. During my Post Graduation, I liked engaging lectures and the satisfaction which you get when you would come out of a class was quite similar to making an argument before a court. I liked them both, but helping students gave a different kind of satisfaction.  While I practised for some time, in absence of any financial support, I choose to move into academia. I would like to mention that anyone who is planning to enter academia, shall spend some time as a lawyer as this would give the person requisite skill to teach to-be professionals of law.
Kanika Goswamy: What changes do you think the education system needs so that it can become more inclusive? What changes have you as the Dean of School of Law, University of Petroleum and Energy Studies, Dehradun made in imparting education to the students of the university?
Dr. V K Singh: Education system of today is quite inclusive and there are plenty of opportunities available to the students.  I remember during my student days, I didn't have exposure to National Law Schools or the resource persons as the present generation has. I still recollect waiting for annual festivals in Nagpur wherein the Supreme Court judges would be invited and I would attend them without a miss. Educational tour to Delhi and law institutions particularly the library of ILI and ISIL was a must. I think a determined student of today can avail a lot due to the access created by the internet and social media.
I joined UPES as a professor and soon became Head of the Department for Law and Management. I was given the responsibility of Dean, School of Law, UPES in January 2020.  My focus has always been to provide a quality experience to the students and develop our faculty members. It is indeed important to keep students at the core of your planning, which I am proud to say is the philosophy of UPES. Inspite of being hit by the pandemic, I made a point to be connected to our students. I did that through several meetings in an online platform with our students and having an open-door policy for the students. I am very proud of my students at UPES who are full of energy and keep exploring new things for their development. I just provide the required nudge and things move smoothly.
Kanika Goswamy: How has the exposure outside India benefitted you? How was your experience while you were studying at the University of Chicago Law School and did you notice any major differences in ways of imparting education? What are certain aspects that you would like to incorporate from the education system outside India?
Dr. V K Singh: Travelling has been considered as a great learning experience. I have been a traveller from my student days. I remember travelling during my student days at various places in our beautiful country and these visits taught me a lot. One has to be just a keen observer. My exposure outside India opened up my horizon and perspectives on a number of things. I am grateful to my previous organisations Competition Commission of India (CCI) and the Indian Institute of Corporate Affairs (IICA) for providing me with the opportunity to visit Europe and China. Due to my work, I got invited to Central Asia and Japan by ADBI as a speaker. UPES provided me with an opportunity to visit the United Kingdom for a faculty workshop at the University of Law, London. I used the opportunity to visit Oxford and Cambridge as well. I travelled to the US as a scholar to attend a summer school at the University of Chicago Law School. At each of these foreign destinations, I learnt several things which I incorporated into my way of life and the working framework of places where I worked. In terms of adopting something in the education system of our country, I think seriousness about research and focused approach towards academia is worth adoption. I find the students in US and UK are more independent in their learning and the concept of self-study is very much required to be adopted by our students.
Kanika Goswamy: How was your experience while working in Competition Commission as Deputy Director (Law)? What was the process that you had to go through to become a part of the commission and how has this experience benefitted you? How do you think the commission has evolved with time?
Dr. V K Singh: Working with CCI was a great experience. I competed in an all-India examination followed by an interview and was the first-batch officer of CCI.  This experience gave me a closer understanding of the functioning of Government of India and provided an opportunity to work with excellent individuals like Mr Ashok Chawla, Mr Dhanendra Kumar, Mr Anurag Goel and many more senior bureaucrats. I learnt a lot of skills in administration from these great individuals. Experience of CCI was also very unique for me as it was an evolving regulator. My 5 years at CCI provided me with a 360-degree view of government functioning, regulatory governance and regulations framing. I worked in several portfolios at CCI, capacity building division, legal division, OSD to the chairperson, and international cooperation.  All these experiences made me what I am in the area of competition law and policy. Commission has evolved a lot and appropriately said it is now CCI 2.0.
Kanika Goswamy: Due to the current state of the world, schools and colleges all over the country have opted for online mode of classes. Do you think that it as efficient as the offline mode and is there a possibility that this system will persist considering that it is safer and will allow students who can't travel to distant places, to attend classes peacefully?
Dr. V K Singh: Well, we all know that the current measures are necessitated because of the pandemic. However, the brighter side of the online learning has emerged which otherwise would not have been possible. We are quite proud to say that at UPES we had the Learning Management System and facility for online classes for many years, however, were not being used fully by the students and faculty. The pandemic forced their mandatory use. I think going forward people would prefer the online mode, however, the face-to-face mode would not go away completely. A blended mode is going to be the future. However, one thing is sure that people have now got a hand of online systems and have known its virtues and when the things normalise people would definitely do the cost-benefit analysis of online vs. offline.
Kanika Goswamy: The New Education Policy, 2020 guarantees to reform the education system and make it stronger and better than before? Can you share your views on this policy? What significant change do you think it will bring in the existing system?
Dr. V K Singh: National Education Policy (NEP) 2020 provides a vision for professional education to develop a discipline with a purpose for ethical practice. Interdisciplinary thinking, discussion, debate, research and innovation is at the centrality of the guidance on professional education. NEP emphasizes the need for coming out of the isolation of one's speciality.
This applies very much to the legal education wherein we have witnessed mushrooming of stand-alone law schools. While the formation of stand-alone law schools in the formative stages contributed greatly to the growth of the legal professionals, it appears to have been over-done now. NEP suggests an organic evolution of these institutions into multidisciplinary centres for excellence. In fact, Rules on Legal Education very much makes a way for it wherein integrated law programs with B.Tech., BBA, BA, B.Sc. and B.Com. have emerged. However, restrictions on inter-program credit transfer have limited the growth in the sector. NEP envisions legal education in India to compete globally by adopting best practices and embracing new technologies for wider access to and timely delivery of justice. This calls for a modern and scientific approach in reviewing policy on legal education. At the same time keeping our rich heritage of ancient and eternal Indian knowledge and thought at the forefront of the world stage
Kanika Goswamy: Over the years you have gathered a significant amount of experience in this field and have observed the different qualities of students. Can you tell us what qualities are desirable in a student of law? How can one incorporate those qualities?
Dr. V K Singh: Well, I have already spoken a lot before, but if someone has to list some qualities which a student shall possess, I must say that one should develop their own identity rather than following someone. Having role models is good, but developing your own personality is important. While shaping your personality one can be conscious of being organised, disciplined, open to ideas, consistent, and empathetic. Having good friends and surrounding makes a lot of difference, as the old saying goes 'be wary of the company you keep for they are the reflection of who you are or who you want to be'. Always look towards students who are doing better than you. When you feel a bit demotivated, look towards students who are just below you, this will provide you motivation to move ahead. I have utilised this sliding scale approach in my life. There is no single recipe of success though, craft your own path and have a memorable journey.
Kanika Goswamy: Lastly, you have always encouraged the students to pursue excellence but we do see how students have lost motivation during this period of lockdown because of lack of employment and other opportunities. What is one piece of advice you would want to give the students or the graduates of law to help them cope with this lack of motivation and drive?
Dr. V K Singh: Well, it is a tough time for everyone, however, there is no point losing hope. Every sun which sets is followed by a sunrise. Keeping patience is important. I think one should always find ways to utilize the time at hand, as the time lost can never come back in one's life. Opportunities knock at the door of persons who keep trying. It is important for the students to realise the requirements of the market and follow the current trends. Upgrading the knowledge and skills is non-negotiable in the profession of law.  While one keeps thinking about their career and future, it is also important to focus on the present and enjoy the time which is at hand. One should keep an eye on their health and wellness not only of the body but also of the mind. A right amount of exercise for body and meditation for the mind is important. Inculcating some hobby and practising it may help as a stressbuster.
I wish your readers a great time ahead and would pray for their safety and good health.
---
Recommend an Interview
Recommend an Interview here by filling up the recommendation form.