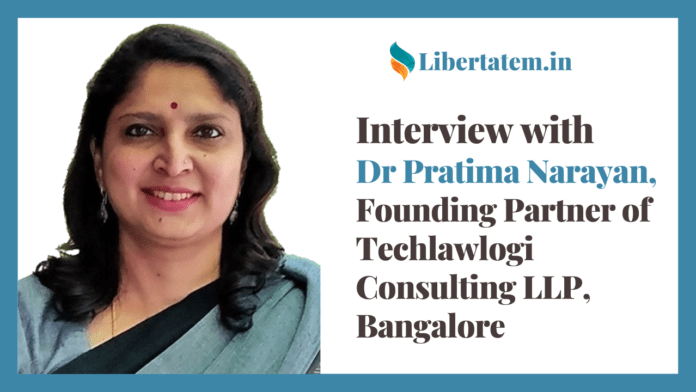 Dr Pratima Narayan is an Advocate and mediator. She is the founder partner of Techlawlogi Consulting LLP, Bangalore. Her expertise lies in the areas of commercial contracts, consumer law, e-commerce and Intellectual Property Rights. She is an empanelled mediator with the Indian Institute of Arbitration and Mediation, Cochin and Indian Institute of Corporate Affairs, New Delhi. She has worked as Research Associate and Mediator at Online Consumer Mediation Centre, National Law School of India University, Bengaluru.
Dr Pratima Narayan holds a Doctorate in law from National Law School of India University, Bengaluru. Her doctorate research was on the thesis 'A Critical Study on Consumer Protection in Online Shopping in India.'  She has also served the legal academia for over 18 years and has taught at various leading law schools and business schools. She is also a member of the CII India Women Network, Karnataka.
She has written various articles on trends and challenges in e-commerce protection and has presented papers at various national and international seminars and conferences on e-commerce and consumer protection.
Dr Pratima holds a Master degree in Business Law from National Law School of India University and a bachelor's degree in law from Bangalore Institute of Legal Studies. She also holds a certification on General Principles of Intellectual Property Rights, World Intellectual Property Organisation (WIPO) and a diploma in cyber law from Asian School of Cyber Law, Pune. Below is the transcript of the interview we had with Dr. Pratima.
Priyanshi: What motivated you to pursue law? Was law always the career you wanted to pursue? Can you please share with us your experience in the law schools?
Dr. Pratima: Career in law was never a choice for me. I had always aspired to be an engineer while in school. But, towards the end of my Class 12, I started to think, why not pursue law. I discussed this with my parents and they encouraged me. I am happy to say that I am a first-generation lawyer in my family.
I did my undergraduate program (LL.B) from Bangalore Institute of Legal Studies. It was a budding institution. We received a lot of encouragement and guidance from our dean, principal and faculties. We were not as privileged as the present generation law students, though. Electronic resources and technological advancements for access to knowledge and opportunities was evolving. I remember we would go to the National Law School Library to access online articles and journals for references.
Having visited the law school, it took me to the next level of aspiration, to pursue a Masters program. After LL.B, I did enrol with the Bar Council to practice at the Court. I also got into a law firm to be a litigating lawyer, but a master's degree was always my calling. I went to National Law School, Bangalore to pursue my master's in business law. Again in 2011, I went back to Law School to pursue my PhD program. Law school and legal education was a great journey. It gave me the knowledge and insights to structure my professional career path. In these years, I was also extensively engaged in teaching law subjects at multiple law and Biz schools.
Priyanshi: You've started your law firm Techlawlogi Consulting LLP after acquiring a treasure-trove of knowledge from your work experience of around two decades. What inspired you to set up your law firm Techlawlogi Consulting LLP? Also, there are many professionals out there who wish to start their law firm. What would be your suggestions for them?
Dr. Pratima: During my research at law school, I realized that tech-based companies, especially eCommerce startups, have limited exposure to the importance and impact of legal compliance and due diligence. And being in legal academia, I felt the strong need to enhance legal education and legal awareness in these areas.
It was in 2017, Techlawlogi Consulting LLP started with a vision to foster technology-enhanced learning and provide innovative and affordable legal services of the highest professional standards.
We provide legal services for startups and also offline and online training and certifications. Apart from these, we are also exploring technology innovations in ODR.
For all those startup aspirants out there, access to affordable legal service and access to justice is the need of the hour. We shall focus to do some serious research on those areas which can be impactful to the individuals, legal and judicial system and the community at large.
Priyanshi: You have completed your degree from prominent law colleges as well as been a professor and hold prominent certifications in various fields. What is your opinion about the calibre of legal education provided in India? What could be done to churn out more competent lawyers?
Dr. Pratima: Opportunities, both in knowledge and career is are immense in the digital age. It is a great field for law aspirants and budding lawyers to choose niche areas of specializations. They can explore a lot through law school learning and internships. Also, I would urge law schools to explore blended learning, a combination of classroom and online learning to supplement legal education.
Priyanshi: Since you have done a doctorate research thesis regarding the Consumer Protection in Online Shopping in India and have also presented various papers regarding related areas, what do you think about deep discounting that the online market has emerged with and how it has severely impacted the small business and various industries due to the competition they have created for them?
Dr. Pratima: My doctoral research was around information asymmetries between e-commerce and consumers, and it impacts on consumers' right to information. But, to answer your question on deep discounting, it may be beneficial to the end consumer, so far as it does not come with hidden charges and goofed up MRPs. But it impacts healthy competition in the market. It creates an unequal playing field between the large players and small and mid-sized businesses. With the intervention of the Competition Commission of India and FDI policies, there have been some checks to curb deep discounting but continues to abuse competition, especially during holidays and festival seasons.
Priyanshi: Do you think that the ADR sector altogether has better scope in India in the future? Also, why do you think people still prefer ground litigation over arbitration or mediation, and what can be done to improve the situation?
Dr. Pratima: Yes, ADR – alternative dispute resolution is the way forward. I am of the opinion that litigation is still a preferred mode of access to justice for two reasons –
Apparently, some cases, especially those of criminal nature cannot compromise with ADR and
Lack of awareness and advocacy about ADR, its process and most importantly, the concern about enforceability.
There is a need for enhanced ADR advocacy among stakeholders. This includes citizens, businesses and even the legal fraternity about the ADR mechanisms and their potential to greater access to justice. It is good to see that, like moot courts, a lot of mock ADR competitions are being held both at national and international levels. This would give law students an insight into the ADR process at an early stage in their careers. But, a long way to go!
At the same time, there is also a need for a large force of well-trained and skilled ADR professionals.
Priyanshi: India and the whole world are now upcoming with the era of Digitalisation and Artificial Intelligence and this might lead to affecting the legal rights of all individuals be it the seller or the consumer. Do you think that India is ready for this era of Digitalisation both legally and infrastructure wise, since along with its advantages, this has also created some unexpected and detrimental situations like theft of government importance data, data infringement, and indulgence in illegal activities?
Dr. Pratima: India, like many other countries, has gained a lot of traction in recent years. More so, with the Digital India Initiative of the Government of India. The subject of Technology law is ever-evolving. Continued legal and regulatory reforms are the way to keep up with the fast-paced developments in technology. The Data Protection Bill aims to bring more accountability and transparency in the space of privacy and security.
Again, from a netizen's perspective, there is a need for awareness about data privacy and diligent use of e-wallets, apps and smart products.
As a part of our legal awareness initiative, we at Techlawlogi have come up with a Youtube channel dedicated to short videos on knowing about e-wallets, smart products, cyberbullying etc.
Priyanshi: What would be your advice to the young students at Law School as well as Law Graduates who are yet to step in the field and start their careers? What are some essential qualities and skills required to establish a prospective career in law?
Dr. Pratima: The legal profession has many opportunities to offer as a career path today. Law students and law aspirants can choose from a wide range of career options. It may be litigation, to being corporate counsels, judiciary positions, legal academia and training, Indian legal services, legal editor and legal journalism and even legal entrepreneurs. Explore your interests in any area of practice but make sure you don't deviate from ethical practices. Also, the legal profession calls for a lot of interdisciplinary learning, so whenever you have an opportunity to learn a new subject or a new skill which maybe psychology, communications, technology upgradation and much more.
---
Recommend an Interview
Recommend an Interview here by filling up the recommendation form.