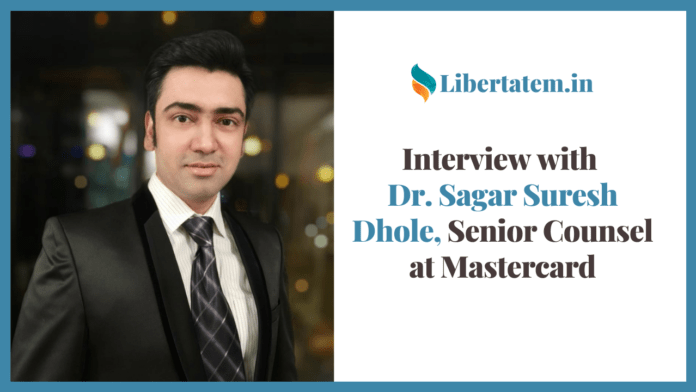 Dr. Sagar Suresh Dhole is Senior Counsel at Mastercard. Recommended by the Union Public Service Commission in 2016 and was appointed as "Welfare Administrator" in Office of Director General (Labour Welfare), Ministry of Labour and Employment, Government of India in 2017. He is a Legal, Compliance and Ethics Professional with strategist corporate legal and leadership experience of 12+years in Payment, Banking Technology Service Industries.
He was recently recognized as General Counsel of the Year 2020 in Banking, Finance and Service Industry by esteemed Indian National Bar Association.
Dr. Sagar has also spearheaded Merger and Acquisition transactions for Atos Group. A decisive leader having experience in regulatory compliance, corporate governance, external affairs and Govt. relations. Earlier being Legal Counsel and Heading Employment Law Advisor for Atos India, Dr. Sagar was also a CSR Committee Member and was recognised with CSR Champion Award on behalf of Atos Group for Sustainable Livelihood Project 2019.
Advisor to various IC, handled conciliation and litigation matters, investigations and inquiries related to crucial corporate compliances, frauds, ethics and employment laws in India and Asia Pacific region.
Dr. Sagar believes in being a business enabler, following decency at its core and actions. Inspired with Mastercard way, Dr. Sagar cited,
This goes to the core of who I am, what I do and how I do it. Every decision whether it's big or small, matters… my work should reflect the highest ethical values and must be grounded with trust and our values. Today and every day, while working, I ask myself for a commitment as I contribute in building the culture of decency, accountability and with compliance.
Trishala Sailish: Please tell us about your formative years? What made you want to pursue law?
Dr. Sagar Suresh Dhole: I was born and brought up in Orange City, Nagpur. I belong to a family who were Social Reformers, Freedom Fighters and with legal background.
My Father Advocate Suresh Dhole and my Grand Father Shri Punjaramji Dhole always stood as pivotal inspiration. My GrandFather was last Patil (Head) of Asegoan Village.
My Great Grandfather Shri Raobaji Dhole had established a village known as Asegaon near Yatvatmal city and my Grand Father Shri Punjaramji was last patil of village. With (Abolition of office) Act 1962, the vatandar system titles like Patil, etc were abolished. However, grandfather and his brother Saint Ghogle Baba continued his duty towards society and contributed towards the revolution in the socio-legal and agricultural field from traditional farming to innovative.
On advice from his Father and Saint Ghogle Baba, my father moved to Nagpur city, completed his education while working. He obtained Law degree, Bachelors and Masters in Arts and Masters in Business Administration from Nagpur University, severed our Nation as Govt Officer with Govt. of Maharashtra. Now Practicing Advocate at Supreme Court and High Court, enumerated as Arbitrator in Indian Council of Arbitration, legal advisor to several corporates and, NGOs, organisations, recognised with several awards and laurels for his contribution in the field of law, administration and social work by various States and Govt authorities. Supreme Court advocate and subject expert, Advocate Suresh Dhole was a speaker as a key resource person at the awareness programme on MSME Delayed Payment Act-2006 and Powers of MSEFC, jointly organised by MSME-DI Government of India, Directorate of MSME. He has also made a significant contribution towards upliftment of specially-abled and underprivileged persons across Maharashtra, crucial legal support to various schools and educational institutions to setup their initiative and enables noble cause towards education.
Inspired by him, I completed my BA. LLB (5years) from Nagpur University College of Law in Merit as University topper and Gold Medallist in 2008. Awarded Alladi award, Medals and Honour bestowed in presence of his excellency Mr. S.K Jamir the then Governor of Maharashtra state.
I started my career as Internship-Attorney-cum-Driver with Advocate Suresh Dhole in 2003 in Bombay High court, Nagpur bench, at age of 22 became one of the youngest law graduate in 2008 followed with passing all entrance examination and completing Masters Degree and Doctorate in Philosophy in Business Management. Tied knot with Dr. Kavita Shisode MBBS (From KEM Hospital and Seth G.S Medical College Mumbai), DNB, FMRDR (Consulting Eye specialist and Retina and Phaco Surgeon)- All India Ranker.
Momentous Recognitions:
Recognized as General Counsel of the Year 2020 in Banking, Finance and Service Industry by esteemed Indian National Bar Association.
Recommended by the Union Public Service Commission and appointed as "Welfare Administrator" in O/o of Director General (Labour Welfare), M/o Ministry of Labour and Employment, Government of India dated 10 February 2016
Recognized by IDEX Legal forum as among top 5 next-generation legal Counsel in India for 2017 and 2018 years consecutively.
Awarded Gold Award by Atos for establishing employment Legal division and crucial role for demerger of group companies, and acquisition of new companies.
Represented Barclays group in India Legal summit 2016 as a speaker on negotiations & compliances in an esteemed panel. http://www.bizintegration.in/2016/indialegalsummit/speakers.htm
Recognized with Star Award by Deutsche Bank in 2010
Awarded Alladi Award, Medals and Honour bestowed by His Excellency Shri S.K. JAMIR the then Governor of Maharashtra State in Convocation 2009 held by RTMNU's Nagpur University for Merit in BA. L.L.B (5years Course) in Nagpur University 2003-2008 batch and highest marks in Indian Constitutional Law.
Authored 05 researched papers, 03 thesis, Recognized by International Journals for 05 research papers Publications since 2013 till date.
List of Research Paper Published
Trishala Sailish: How was your experience at law school? Please tell us about your internship experiences and your early influences?
Dr. Sagar Suresh Dhole: Nagpur University College of Law was established in 1925 now known as RTMNU's Dr Babasaheb Ambedkar College of Law made great alumni like Hon'ble Chief Justice of India Shri Justice SA Bobde, Senior Advocate Harish Salve, Justice J.N.Patel, Justice S. Dongaonkar, Dr. JL Aparajit, and many more legends. Every part of our college whether wall, classroom, library, auditorium spoke stories of inspiration and valour. Inspiring teachers were plinth of our success.
When I took admission in College, my elder sister Advocate Anuja Dhole was already a passed-out Merit student. Thus, the obvious expectation of my Father, family, mentors and other teachers was to see me with medals and honour too. Being a science student, just imagine how the first day of college would have been for me…. Yes, and I had a massive fear of failure. but taking up the challenge I proceeded with hopes and determination.
In my first Intra-college debate competition in 2003, I lost my first debate…But I still remember that my Senior lady competitor and few students still applauded for me. That was a memorable moment when I realised even a defeat can bring respect if we fight with sincere efforts and endeavours.
My Mentors were Principal was Dr. JL Aparjit Sir,  Dr, K Mahabal University Reader, Dr Anjali Kulkarni Madam, my teachers, my Father, family and friends. Dr. JL Aparjit Sir was extremely strict, and today me and my batchmates really admire him for his efforts to bestow us with discipline. I still remember he used to scold before all- "WHY THIS JEAN IN COLLEGE" if we used to wear jeans instead of uniform. WHERE IS THE HAIRCUT? in case long hair
Whenever Sir's car used to enter from the main gate, all students whether Senior or Juniors, on all 3 floors use to run either into classes or library …that was his influence. Me and my 2 friends once ran into Senior's class to save ourself and attend the whole lecture sitting at backbench … No Loitering was allowed at all, or direct call would reach home and sometimes next day Parent-Principal meeting.
In the midst, I continued my hobby of singing and was head of the Cultural Committee of college for 2 years. By the way, my all my songs sung during my college programs were all dedicated to nation and patriotism, apart from patriotism you can understand the obvious reason…
"Vishwanath Kashinath Rajwade Memorial" Scholarship was given to me by Shri Dr Kishore  Mahabal for academic activities during session 2004- 2005.
I authored several research papers during college days and participated in several moot court competition.
Represented & Presented Research paper on behalf of Nagpur University & College in National seminar on EUTHANASIA, Transplantation Of Human Organs Act
Had memorable opportunity to visit Parliament, President House, United Nation Information Centre, Supreme Court of India, New Delhi and Central Jail Nagpur,
Trishala Sailish: You are currently leading the working of the legal functions at Mastercard. What do your responsibilities consist of?
Dr. Sagar Suresh Dhole: I am Senior Counsel at Mastercard for Payment Transaction Services Business (Mastercard Processing) for Asia Pacific Region and Employment law India.
Mastercard Processing Service provides a versatile and distinctive range of payment services and solutions. A configurable platform that enables issuers and acquirers to seamlessly integrate their customers' needs into their offerings.
We provide our customers with global capabilities to deliver solutions.
Payment Transaction Services- Mastercard Processing is very crucial services across Industry for processing of payments transaction for Credit, Debit and Prepaid cards.
I consider myself honoured and privileged to work with esteemed Mastercard.
My responsibilities consist of varied activities ranging in legal, compliance, ethics and employment law and moreover a business enabler following decency at its core and actions. Acting ethically and responsibly is both the right thing to do and the right way to do business.
I believe that my responsibility also encompasses to grow trust in every touchpoint, use data for good, and build networks that empower society.
Quoting Mastercard Way, 'our responsibility is to let basic human decency serve as our guide, innovate with purpose and unlock potential for people everywhere'.
Trishala Sailish: What are the hallmark qualities of a good compliance lawyer?
Dr. Sagar Suresh Dhole: Compliance lawyer is someone who will be looked at with expectation and hope to lead others for enabling business with compliance, to grow trust in every touchpoint as required and to build a trusted organisation. I would define hallmark of qualities in 2 parts one is at Professional front and other at Personal front.
Professional and Personal Qualities
Professional Qualities should be – Decency Quotient, Business Enabler-Passionate for enabling business with compliance; conflict manager, Solution Driven approach, Risk assessment, Preventive and redressal thought mechanisms.
Recognizing potential areas of conflict and acts as a role model in creating resolutions;
Acting as a role model for others by demonstrating professionalism, commitment & dedication, integrity & truthfulness.
Presenting a clear vision of what can be achieved, inspiring others and pursuing goals with vigour and tenacity.
Personal skills- Good analytical skills and Communication skills Organized Patience Emotional Balance, decency quotient, Logical Thinking Abilities.
Dynamic– Inspires others to take action; Encourages everyone to feel that they belong and add value;
According to Harvard Business Review, successful leaders in today's society should possess three different leadership capabilities including the more familiar terms intelligence quotient (IQ) and emotional intelligence (EQ), as well as the lesser-known decency quotient (DQ).
Would like to share that Ajay Banga, CEO of Mastercard told students at Duke University's Fuqua School of Business that "IQ is really important. EQ is really important. What really matters to me is DQ". "If you put it into language that people can colloquially understand, it becomes much easier for people to embrace Ajay Banga explained. "If you can bring your decency quotient to work every day, you will make the company a lot of fun for people — and people will enjoy being there and doing the right thing."
DQ means wanting something positive for everyone and ensuring everyone feels respected and valued," writes Bill Boulding.
The supreme quality for a leadership role is unquestionably integrity. The Holy Grail for the Legal Counsel is to have prodigious impact and influence – to be viewed as trusted business adviser and enabler whereby Legal Counsel is to be considered as Guardian Priest for the temple of Justice.
Trishala Sailish: You have been recognized as CSR Champion on behalf of Atos India Group for Sustainable livelihood project-2019. Please tell us more about this endeavour.
Dr. Sagar Suresh Dhole: This incident is one of the memorable moment for me and my team….our team really worked extraordinarily hard for accomplishing this mission.
I was part of Atos CSR Committee, in 2018 was assigned task by management to find the genuine and result oriented CSR program that could contribute towards the sustainable livelihood and education for underprivileged Students and drop-outs. My Team and I worked extensively to find such noble program throughout. After extensive research and due diligence, our team was convinced for the program set up by Light House Centre by Pune City Connect. Thus, we took it before our management with vision and mission, and they were convinced. We had initiated other two projects for health care and the environment too.
Thus through CSR, Atos financed and contributed to set up Lighthouse Centre at Bhavani Peth Pune, with the mission to change lives of approx. 1000 students in a time frame of 12 months. The Primary objective of the Light House Project was to provide the underprivileged youth training to cultivate and enhance skills for sustainable livelihood. It included various technical and non-technical courses.
Crucial support and guidance were provided by then Management and leadership team of Atos. Further many Atos employees actively participated in sessions with budding students in order to make changes in their lives. After heartfelt endeavours, we were able to make the Lighthouse project successful with outstanding results. Thus, we were recognized and awarded Atos Team as CSR Champion for sustainable livelihood Project 2019 by City Connect, Mayor of City and Municipal Commissioner.
Trishala Sailish: Please tell us about some of the setbacks you might have faced in your career and how you coped with them? How should law students or anyone for that matter handle conflict in their professional lives?
Dr. Sagar Suresh Dhole: Well I won't perceive them it as a setback, but a crucial resonating learning lesson.
I learnt that – Desire for success should be greater than your fear of failure….
The First memorable lesson was that Intra college debate competition back in 2003.
But there was more to come…
After holding the tag of university topper, gold medallist, I wrote several competitive exams. I passed the written examination for Permanent Commission-GDO for Indian Air Force. I was called upon at Interview, SSB at 2AFSB Mysore, still remember date 17th August 2009. I was screened in on the first day as chest no. 101 stayed there were 5 days. Last day was conferenced in before 11 Officers. A most memorable event of my life. By then due to some reason I couldn't get commissioned. I was shocked. It was difficult for me to face all well-wishers. I was invited to be Judge at MOOT court competition in college, I didn't turn in.  Later on, I was called in at to Naval Selection Board NSB Agrani Coimbatore for JAG entry. This time I was screen out on the first day. It wasn't easy for a University Topper, bagged with medals and mentors to sail and abridge such situation.
But didn't give up, I continued my efforts, kept Studying and working. I worked at Amenity Exports, Deutsche Bank, Credit Suisse. In meantime, I cleared entrance exams for PhD and pursued the same from Nagpur University.
Now came the big day, after several exams, in 2015 received Interview letter. This time interview was at Union Public Service Commission office housed at Dholpur House in New Delhi. This time I couldn't have afforded to even think otherways… I started further preparation. Still remember the day when I walked in UPSC office, dressed in a black suit and white shirt, gave my original documents for verification. Submitted my mobile, watch and pen before the interview. I was given room no. XX.  The light was red so I was waiting outside. Then upon calling I walked inside. I greeted 5 officers, they were stunning, and they too welcomed me and asked me to take a seat. The interview must have lasted approx. around 2 hours right from history, legal, geography, social science, International labour regime and personal side of questions.
You always pass failure on your way to success." -Mickey Rooney. Fear is a state of mind and apprehension. It is the creation of our imagination of uncertainty. Failure is very real, but fear is a choice
2016 result appeared on internet…Roll NO. 566- Sagar Suresh Dhole appeared among 6 selected candidates in India. I can never forget that moment and differentiate what was more touching, a smile on my Fathers face or tears in my Mothers eyes…
In 2016 received Recommendation letter by the Union Public Service Commission and in 2017 appointed as "Welfare Administrator" in O/o of Director General (Labour Welfare), M/o Ministry of Labour and Employment, Government of India.
In 2016, I did return to my college to meet my teachers, this time with a smile on face and holding letters in hands.
Trishala Sailish: Compliance lawyers all over the world have been put under tremendous pressure in the wake of the COVID-19 pandemic. How have you been catering to your clientele in such extenuating circumstances? What are the challenges involved and how have you managed to work your way around them?
Dr. Sagar Suresh Dhole: COVID-19 crises is amongst world's catastrophic crises hitting human lives and almost all economic sectors Primary, Secondary and tertiary ever since centuries.
As a Senior Counsel, my Focus was – Business Continuity; Employee safety; Compliance of circulars; Crises incidents management; Continuous monitoring of situation; Response management to Customers and Govt Authorities-employees-suppliers.
Ongoing advisory and consultation on the circulars (approx. 50+) issued by Local, Central and State authorities and Return to Office Waybook.
Interacted with the Government Agencies on a prompt and continuous basis for effective compliance of circulars and business enablement. (e.g. maintaining minimum resource support in the Tech Hubs, arranging passes for identified employees, etc) .
Being a crucial part of Payment Industry, every part of the organization was involved in the business continuity effort, employee safety and delivery of essential services. Our operations continued, supported by a resilient core infrastructure and comprehensive business continuity plans. As part of these efforts, we have identified a controls-based operational program that is leveraged today across the broader organization. This allows us to anticipate potential changes in our approach and transparently take steps to support our business and our customers.
Even during crises times, Mastercard was successful in organising the Virtual Internship Program for approx., 95 Interns students in India allowing them to attend it from their home.
Our teams worked as an enabler. It's like giving the toughest battle to the plans of COVID-19 pandemic with determination, that we are not going to give-up…
Trishala Sailish: What would you consider to be your biggest achievement up until this point in your career?
Dr. Sagar Suresh Dhole: Getting Appointed as "Welfare Administrator" a Gazetted Officer in the Office of the Director-General (Labour Welfare), Ministry of Labour and Employment, Government of India in 2017.
Recommended by the UPSC (Union Public Service Commission) as "Welfare Administrator-2016.
Trishala Sailish: In closing, what are your words of advice to our readers and aspiring compliance lawyers? What, according to you are the cornerstones of a successful career as a general counsel?
Dr. Sagar Suresh Dhole: Live Life less Ordinary….
Be an instrument of a business enabler with compliance and decency quotient. Use your energy for service of others.
Just because you failed once, doesn't mean you're going to fail again. Keep trying, hold on, and always always, believe in yourself, because if you don't, then who else will?
Have a vision and mission, Focus on Professional and Personal traits. Don't wish for fewer problems rather wish for more skills….
We need to remember that – The supreme quality for a leadership role is unquestionably integrity."
Would like to resonate words of Ajay Banga, CEO of Mastercard – "People will value you for your transparency, your decency and your sense of purpose. Our responsibility is to let basic human decency serve as our guide, innovate with purpose and unlock potential for people everywhere."
---
Recommend an Interview
Recommend an Interview here by filling up the recommendation form.