A seven-year-old legal dispute between two FMCGs was finally disposed of by the Madras High Court on June 10, 2020. The suit was filed by ITC ("Plaintiff"), a well-known company originally engaged in the tobacco business which had successfully diversified into Hospitality Industry, Paper & Paper Board Industry, Agri Based Business Industry and later forayed into the Fast Moving Consumer Goods Sector (FMCG), in 2010 to claim that Nestle ("Defendant"), a pioneer in the instant noodles category, has been using the expression "Magical Masala" for its instant noodles brand Maggi since 2013 and so had been passing off their product, as against the brand Sunfeast Yippee! which had adopted the same expression in the year 2010. A single-judge bench of Justice C. Saravanan, after exhaustive scrutiny of arguments and evidence, held that there was no passing off by the Defendant and accordingly dismissed the suit.
Key Observations of the Court
The term '

Magic Masala'

 as used by the Plaintiff, individually and collectively is common to the trade and thus, laudatory and descriptive in nature and cannot be subjected to any proprietary right by any member of the trade to the exclusion of others. The court expressed that the mark would have been held as a distinctive mark and could, in turn, qualify for protection and monopoly, if it had been able to show that its products or services had been in commercial use for a long and uninterrupted period, to the exclusion of others, thus acquiring secondary significance and superior 'sub-brand' status, such that consumers associate the term with goods originating from them exclusively and no-one else;

If the plaintiff had filed a trademark application to register the expression 'Magic Masala' as a wordmark, it would have been rejected by the Indian Trade Mark Registry under Section 9 of the Trade Marks Act, 1999 (

which prohibits to register generic names

). The expression 'Masala' signifies a mixture of ground spices used in Indian cooking and as such this laudatory epithet cannot be accorded monopoly or protection;

The court also observed that Nestle was the prior user and adopter of the expression 'Magic' (based on the evidence adduced) and the expression 'Magic Masala' was first adopted by Lays for their potato chips. Nestle argued that both the expressions "Magic Masala" and "Magical Masala" have been used both by the plaintiff and the defendant as a flavour descriptor and therefore, are incapable of being appropriated by the plaintiff alone and thus, cannot be monopolized by any trader; 

A descriptive term which directly and clearly conveys information about ingredients, qualities, and characteristics of the product or services is not protectable in the first instance, but may qualify for protection if it has assumed a secondary meaning and identifies a particular product or as being from a particular source, whereas on the other hand a suggestive term used as a mark which indirectly suggests qualities and characteristics of a product may be registrable and protected;

and

 

The packaging and branding of both the products are altogether different, showing no visual or ocular similarity, i.e. overall colour scheme, layout, style, get-up, and trade dress of the two wrappers (Plaintiff's "Sunfeast Yippee! noodles bearing the expression "Magic Masala" and the defendant's "Maggi Xtra-delicious Magical Masala" are different, and thus, there is no scope for confusion.
The Madras High Court has done an admirable job of assembling a compendium of existing precedents on the subject and in turn, providing a roadmap with increased awareness and understanding of the concepts of passing off and striking the right balance in examining the issue at hand which was much needed to reignite the trademark law consciousness in the country in these troubling times. In summary, the judgment is a worthy addition to the domain of trademark law.
---
Yashvardhan Rana is an Intellectual Property Lawyer with a particular focus on IP prosecution practice encompassing a broad range of areas including but not limited to – from registrability analysis and risk management to provide legal opinions on trademark clearance and protection strategy for the availability of use, adoption, and registrability of trademarks to be launched by individuals, small businesses, Fortune 500 companies as well as top FMCGs in India and large corporations, including assisting them with filing new trademark and copyright applications and maintaining their trademark portfolios worldwide.
He is based out of New Delhi and is an active member of the Bar Council of Delhi, Delhi High Court Bar Association, APAA, AIPPI, INTA, LAWASIA, IBA, and FICCI IP Forum. In January 2020 he was appointed as an Editor, The Trade Mark Reporter, INTA, and in November 2019, he was the recipient of the Top 50 Emerging IP Professional in the world award – The IPR Gorilla, 2nd Edition held in Dubai. Recently, he has been inducted as an 'esteemed member' of the FICCI IP Forum for IP Professionals to address the existing and evolving IPR issues in India along with stalwarts from the legal industry. He has also authored several articles on Intellectual Property Law and Practice which are published in leading blogs, websites, journals, and magazines.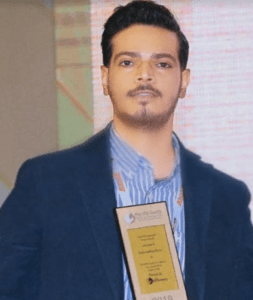 ---
Libertatem.in is now on Telegram. Follow us for regular legal updates and judgment from courts. Follow us on Google News, Instagram, LinkedIn, Facebook & Twitter. You can subscribe to our Weekly Email Updates. You can also contribute stories like this and help us spread awareness for a better society. Submit Your Post Now.