The year 2020 has been incredibly challenging in every sense of the word with the pandemic. Many companies were forced to lay off employees and numerable are currently without work. Though looking ahead, the post-pandemic world is filled with uncertainty, but the recruiter in me remains upbeat about the future. As they say, every event is accompanied by a silver lining!
As the economy has started to re-opening, irrespective of whether or not your company is hiring right now, it is extremely important to understand how the recruiting landscape is actively reshaping owing to the pandemic.
Here, I try to list a few lessons learned and strategies that may be developed and adopted. As I can see, all of these are definitely to benefit any organization.
1. Digital Hiring & Collaboration
Virtual Recruiting is the new normal and has become a go-to method in the age of remote working and social distancing. To keep hiring processes moving in any organization, being able to offer video interviews will be important as a quick and efficient mode.
For companies ready to transition, innovative software can seamlessly drive the remote recruitment process end-to-end. But managing a virtual end-to-end hiring process goes beyond just installing Zoom, Skype, Microsoft Teams, or Google Hangouts. Speak to your IT vendor today to help you out with options such as chatbot engagement, online assessments, automated scheduling, and video interviewing amongst other things.
2. Communication is Important
During normal times or times of uncertainty, communication is key and undoubtedly a practice one should carry forward. While internal communications during a crisis have always been important for existing employees, there has been a growing realization of communicating with your future employees as well.
To build a pipeline of hungry potential candidates, employee branding has gained relevance in recent times. It's important to keep ongoing communication with candidates, who could be your future employees engaged through various marketing and branding efforts.
Do not wait for things to restore to normalcy to start filling up empty roles. Be proactive and engaged to keep your candidates warm, to ensure not losing out on valuable time and talent.
3. Work From Anywhere
Organizations have now started to realize that a majority of their roles do not necessarily need a physical office presence and a 'place of residence' should no longer be a bar in the hiring process. Helping cut on the painful commute time, more employee retention, access to a larger talent pool, increased productivity are just a few reasons to adopt this trend. Be willing to offer more remote working opportunities, and more employees working from their native places or just 'anywhere'.
4. Succession Planning
Succession planning as a tool to mitigate the impact of unforeseen adversities, to ensure business continuity is not compromised or as a risk management strategy has only been re-emphasised with this pandemic. Be it simplifying the decision-making process concerning the ownership or control and management of business operations, a well-articulated and executed plan is the best way to deal with volatile contingencies.
5. Interim/ Gig Hires
'Gig Economy' is the watchword for the coming future and, the biggest post-pandemic recruitment trend is a mix of permanent and temporary roles. As things return to normalcy, after hiring was muted for the past few months, companies trying to reduce long-term cost commitments are looking at offering contractual/ assignment-based hires for seasonal or demand-based assignments.
With highly-skilled professionals who are looking to not only expand their sources of income, healthy work-life balance, the opportunity to simultaneously pursue multiple interests and for those seeking challenging projects, such Contractual/ Assignment based interim hires will be a welcome move.
6. Agile Performance Assessment
When it comes to performance evaluations, flexibility has become an essential virtue in these evolving times. Employee goals that were set for the current year need to be relooked through the lens of the pandemic's impact and organizations have to re-evaluate goals and performance metrics.
New skills, competencies, and attitudes such as innovation, thinking outside the box, risk-taking and adaptability are required to navigate today's changing workplace priorities. It's critical to capture and incorporate the drivers of organizational success into performance appraisal.
7. Re-Looking Employee Benefits
To support a remote work environment, organizations need to consider upping their benefits game. Be it better sick leave policies or comprehensive health care, many organizations have prioritised well-being programs as one of the most important benefits over this year.
Robust solutions that support employee's mental health, emotional wellness, and work-life balance have to be all relooked into.
8. Organizational Culture
Recruiting during the pandemic has indicated a priority shift among candidates placing more emphasis on company values and culture. Organisational culture is an important part of why employees choose to work for a company, plays a huge role in attrition, and the strongest way to ease the transition to remote working and adjusting to new norms.
Ingenuity always wins and with evolving and tough times, organizations must embrace a forward-thinking approach and stay ahead of the curve. Incorporating and implementing some of the above points is crucial in not only engaging with prospective hires but to survive and succeed as well.
---
Divya Vikram is currently a Partner, heading the Legal & Compliance Recruitment vertical with Wroots Global Pvt. Ltd. Her interest in the business of law and passion for helping fellow professionals, led her to join the management consulting sector and subsequently into Talent Acquisition and Engagement.
As a specialist legal career strategist, she is currently actively involved in Talent Acquisition and Engagement for C-suite as well as mid and senior level legal professionals in law firms and corporate legal departments. She has been instrumental in various Partner and team movements in law firms and has helped several law firms grow organically and inorganically through mergers and acquisitions.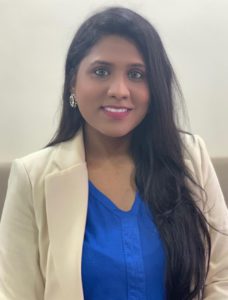 ---
Libertatem.in is now on Telegram. Follow us for regular legal updates and judgements from the court. Follow us on Google News, Instagram, LinkedIn, Facebook & Twitter. You can also subscribe for our Weekly Email Updates. You can also contribute stories like this and help us spread awareness for a better society. Submit Your Post Now.