About Law Audience
Law Audience is an online legal platform which is aimed at spreading the legal education and other opportunities related to the field of law among the legal audience as much as possible.
About the Webinar
Law Audience is organising a webinar on 24th August from 4:00 PM to 5:00 PM.
Theme: Consumer Protection Law: A Legal Insight into Day-To-Day Concerns of Consumers.
Consumer Protection Act came into being in 1986 and has constantly proven to help consumers to protect them from issues related threats of life and property. With the passage of time it was genuinely observed that CPA, 1986 should be upgraded in commensuration with the needs of consumers with the fast-changing business world.
New Consumer Act, 2019 has got a new framework and fulfils the current requirements of consumers. The redressal mechanism, mediation system and CCPA have been introduced/revised to make consumers familiarize and actualize with their day-to-day needs.
The following sub-topics will be discussed during the session:
Introduction
Consumer Protection Act 2019 vis a vis the Consumer Protection Act, 1986 – New legal framework for the consumer protection
Consumer Movements and the Movements of the Consumer Organisations
E-commerce and consumer protection
Consumer Grievance Redressal Mechanism
CCPA
Eligibility
It shall be an online event.
It is open for Students, Lawyers, Research Scholars, Teachers, Judges, Professionals and Academicians or for anyone who is interested in the topic of the Webinar.
About Speaker
Dr. Jayanti Srivastava, Asst. Prof. Amity University (Amity Business School), Lucknow. She is currently working as Assistant Professor with Amity University (Amity Business School), Lucknow.
It has now been more than 16 years in Amity Lucknow. Plus, she has 09 years of Industry experience working with Multi-National Company. She is a Law and Management graduate and a PhD holder. She has been freelancing with Department of Education, UP Govt. regarding the conduct of Workshops, Editing, Report Writing, Projects etc., for more than a decade.
Hobbies: Formed and established cycling group in Lucknow in the name of "Join Cycling with Me" in June 2016 to promote awareness about health and fitness. She is also a theatre artist and actively involved in theatre-related activities.
How to Register?
To register for zoom meeting, click here.
To register for youtube live streaming, click here.
The registration link will be closed at 10:00 AM on 24th of August 2020 or earlier (if they receive the maximum participants allowed limit for the zoom meeting. In that case you can fill up the YouTube Registration Form).
For full registration details are here.
Registration Fees
Rs. 100/-
Note: Registration fee is not refundable at any cost unless the event is cancelled by the organizer.
E-certificate
E-certificate will be given to all the registered participants (subjected to the norms of attendance as mentioned in this official notification) you have to upload a screen-shot of payment while filling up the registration form. E-certificate will be emailed within 24 or 48 hours after the end of the Webinar Session.
Note: E-certificate will be given only if you join the session and mark your attendance as per the norms of attendance mentioned in this notification. If you pay the registration fee but do not mark your attendance or do not join the webinar session even in that case fee is not refundable and no e-certificate will be given.
Payment Mode
Bank Account Details
Account Holder Name: Mr. Varun Kumar
Bank Name: State Bank of India (SBI)
Account No: 35216614509
IFSC Code: SBIN0002343
Contact Details
Contact Person Name: Mr. Varun Kumar, Founder-Chief Executive Officer, Law Audience.
Contact Number: +91-8351033361
Email ID: [email protected] and [email protected]
Important Links
For the official link of Law Audience's Webinar, click here.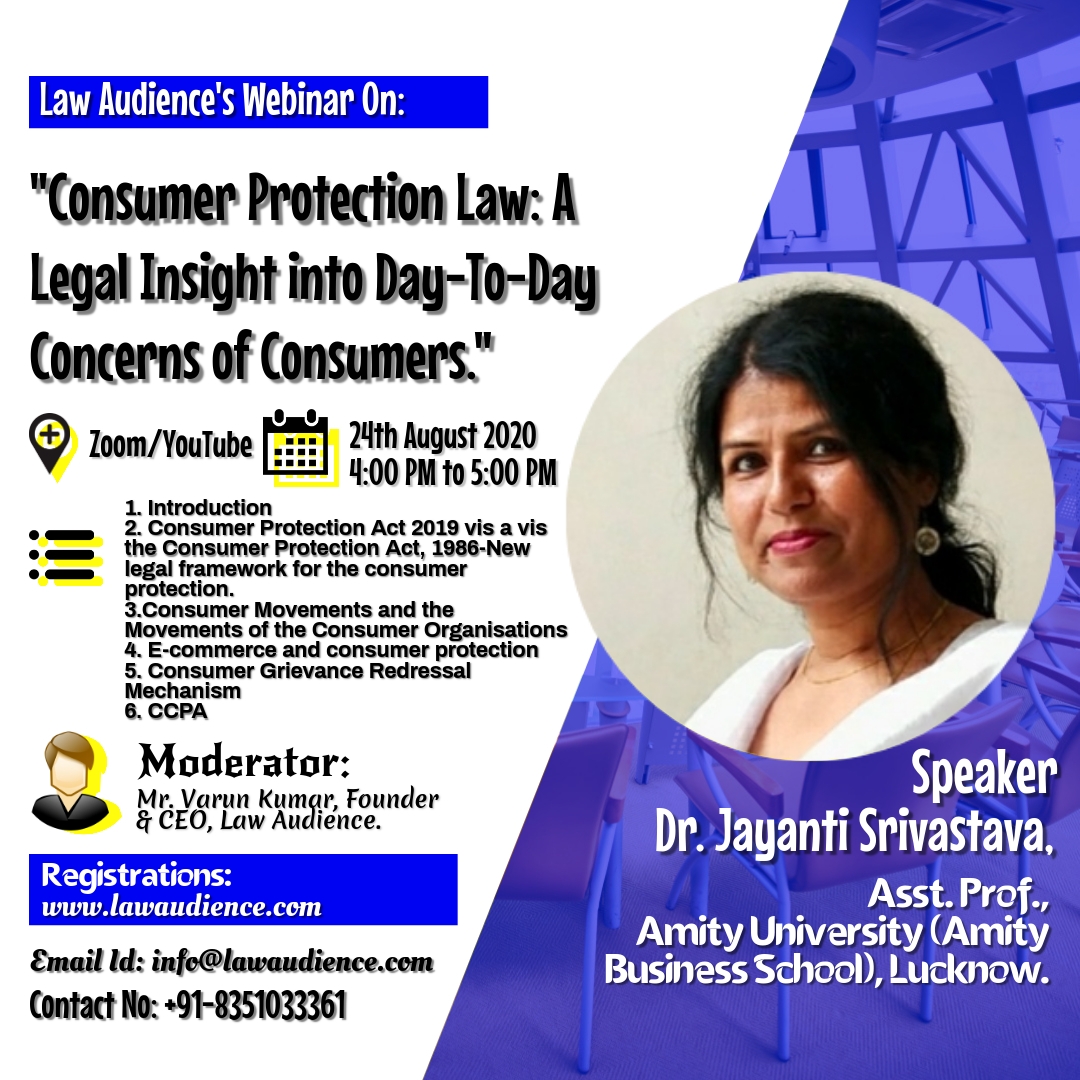 ---
Libertatem.in is now on Telegram. Follow us for regular legal updates and judgements from the court. Follow us on Google News, Instagram, LinkedIn, Facebook & Twitter. You can also subscribe for our Weekly Email Updates. Libertatem Group does not take any responsibility for the accuracy of this Event Notification. The post has been shared as we received it from the event organizers/host.