About the College and Moot
Rayat College of Law is conducting a Virtual National Client Counselling Competition from 7th August 2020 to 9th August 2020. The Client Counselling Competition looks at a broad aspect of how Laws learned about in the classroom are actually put to effect and implement.
Eligibility
It shall be open only to law students (Integrated LLB/LLB/LLM).
Team Size
Each team must consist of two participants only.
The two participants may be from any of the 3 years or 5 years LLB & LLM course.
Note: Counsellors can also bring their Clients, but there is a change that Clients can get interchanged.
Registration Details
Bank Transaction
Account Number: 2518109004991
Mobile Number: +918360224895
Account Holder & Name: Arya Sinha
Communication Address: 18 A, Patliputra Colony
IFSC Code: CNRB0002518
Bank: Canara Bank
Fee Details
Counsellors: Rs. 400/-
Client: Rs. 100/-
Important Dates
Registration Deadline: 4th August 2020
Day of Competition: 7th to 9th August 2020
Contact Information
In case of any queries, please mail us on [email protected] with the subject "Queries- NCC" or Contact us on the following contact numbers:
Faculty Convenor
Mr. Shonu Saini (Assistant Professor): (+91) 9050549030
Mr. Ajitabh Mishra (Assistant Professor): (+91) 9501880526
Student Convenor
Saksham: (+91) 9780313669
Arya Sinha: (+91) 8360224895
Ritika Verma: (+91) 8968392415
Important Links
For the Client Registration Form, click here.
For the RCL National Client Counselling Form, click here.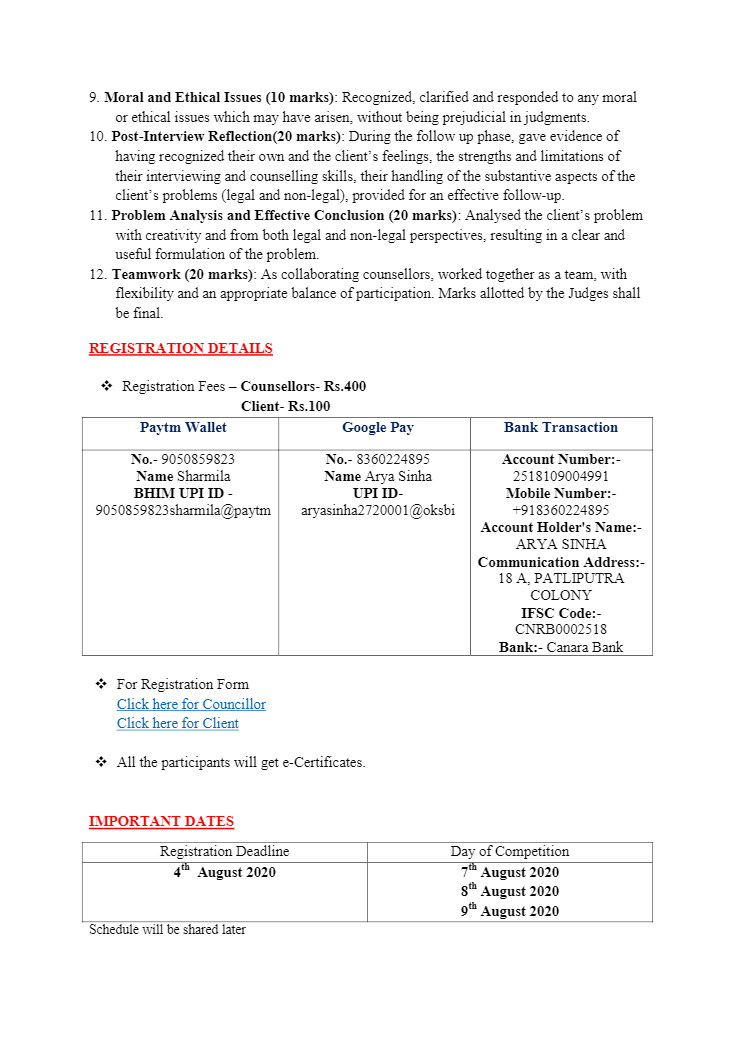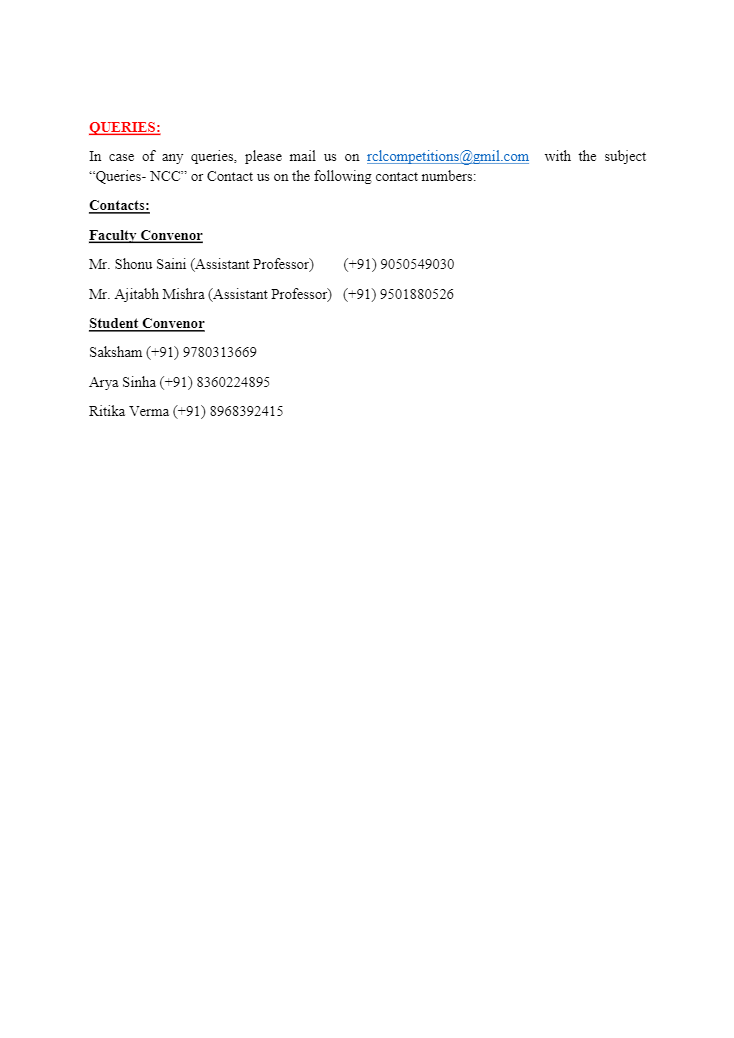 ---
Libertatem.in is now on Telegram. Follow us for regular legal updates and judgements from the court. Follow us on Google News, Instagram, LinkedIn, Facebook & Twitter. You can also subscribe for our Weekly Email Updates. Libertatem Group does not take any responsibility for the accuracy of this Event Notification. The post has been shared as we received it from the event organizers/host.