ABOUT LEGALEAGLE LAW FORUM-

LEGALEAGLE LAW FORUM is a LAW FORUM based at Nagpur, Maharashtra for the purpose of promotion of legal education and awareness. It is a platform where budding lawyers disgorge their ideas and efforts to encourage legal activities, inspire young law students and help further by bringing various law sources closer to them.
LEGALEAGLE LAW FORUM envisages to facilitate the impartation of legal knowledge by conducting webinars, Q&A sessions, issuance of short books, organizing competitions including call for papers and other activities of like sorts.


ABOUT THE QUIZ
LEGALEAGLE LAW FORUM introducing its first 'QUIZ COMPETITION' on 'CONSTITUTION: Fundamental Rights, Directive Principles of State Policy & Fundamental Duties'.
This is a competition for providing a platform to the members of the legal fraternity to brush up their knowledge on the Constitution of India. Because of this whole pandemic situation, the only possible way of keeping in touch with the legal studies, online platforms are created everywhere. This opportunity which is created by the LEGALEAGLE LAW FORUM, will not only proffer young minds a boost to their knowledge, but also provide them will many perks and an amazing experience. With a lot of talented and hardworking students prevalent everywhere;
LEGALEAGLE LAW FORUM invites everyone to participate in its First Ever Quiz Competition!
MEDIA PARTNERS
LIBERTATEM

 MAGAZINE
, KANOON SANGRAH, KANOONIYAT, MEMO PUNDITS, LAW TALES, LAWLEDGE, LEGPORIUM.
KNOWLEDGE PARTNER
NISHKARSH RASHTRIYA YUVA SAMAGAM
SYLLABUS
From the Constitution of India,
i. Fundamental Rights.
ii. Directive Principles of State Policy.
iii. Fundamental Duties.


RULES AND REGULATIONS
Quiz will be of 30 questions.
Time provided will be 10 minutes
 No extra time will be provided to any participant.
 No Negative Marking.
 Each Question will carry one mark.
 After closure of registrations participants will receive further updates through WhatsApp group.
 Participants must join the WhatsApp Group via link provided in response of Registration Form.
 In case of tie, the one who would have more number of attempts in less time will be given priority as the results will be decided on the basis of accuracy.
 The decision of the organizing committee will be fair and final.
IMPORTANT DATES
i. Commencement of Registrations: 21/08/2020 (11AM)
ii. Last Date of Registration: 24/08/2020 (11:59PM)
iii. QUIZ COMPETITION: 25/08/2020
iv. Time of QUIZ: 5:00 PM to 5:10 PM
PERKS
1.
 TOP 3 performers:
 CERTIFICATE OF EXCELLENCE
2. 
TOP 10 performers: 
Internship Opportunity at LEGALEAGLE LAW FORUM & Campus Ambassador Internship at 
LIBERTATEM
 MAGAZINE.
3. CERTIFICATE OF PARTICIPATION 
for all Participants.
REGISTRATION DETAILS
 Free but Compulsory Registration.
 Limited Seats i.e. 100 Entries Only!

FILL OUT THE GOOGLE FORM GIVEN IN THE LINK
GET ENROLLED FOR THE FIRST EVER QUIZ COMPETITION OF LEGALEAGLE LAW FORUM.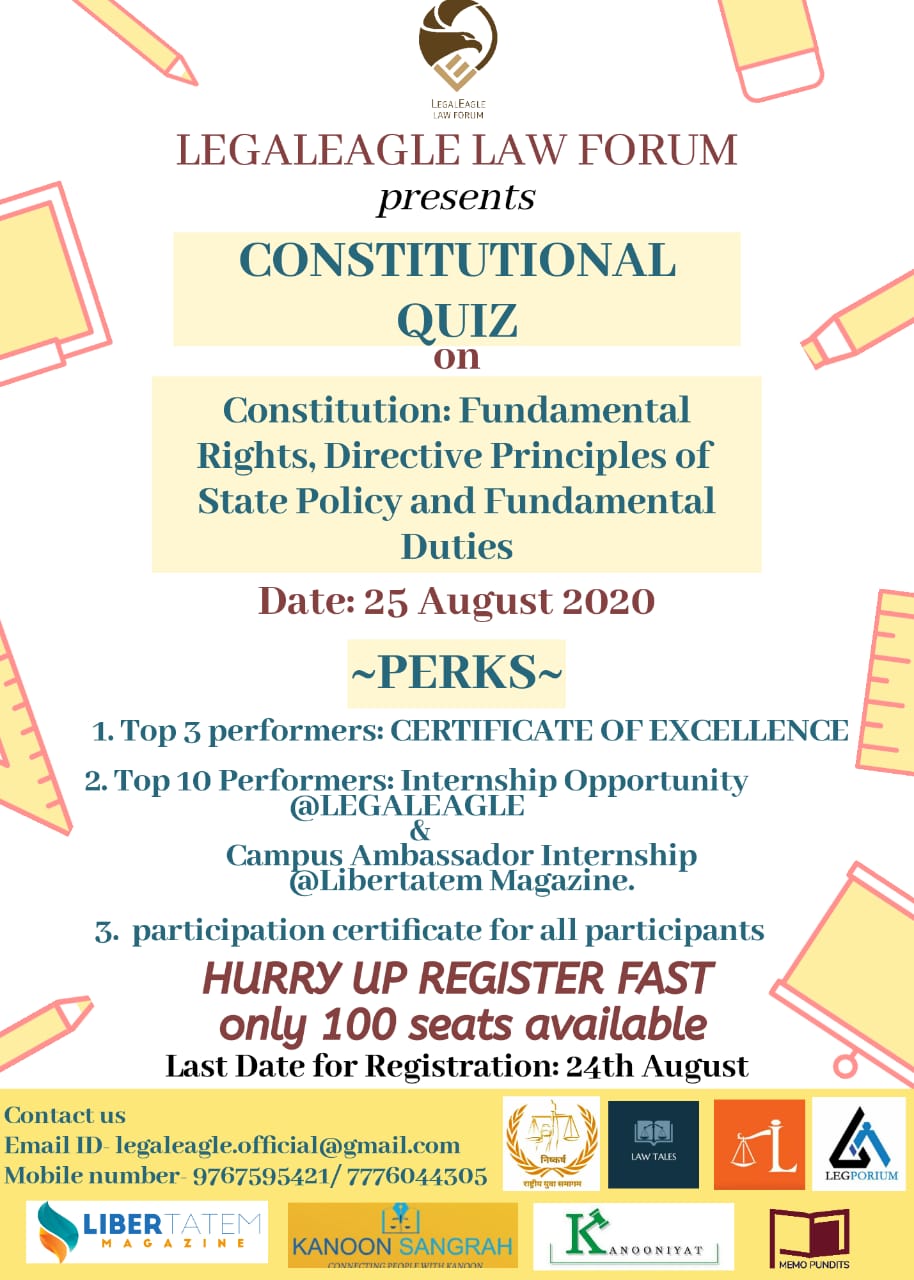 ---
Libertatem.in is now on Telegram. Follow us for regular legal updates and judgements from the court. Follow us on Google News, Instagram, LinkedIn, Facebook & Twitter. You can also subscribe for our Weekly Email Updates. Libertatem Group does not take any responsibility for the accuracy of this Event Notification. The post has been shared as we received it from the event organizers/host.